Proteomics Sample Preparation
ISBN: 978-3-527-31796-7
485 pages
May 2008, Wiley-Blackwell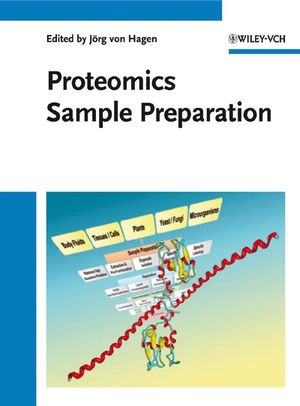 This long-awaited first guide to sample preparation for proteomics studies overcomes a major bottleneck in this fast growing technique within the molecular life sciences. By addressing the topic from three different angles -- sample, method and aim of the study -- this practical reference has something for every proteomics researcher. Following an introduction to the field, the book looks at sample preparation for specific techniques and applications and finishes with a section on the preparation of sample types. For each method described, a summary of the pros and cons is given, as well as step-by-step protocols adaptable to any specific proteome analysis task.
See More
PERSPECTIVES IN PROTEOMICS SAMPLE PREPARATION
Introduction
General Aspects of Sample Preparation for Comprehensive Proteome Analysis
Proteomics: A Philosophical Perspective
MASS SPECTROMETRY
A Practical Guideline to Electrospray Ionization Mass Spectrometry for Proteomics Application
Sample Preparation for the Application of MALDI Mass Spectrometry
Sample Preparation for Label-Free Proteomic Analyses of Body Fluids by Fourier Transform Ion Cyclotron Mass Spectrometry
Sample Preparation for Differential Proteome Analysis: Labelling Technologies for Mass Spectrometr
Determining Protein Localization within Subcellular Compartments using Stable IsotopeTagging
ELECTROPHORESIS
Sample Preparation for Two-Dimensional Gel Electrophoresis
Sample Preparation for Native Electrophoresis
Sample Preparation for LC-MS/MS using Free Flow Electrophoresis
Sample Preparation for Proteomics
OPTICAL METHODS
High-Throughout Proteomics: Spinning Disc Interferometry (SDI)
Optical Proteomics on Cell Arrays
Sample Preparation by Laser Microdissection and Catapulting for Proteome Analysis
Sample Preparation for Flow Cytometry
CHROMATOGRAPHY
Sample Preparation for HPLC-Based Proteome Analysis
Sample Preparation for Two-Dimensional Phosphopeptide Mapping and Phosphoamino Acid Analysis
STRUCTURAL PROTEOMICS
Exploring Protein-Ligand Interactions by Solution NMR
Sample Preparation for Crystallography
INTERACTION ANALYSIS
Sample Preparation for Protein Complex Analysis by the Tandem Affinity Purification (TAP)
Methods
Exploring Membrane Proteomes
POST-TRANSLATIONAL MODIFICATIONS
Sample Preparation for Phosphoproteome Analysis
Sample Preparation for Analysis of Post-Translational Modifications: Glycosylation
SPECIES-DEPENDENT PROTEOMICS
Sample Preparation and Data Processing in Plant Proteomics
Sample Preparation for MudPIT with Bacterial Protein Samples
Sample Preparation for the Cell-Wall Proteome Analysis of Yeast and Fungi
THE HUMAN PROTEOSOME
Clinical Proteomics: Sample Preparation and Standardization
Stem Cell Proteomics
BIOINFORMATICS
Bioinformatics Support for Mass Spectrometric Quality Control
Use of Physio-Chemical Properties in Peptide and Protein Identification



See More
Jörg von Hagen is head of proteome research products development at Merck KGaA in Darmstadt (Germany). Having studied biotechnology in Giessen and Darmstadt, he received his academic degree with an award-winning thesis in 2001. Dr. von Hagen has more than 15 years of practical expertise in biotechnology, especially in molecular biology and proteomics methods for clinical applications.
See More