Handbook of Biomineralization
ISBN: 978-3-527-31804-9
471 pages
July 2009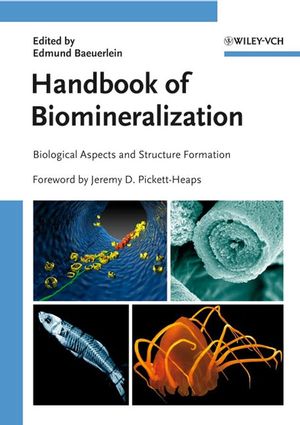 This first comprehensive overview of the modern aspects of biomineralization represents life and materials science at its best: Bioinspired pathways are the hot topics in many disciplines and this holds especially true for biomineralization.
Here, the editor has assembled an international team of renowned authors to provide first-hand research results.
This first of three volumes deals with the biology of biominerals structure formation, with sections on silica-hydrated polysilicondioxide, iron sulfides and oxides, calcium carbonates and sulfates, as well as calcium phosphates.
An interdisciplinary must-have account, for biochemists, bioinorganic chemists, lecturers in chemistry and biochemistry, materials scientists, biologists, and solid state physicists.
See More
Growth and Form: What is the Aim of Biomineralization
SILICA-HYDRATED POLYSILICONDIOXIDE
Collagen, a Huge Matrix in Glass Sponge Flexible Spicules of the Meter-long Hyalonema Sieboldi
Molecular Genetic and Biochemical Tools for the Analysis of Diatom Cell Wall Formation
Formation of Siliceous Spicules in the Marine Demosponge Suberites Domuncula
Development of Advanced Mechanical Defenses of Diatom Shells
Evolution of Diatoms
Uptake of Silicon in Different Plant Species
IRON SULFIDES AND OXIDES
Magnetic Microstructure of Magnetotactic Bacteria
An Archeal Ferritin: First Step in its Iron Cluster Formation
Physiology and Genetics of Magnetite Crystal Formation in Magnetotactic Bacteria
Physical and Chemical Principles of Magnetosensation in Biology
CALCIUM CARBONATES AND SULFATES
The Morphogenesis and Biomineralization of Sea Urchin Laval Spicules
Coccolith Formation in Pleurochrysis Carterae: Structural and Molecular Approaches
Molecular Approaches to Emiliana Huxleyi Coccolith Formation
Organic Matrix and Biomineralization of Scleractinian Corals
Statoliths, Calcium Sulfate Hemihydrate Crystals, are Used for Gravity Sensing in Scyphozoan Medusa (Cnidaria)
Unusually Acidic Proteins in Biomineralization
Fish Otolith Calcification in Relation to Endolymph Chemistry
Eggshell Growth and Matrix Proteins
CALCIUM PHOSPHATES
Genetic Basis for the Evolution of Vertebrate Mineralized Tissue
Skeletogenesis in Zebra Fish Embryos (Danio Rerio)
Synchroton-Radiation Based Micro Computer Tomography Applied on Zebra Fish Bone and Teeth
Mechanical and Structural Properties of Skeletal Bone in Wild-Type and Mutant Zebra Fish (Danio Rerio)
Nanoscale Mechanism of Bone Deformation and Fracture
Formation and Structure of Calciprotein Particles: The Calcium Phosphate-Ahsg/FetuinA Interphase
See More
Edmund Bäuerlein was was born in 1932, studied chemistry in Saarbrücken, Munich, and Frankfurt (Germany) and he completed his PhD with Prof. Th. Wieland on biologically relevant hydroquinones. He then moved to the Max Planck Institute for medical research, Heidelberg (Germany), as a research group leader, completed his Habilitation at the University of Heidelberg in 1974, where he was appointed Professor in 1980. In 1984 he moved to the Max Planck Institute for Biochemistry in Munich, department membrane biochemistry, where he was research group leader. He edited two successful books about biomineralization.
Peter Behrens, born in 1957, studied chemistry and did his Ph.D. at the University of Hamburg. He did his Habilitation at the University of Constance and University of California (Prof. Stucky). In 1994 he was appointed Professor for Inorganic Chemistry at the University of Munich, afterwards in Hannover. He is member of the Braunschweigische Scientific Society, President of the German Zeolite Association and member of the Board of the European Zeolite Associations and reviewer for several national and international foundations and journals. His research interests include porous materials, biomaterials, hybrid and composite materials, synthesis of materials as well as biomineralization.
Matthias Epple is born in 1966, studied chemistry at the University of Braunschweig, did his Diploma and Ph. D. in physical and theoretical chemistry (Prof. Cammenga). For postdocs he moved to Prof. Berg, Univeristy of Washington, Seattle, Prof. Reller, University of Hamburg, and Sir J. M. Thomas, London. He was appointedProfessor at the University of Augsburg, Bochum and now Duisburg-Essen for Inorganic Chemistry. He received several awards, e.g. Netzsch-GEFTA Young Scientist Award, Heisenberg Grant and Heinz Maier-Leibnitz Award by the Deutsche Forschungsgemeinschaft. His research interests include the development and application of biomaterials, biomimetic crystallization, application of synchrotron-based methods, synthesis of nanoparticles and reactivity of solid compounds.
See More