Protein Chromatography: Process Development and Scale-Up
ISBN: 978-3-527-31819-3
364 pages
June 2010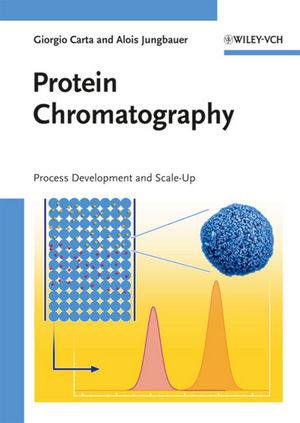 With its focus on process development and large-scale bioseparation tasks, this is tailor-made reading for the professional bioengineer in both the biotech and pharmaceutical industries. Following a tried-and-tested concept, this guide has been developed over several years in training courses for biotech and chemical engineers in Europe and the U.S. The first part deals with the theory, introducing chromatography and its dynamics, as well as discussing mass transfer and dispersion effects. The second part then goes on to cover equipment and protocols, determining the retention factor and HETP from isocratic and elution experiments, as well as the mass transfer and intraparticle diffusivity from batch and shallow-bed adsorption experiments.
See More
Preface
DOWNSTREAM PROCESSING OF BIOTECHNOLOGY PRODUCTS
Introduction
Bioproducts and their Contaminants
Bioprocesses
Role of Chromatography in Downstream Processing
References
INTRODUCTION TO PROTEIN CHROMATOGRAPHY
Introduction
Basic Principles and Definitions
Modes of Operation
Performance Factors
Separation Performance Metrics
CHROMATOGRAPHY MEDIA
Introduction
Interaction Types and Chemistry
Buffers and Mobile Phases
Physical Structure and Properties
LABORATORY AND PROCESS COLUMNS AND EQUIPMENT
Introduction
Laboratory-scale Systems
Process Columns and Equipment
ADSORPTION EQUILIBRIA
Introduction
Single Component Systems
Multi-component Systems
References
ADSORPTION KINETICS
Introduction
Rate Mechanisms
Batch Adsorption Kinetics
DYNAMICS OF CHROMATOGRAPHY COLUMNS
Introduction
Conservation Equations
Local Equilibrium Dynamics
Multi-component Systems
Displacement Development
EFFECTS OF DISPERSION AND ADSORPTION KINETICS ON COLUMN PERFORMANCE
Introduction
Empirical Characterization of Column Efficiency
Modeling and Prediction of Column Efficiency
GRADIENT ELUTION CHROMATOGRAPHY
Introduction
General Theory for Gradient Elution with Linear Isotherms
LGE Relationships for Ion Exchange Chromatography
LGE Relationships for RPC and HIC
Separations with pH Gradients
Modeling Gradient Elution with Non-linear Isotherms
References
DESIGN OF CHROMATOGRAPHIC PROCESSES
Introduction
Chromatographic Process Steps and Constraints
Design for Capture
Design for Chromatographic Resolution
SMB Design
References
INDEX

See More
Giorgio Carta received his PhD in Chemical Engineering from the University of Delaware in 1984. Since then he has been a professor in the Department of Chemical Engineering at the University of Virginia, Charlottesville (USA), where his research focuses on transport phenomena and bioseparations. He regularly organizes professional courses on various aspects of bioseparations, including a course on protein chromatography development and scale-up together with Alois Jungbauer.

Alois Jungbauer is the head of protein technology and downstream processing at the Department of Biotechnology of the University of Natural Resources and Applied Life Sciences in Vienna (Austria). For more than 20 years, Professor Jungbauer has worked in biochemical engineering, with a focus on biosparation, where he has published widely and holds 15 patents. For over 10 years, he has organized a biennial professional course in protein chromatography focused on mass transfer, dispersion, and scale-up.

See More