Adipose Tissue in Health and Disease
ISBN: 978-3-527-31857-5
530 pages
April 2010, Wiley-Blackwell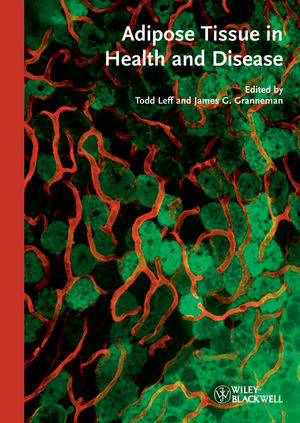 This timely and most comprehensive reference available on the topic covers all the different aspects vital in the fight against the global obesity epidemic.
Following a look at adipose tissue development and morphology, the authors go on to examine its metabolic and endocrine functions and its role in disease. The final section deals with comparative and evolutionary aspects of the tissue.
The result is an essential resource for cell and molecular biologists, physiologists, biochemists, pharmacologists, and those working in the pharmaceutical industry.
See More
ADIPOSE TISSUE DEVELOPMENT AND MORPHOLOGY
Transcriptional Control of Adipogenesis and Fat Cell Gene Expression
Development of Adipose Tissue
The Cellular and Molecular Basis of Functional Differences Among Fat Depots
Plasticity of The Adipose Organ
Biology of Adipose Tissue Stem Cells
METABOLIC FUCTIONS OF ADIPOSE TISSUE
Molecular Mechanisms of Adipocyte Lipolysis
New Developments in the Lipolytic Processing of Triglyceride-rich Lipoproteins
Intracellular Fatty Acid Transport, Activation And Trafficking
Aquaporins and Adipose Tissue
Signaling Pathways Controlling Lipolysis
ENDOCRINE FUNCTIONS OF ADIPOSE TISSUE
Leptin Secretion and Action
Adiponectin
Pref-1 and ADSF/resistin, Two Secreted Factors from Adipose Tissue: Role in Adipogenesis and Insulin Resistance
Adipose Tissue and Blood Pressure Regulation
Adipokines, Inflammation, and Obesity
ADIPOSE TISSUE AND DISEASE
Depot Specific Biology of Adipose Tissues: Links to Fat Distribution and Metabolic Risk
Viral Induction of Obesity and Adipogenesis
Adipose Tissue Cachexia
Obesity and Diabetes: Lipotoxicity
Obesity and Cancer
Overview of Acquired and Genetic Lipodystrophies
Mouse Models of Lipodystrophy
Caloric Restriction
Thiazolidinedione action -
Adipose Tissue PPARg and other Drugs Afffecting Adipose Tissue
Early Life Programming of Adipogenesis and Adiposity
COMPARITIVE AND EVOLUTIONARY ASPECTS OF ADIPOSE TISSUE
Evolutionary Aspects of Obesity and Adipose Tissue Function
See More
Todd Leff is Associate Professor in the Department of Pathology at the Wayne State University School of Medicine in Detroit, Michigan. In 1991 he moved to the Parke-Davis Company where he became the Director of the Transcription Research Group in the Department of Cell biology. In 2002 he joined the faculty at the Wayne State. He serves on the editorial boards of the Journal of Biological Chemistry, the Journal of Lipid Research and the American Journal of Physiology.

James Granneman is Professor of Psychiatry and Behavioral Neurosciences, and Pathology at Wayne State University School of Medicine. Dr. Granneman's research interests include lipolysis and adrenergic signal transduction in adipose tissues, and he serves on the editorial board of American Journal of Physiology.
See More