Single Cell Analysis: Technologies and Applications
ISBN: 978-3-527-31864-3
284 pages
April 2009, Wiley-Blackwell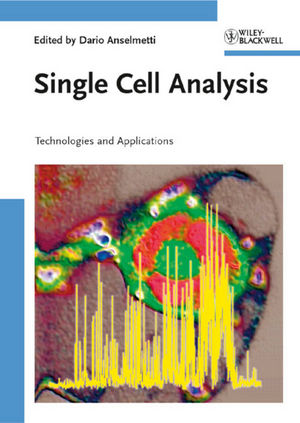 The first-ever comprehensive overview of the methods used in this key technology in modern biology provides the latest working knowledge needed by every scientist entering this growing field. It covers all the current technology and application areas, from microscopy and spectroscopy to proteomics and microfluidics.
See More
SINGLE CELL ANALYSIS: IMAGING
Single Molecule Fluorescence Monitoring in Eukaryotic Cells: Intranuclear Dynamics of Splicing Factors
Gene Classification and Quantitative Analysis of Gene Regulation in Bacteria using Single Cell Atomic Force Microscopy and Single Molecule Force
Cellular Cryo-Electron Tomography (CET): Towards a Voyage to the Inner Space of Cells
SINGLE CELL ANALYSIS: TECHNOLOGY
Single Cell Proteomics
Protein Analysis of Single Cells in Microfluidic Format
Single Cell Mass Spectrometry
Single-Cell Analysis for Quantitative Systems Biology
Optical Stretcher for Single Cells
SINGLE CELL ANALYSIS: APPLICATIONS
Single Cell Immunology
Molecular Characterization of Rare Single Tumor Cells
Single Cell Heterogeneity
Genome and Transcriptome Analysis of Single Tumour Cells
See More
Dario Anselmetti holds the chair in Experimental Biophysics and Applied Nanosciences at Bielefeld University (Germany). He obtained his academic degrees in Physics, Mathematics and Astronomy from Basel University (Switzerland), before becoming a post-doc at the IBM Research Laboratories. Later on, he worked for six years in the research department of Ciba-Geigy (now Novartis) as a project leader in nanobiophysics. After co-managing the Solvias spin-off company in Basel, he returned to academia, taking up his current position in 2000. Dr. Anselmetti has authored over 100 scientific publications and is a member of the Academy of Sciences of the state of Nordrhein-Westfalen.
See More