Status and Prospects of Astronomy in Germany 2003-2016: Memorandum
ISBN: 978-3-527-31910-7
244 pages
June 2008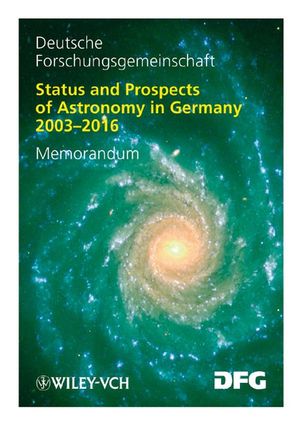 This white paper identifies the main issues and major recommendations for German astronomical research. Their implementation will require initiative from all partners and will allow German astronomers and astrophysicists to continuously play a leading role in their field.
See More
Preface
Abstract
ASTRONOMY YESTERDAY, TODAY AND TOMORROW
SCIENTIFIC TOPICS
The Universe -
Origin, Evolution and Large-Scale Structure
Galaxies and Massive Black Holes
Matter Cycle and Formation of Stars
Formation of Stars and Planets: Protostars, Circumstellar Discs and Extrasolar Planetary Systems
OBSERVATORIES AND INSTRUMENTS FOR THE NEXT FIFTEEN YEARS
STRUCTURE OF ASTRONOMICAL RESEARCH
RECOMMENDATIONS
APPENDIX
Member Institutes of the Council of German Observatories
Glossary/Acronyms

See More
The Deutsche Forschungsgemeinschaft DFG (German Research Foundation) is the central, self-governing research funding organization that promotes research at universities and other publicly financed research institutions in Germany. The DFG serves all branches of science and the humanities by funding research projects and facilitating cooperation among researchers.

The Council of German Observatories is the unifying body for all astronomical and astrophysical institutes in Germany and acts as the German member of the International Astronomical Union. It was founded in 1959 in Göttingen, Germany, and in 1962 assembled the first white paper on the situation of astronomy in Germany.

See More