Global Legislation for Food Packaging Materials
ISBN: 978-3-527-31912-1
414 pages
April 2010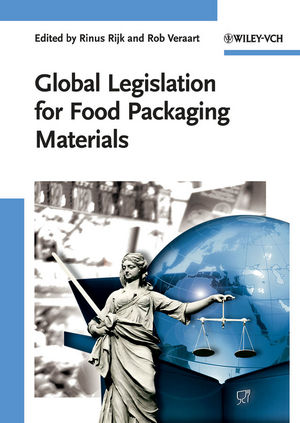 Providing a truly global overview of legislation in all major countries, this practical volume contains the information vital for manufactures of food contact materials and food producers, facilitating a comparison of the requirements and making mutual requirements easier to identify. It covers not only plastics but also other food contact materials, such as paper, board, coatings, ceramics, cork, rubber, and textiles.
See More
Preface
EU LEGISLATION
Introduction
Community Legislation
Specific National Legislation
Future Trends
PETITIONING REQUIREMENTS AND SAFETY ASSESSMENT IN EUROPE
Introduction
EFSA and its Role in Safety Evaluation of Food Contact Materials
Evaluation Process of a Food Contact Substance
Public Access to Data
COUNCIL OF EUROPE RESOLUTIONS
Introduction
Activity of CoE in the 1960s-1970s
EU Activity and Relationship Between EU and CoE
Resolutions of the CoE
Status of the Packages (Resolutions, Guidelines, and Technical Documents)
Transportation of the Resolutions, Guidelines, and Technical Documents
The Future of the CoE
Conclusions
NATIONAL LEGISLATION IN GERMANY
Introduction
Legel Assessment of Different Materials Classes in Food Contact
THE FRENCH REGULATION ON FOOD CONTACT MATERIALS
Introduction
Integration of European Directives and Regulations on Food Contact Materials into the French Regulation
Specific French Legislation on Plastic Materials Intended to Come in Contact with Food
Supplementary French Legislation on Materials other than Plastics Intended to Come in Contact With Food
French Regulation on Coatings Coming into Contact with Foodstuffs
French Regulation on Coloring Matters Used on or Within Food Packaging in Contact with Food
French Regulation on Requests for Authorization of Use of Constituents of Materials and Articles in Contact with Food
Conclusion
DUTCH LEGISLATION ON FOOD CONTACT MATERIALS
Introduction
Plastics
Paper and Board
Rubber
Metals
Glass and Glass Ceramics
Ceramics and Enamels
Textiles
Regenerated Cellulose
Wood and Cork
Coatings
Colored Materials
Calculations
NATIONAL LEGISLATION IN ITALY
Introduction
Decrees on General Principles
Decrees on Specific Materials
How to Get the List and the Text of the Italien Legislation
SWITZERLAND
Legislative System
Food Contact Materials and Articles
Conclusions
LEGISLATION ON FOOD CONTACT MATERIALS IN THE SCANDINAVIAN COUNTRIES AND FINLAND
Introduction
Legislation in Denmark
Legislation in Finland
Legislation in Norway
Legislation in Belgium
Legislation in Sweden
CODE OF PRACTICE FOR COATINGS IN DIRECT CONTACT WITH FOOD
Introduction
Contents of the Code of Practice
Main Points of the Code of Practice
How can the Code of Practice be Applied?
Conclusions
ESTIMATING RISKS POSED BY MIGRANTS FROM FOOD CONTACT MATERIALS
Introduction
Hazard Assessment
Exposure Assessment
FACET: Overview of Food Contact Material Work Package and Interactions with Other Work Packages
Conclusions
COMPLIANCE TESTING, DECLARATION OF COMPLIANCE, AND SUPPORTING DOCMENTATION IN THE EU
Introduction
Composition of the FCM
Selection of Contact Conditions
Migration Experiments
Residual Content
Miscellaneous
Declaration of Compliance and Supporting Documentation
FOOD PACKAGING LAW IN THE UNITED STATES
Introduction
FDA Rules and Regulations
Exemptions
The Food Contact Notification System: An Outgrowth of the Food Additive Regulation System for Food Contact Substances
The Food Additive Petition Process
Conclusions
FOOD PACKAGING LAW IN CANADA ? DRAFT
Introduction
The Legal Structure
The Regulatory Scheme
Enforcement
Conclusions
FOOD PACKAGING LEGISLATION IN SOUTH AND CENTRAL AMERICA
South America
Mexico
Central America
Cuba
Conclusions
ISRAEL?S LEGISLATION FOR FOOD CONTACT MATERIALS: SET FOR THE GLOBAL MARKETS
Introduction
The Standards: Legislative Process in Israel
Technical and Expert Forums at SII
Voluntary Standards and ?Compulsory ? Official Standards?
Food Contact SI-5113 Provisions
Documentation Requirements
Approved Test Laboratories in Israel
Introducing the New Standard in Israeli
Imports of Packaging Materials into Israel
Global Israeli Approach to Food Contact Legislation
Kosher Regulations
Implementation Issues (FAQ)
Guiding Principles
RULES ON FOOD CONTACT MATERIALS AND ARTICLES IN JAPAN
Introduction
The Food Sanitation Law
Specifications and Standards for Food and Food Additives (Notification No. 370)
The Ordinance of Specifications and Standards for Milk and Milk Products
The Food Safety Basic Law and Relationship with the Food Sanitation Law
Industrial Voluntary Rules
Sheets of Confirmation with Compliance
Conclusions
CHINA FOOD CONTACT CHEMICAL LEGISLATION SUMMARY
Introduction
Current Status
China Food Safety Regulatory Entity
Regulations and Rules under the China Food Hygiene (Sanitary) Law
Hygiene Standards on Food Container and Packaging Material
Hygiene Standards for Food Contact Substance (Indirect Additive)
Update in China Food Contact Chemical Legislation and Forecast on Future
Other Food Packaging Material-Related Regulation in China: Requirements for Local Manufacturing and Import of Food Contact Materials
PRINCIPLE ISSUES IN GLOBAL FOOD CONTACT: INDIAN PERSPECTIVE
The Indian Subcontinent: A Study in Contrast
Food Contact Legislation
General Guidelines
Condition for Sale and Licence
Packing and Labeling of Foods
Indian Standards for Direct Food Contact
Methods of Analysis and Determination of Specific and Overall Migration Limits
Acceptability Criteria
Future
SOUTHEAST ASIA FOOD CONTACT
Singapore
Malaysia
Thailand
Conclusions
LEGISLATION ON FOOD CONTACT MATERIALS IN THE REPUBLIC OF KOREA
Introduction
Food Sanitation Act
Food Code
Data and Information Required for Submission of Food Contact Material Prior to Use
Labeling Standard for Food and Food Additives
Requirements for Importing Food Contact Materials
The Future Directions for Packaging Material Regulations
AUSTRALIA AND NEW ZEALAND
Introduction
Australia
Australia?s Regulatory Framework
Enforcement
The State Food Authority
New Zealand
New Zealand?s Regulatory Framework
Relationship with Codex
Food Contact Legislation
Recycled Material
Food Recall Examples Under Section 1.4.3 of the FSANZ Code
Conclusions

See More
Dr Rob Veraart obtained his academic degree from the University of Amsterdam and a Ph.D. from the Free University of Amsterdam. He is working as a staff scientist at Keller and Heckman LLP, Brussels, Belgium, in the field of EU, EU Member State and FDA legislation in relation to food contact materials. Prior to joining Keller and Heckman LLP, he worked at TNO Quality of Life, Zeist, The Netherlands for eight years. He was a project manager and was responsible for projects concerning the demonstration of the compliance for food contact materials in
accordance to several food contact legislations including FDA, EU, German, Dutch and France legislation. He is responsible for the updating of the booklet ¿Verpakkingen- en gebruiksartikelen¿, a part of the ¿Warenwet¿, published by Koninklijke Vermande, which is a compilation of
published Dutch regulations on food contact materials. In addition to this he is the editor of the website www.foodcontactmaterials.com.

Rinus Rijk has worked for over 40 years at TNO Quality of life, Zeist, The Netherlands. He spent most of this time in the development of analytical methods for the determination of migration from food contact materials. For the last 15 years at TNO, he was mainly involved in the
development of legislation of food contact materials at EU and national level. He has evaluated many dossiers that were provided to the SCF, EFSA and the Dutch G4 Commission for authorization of new substances in food contact materials. Based on the results of the EU project, Actipak, he drafted proposals for the legislation of active and intelligent materials which has resulted in an EU regulation on this subject. Since his early retirement in 2006, he has been working as an independent advisor to Keller and Heckman LLP.


See More