Cardiovascular Hormone Systems: From Molecular Mechanisms to Novel Therapeutics
ISBN: 978-3-527-31920-6
456 pages
October 2008, Wiley-Blackwell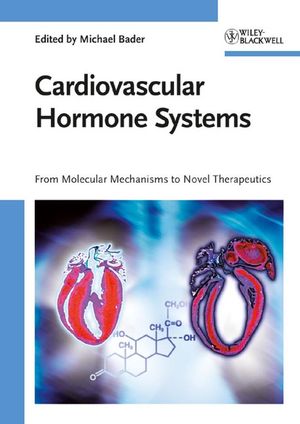 Edited by a renowned scientist in the field with more than 200 high profile scientific publications to his name, this is the first book to provide a comprehensive overview of all cardiovascular hormone systems. Clearly structured, the text covers steroid and peptide hormones, amines, and arachidonic acid metabolites, as well as such others as nucleotides, nitric oxide, and acetylcholine. An essential reference for researchers working on the cardiovascular system and related diseases.
See More
STEROID HORMONES
Gluco- and Mineralocorticoids (Mullins)
Sex Steroid Hormones (Regitz-Zagrosek)
PEPTIDE HORMONES
Angiotensins (Santos)
Kinins (Pesquero)
Natriuretic Peptides (Potter)
Endothelins (Rossi)
Adrenomedullin (Ruskoaho
Apelin and Vasopressin (Llorens-Cortes)
AMINES
Serotonin (Bader)
Adrenaline and Noradrenaline (Hein)
Dopamine (Soares-da-Silva)
Histamine (Tanner)
ARACHIDONIC ACID METABOLITES
Prostaglandins and Leukotrienes (Habenicht)
Cytochrome P450-dependent Eicosanoids (Schunck)
NUCLEOTIDES, NITRIC OXIDE, ACETYLCHOLINE
Nucleotides (Jankowski)
Nitric Oxide (Schini-Kerth)
Acetylcholine (Irigoyen)
See More
Michael Bader got his PhD in Biology at the University of Freiburg, Germany and his professorship in Pharmacology at the Charite, University Medicine Berlin, Germany. He is group leader at the Max-Delbrück-Center for Molecular Medicine (MDC), Berlin, where his research focusses on the functional analysis of cardiovascular hormones using molecular biological and transgenic animal technologies. He is in the Editorial Board of Hypertension and author of more than 200 publications.
See More