Renal and Urinary Proteomics: Methods and Protocols
ISBN: 978-3-527-31974-9
422 pages
December 2009, Wiley-Blackwell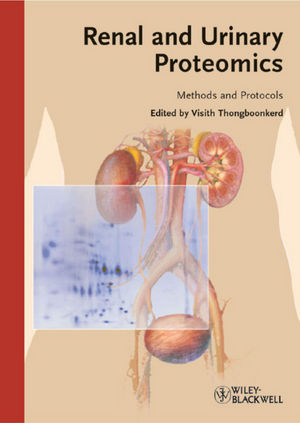 Based on research and results from the international Human Kidney and Urine Proteome Project, this handbook and reference presents current methods and protocols for the analysis of human kidney and urine. The world's leading experts cover everything from basic techniques for routine analysis to advanced methods for difficult samples or analytes. Written with the practitioner in mind, all the methods and techniques are described with step-by-step protocols backed by much valuable practical advice taken from real life experiments.
See More
RENAL PROTEOMICS
Isolation and Enrichment of Glomeruli Using Sieving Techniques (Yamamoto)
Isolation and Enrichment of Glomeruli Using Laser Microdissection and Magnetic Microbeads for Proteomic Analysis (Vonend, Sitek, Rump et al.)
Isolation and Analysis of Thick Ascending Limb of Henle's Loop (TALH) Cells (Dihazi and Muller)
Proteomic Analysis of the Renal Inner Medulla and Collecting Ducts (Kultz and Gabert)
Proteomic Analysis of Mesangial Cells (Beck and Pfeilschifter)
Proteomic Analysis of Podocytes (Rastaldi and Holthofer)
Proteomics of Renal Peroxisomes (Gronemeyer, Wiese, Stephan et al.)
Applications of Tissue Microarrays in Renal Physiology and Pathology (Mobasheri, Cathro, German et al.)
Proteomic and Mass Spectrometric Analyses of Formalin-Fixed Paraffin-Embedded Tissue (Balgley, Wang, Lee et al.)
Selective Tissue Procurement for Renal Tumor Proteomics (Zhuang, Li, Mushlin et al.)
Proteomic Analysis of Primary and Established Cell Lines for the Investigation of Renal Cell Carcinoma (Craven and Banks)
PROTEOMEX Analysis of Renal Cell Carcinoma (Lichtenfels and Seliger)
In Vivo Labeling of the Kidney by Means of CyDye DIGE Fluors Prior to Proteomic Analysis (Mayrhofer, Krieger, Allmaier et al.)
URINARY PROTEOMICS
Simple Methods for Sample Preparation in Gel-Based Urinary Proteomics (Thongboonkerd)
Prefractionation of Urinary Proteins (Castagna, Cecconi, Boschetti et al.)
Gold Nanoparticle-Assisted Protein Enrichment for Urinary Proteomics (Wang and Chen)
Enrichment of Human Urinary Proteins Using Solid-Phase Extraction Column Chromatography (Smith and Tonge)
Enrichment and Analysis of Concanavalin A-Captured Urinary Glycoproteins (Wang and Gao)
Isolation and Enrichment of Urinary Exosomes for Biomarker Discovery (Zhou, Gonzales, Pisitkun et al.)
2-D Difference In-Gel Electrophoresis (2-D DIGE) and Urinary Proteomics (Rao, Shaw, Sharma)
Liquid Chromatography Coupled to Mass Spectrometry for Analysis of the Urinary Proteome (Sun and Gao)
Comparative Urine Analysis by Liquid Chromatography- Mass Spectrometry: Data Processing and Multivariate Statistics (Horvatovich, Kemperman, Bischoff)
Surface-Enhanced Laser Desorption/Ionization for Urinary Proteome Analysis (Devarajan and Ross)
Capillary Electrophoresis Coupled to Mass Spectrometry for Urinary Proteome Analysis (Zurbig, Schiffer, Mischak)
Mass Spectrometric Immunoassay in Urinary Proteomics (Kiernan, Tubbs, Niederkofler et al.)
Antibody Microarrays for Urinary Proteome Profiling (Liu, Lv, Zhang)
Proteomic Analysis of Dialysate Fluid and Adsorbed Proteins on Dialysis Membranes During Renal Replacement Therapy (Ishikawa)

See More
Visith Thongboonkerd studied Medicine in Thailand and Japan, receiving an M. D. degree from Chiang Mai University (Thailand). He then moved to the University of Louisville (Kentucky, USA) as a research associate, becoming a member of the faculty in 2003. He is presently heading the Molecular Biology Research Unit at the Sirijay Hospital in Bangkok, Thailand. Dr. Thongboonkerd is a board member of the international "Human Kidney and Urine Proteome Project" (HKUPP) that is run under supervision of the Human Proteome Organization. He is also an editorial board member of several high impact journals in proteomics and nephrology.
See More