Principles and Practice of Mixtures Toxicology
ISBN: 978-3-527-31992-3
662 pages
October 2010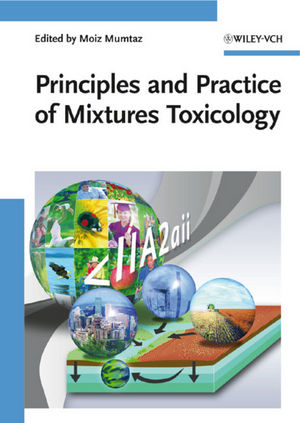 This first comprehensive treatment of the subject for more than a decade includes the latest research on nanoparticle toxicology. The practical handbook addresses all areas where toxic mixtures are encountered, from environmental via occupational to medical settings, giving special consideration to air and water, and to the specific requirements for study design in mixture toxicology. While no extensive prior knowledge or toxicological experience is required, the practice-oriented case studies and examples in the second part make this the ideal companion for the professional toxicologist in industry or healthcare institutions with little time for academic study.
See More
Chemical Mixtures in the Environment: Exposure Assessment
Application of a Relative Potency Factor Approach in the Assessment of Health Risks Associated with Exposures to Mixtures of Dioxin-Like Compounds
Statistical Methods in Risk Assessment of Chemical Mixtures
Kinetic Interactions of Chemical Mixtures
Toxicological Interaction Thresholds of Chemical Mixtures
Characterization of Toxicoproteomics Maps for Chemical Mixtures Using Information Theoretic Approach
Pharmacokinetic Mechanisms of Interactions in Chemical Mixtures
Chemical Mixtures and Cumulative Risk Assessment
Application of ATSDRs Mixtures Guidance for the Toxicity Assessment of Hazardous Waste Sites
Application of Mixture Methodology for Workplace Exposures
Assessing Risk of Drug Combinations
Dermal Chemical Mixtures
Synergy: A Risk Management Perspective
Chemistry, Toxicity, and Health Risk Assessment of Drinking Water Disinfection By-Products
Endocrine Active Chemicals
Evaluation of Interactions in Chemical Mixtures
Thyroid Active Environmental Pollutants and Their Interactions on the Hypothalamic-Pituitary-Thyroid (HPT) Axis
Toxic and Genotoxic Effects of Mixtures of Polycyclic Aromatic Hydrocarbons
Development of In Vitro Models to Assess Toxicity of Engineered Nanomaterials
The Application of Physiologically-Based Pharmacokinetics, Bayesian Population PBPK Modeling, and Biochemical Reaction Network Modeling to Chemical Mixture Toxicology
Food Ingredients Are Sometimes Mixtures
Biomonitoring
Adverse Drug Reactions and Interactions
See More
Moiz Mumtaz is a long-term scientific advisor at the U.S. Agency for Toxic Substances and Disease Registry (ATSDR), where he heads the agency-wide mixtures research program. Dr. Mumtaz obtained his Ph.D. in toxicology form the University of Maryland (USA) and holds M.S. degrees from Oregon State University and from Osmania University (India). He is also a faculty member of Emory University, Atlanta, teaching toxicology and risk assessment courses.
See More