The Periodic Table Through History
ISBN: 978-3-527-32083-7
Kit Nonbook/Nonelectronic
September 2007
US $30.00

Add to Cart
This price is valid for United States. Change location to view local pricing and availability.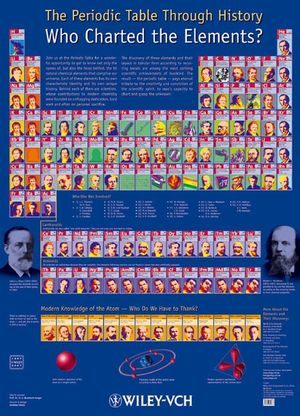 The ideal present for science lovers of all ages: A century after the death of Dimitrij Mendelejew, the Russian scientist who devised the first periodic table for the chemical elements, comes the history of element discovery in the form of this instructive and visually appealing wall chart.
The familiar table is used as a template to display the portraits of the scientists who discovered each element, complete with their names and dates. In so doing, it captures the excitement of scientific discoveries by focusing on the discoverers as well as on their discoveries. Elements known since antiquity, for which no discoverer can be named, are depicted with an archeological object documenting their earliest known use by mankind. Additional facts about the history of the chemical elements, such as the development of the atomic model and the scientists behind it, are displayed in the margin.
The most stunning and eye-catching periodic table poster available today -- thanks to more than a passing reference to pop artist Andy Warhol -- brings history to life, making this a perfect education tool for the young generation.
Printed in brilliant colors and mounted on strong, laminated paper, this is the ultimate decoration for every classroom, lab or dormitory wall.