Next-Generation Genome Sequencing: Towards Personalized Medicine
ISBN: 978-3-527-32090-5
282 pages
October 2008, Wiley-Blackwell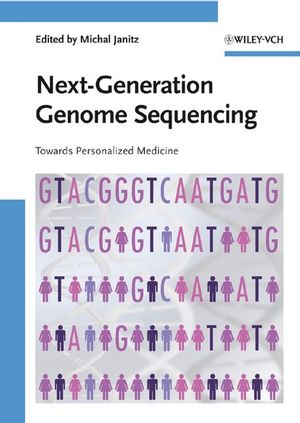 Written by leading experts from industry and academia, this first single comprehensive resource addresses recent developments in next generation DNA sequencing technology and their impact on genome research, drug discovery and health care. As such, it presents a detailed comparative analysis of commercially available platforms as well as insights into alternative, emerging sequencing techniques. In addition, the book not only covers the principles of DNA sequencing techniques but also social, ethical and commercial aspects, the concept of personalized medicine and a five-year perspective of DNA sequencing.
See More
SANGER DNA SEQUENCING
Sanger DNA sequencing (Men)
NEXT GENERATION SEQUENCING -
TOWARDS PERSONALIZED MEDICINE
Illumina Genome Analyzer II System (Lakdawalla)
Applied Biosystems SOLiD? System -
Ligation-based Sequencing (Prediger)
The next Generation Genome Sequencing: 454/Roche GS FLX (Egholm)
Polony Sequencing -
History, technology, and Applications (Edwards)
THE BOTTLENECK: SEQUENCE DATA ANALYSIS
Next Generation Sequence Data Analysis (Bloksberg)
DNASTARs Next Generation Software (Durfee)
EMERGING SEQUENCING TECHNOLOGIES
Real-time DNA sequencing (Hardin)
Direct Sequencing by TEM of Z-substituted DNA Molecules (Glover)
A Single DNA Molecule Barcoding Method with Applications in DNA Mapping and Molecular Haplotyping (Xao)
Optical Sequencing -
Acquisition from Mapped Single Molecule Templates (Schwartz)
Microchip-based Sanger Sequencing of DNA (Barron)
NEXT GENERATION SEQUENCING -
TRULY INTEGRATED GENOME ANALYSIS
Multiplex Sequencing of Paired End diTags for Transcriptome and Genome Analysis (Ruan)
Palaeogenomics using the 454 Sequencing Platform (Gilbert)
ChIPSeq: Mapping of Protein-DNA Interactions (Fejes)
MicroRNA Discovery and Expression Profiling using Next-generation Sequencing (Cuppen)
DeepSAGE -
Tag-based Transcriptome Analysis beyond Microarrays (Nielsen)
The new Genomics and Personal Genome Information: Ethical Issues (Lunshof)



See More
Dr. Michal Janitz is a group leader at the Department of Vertebrate Genomics at the Max Planck Institute for Molecular Genetics, Berlin. Dr. Janitz scientific interest is focused on technology development related to high-throughput functional genomics using cell array and nanowell-based oligonucleotide fingerprinting. Before joining the MPIMG Dr. Janitz was a postdoc at the German Rheumatism Research Center in Berlin where he also received a Ph.D on studies concerning functional analysis of the MHC class II promoters polymorphisms. He is a member of the German National Genome Research Network and Gerson Lehrman Group Healthcare & Biomedical Council.

See More