Nanophotonics and Nanofabrication
ISBN: 978-3-527-32121-6
276 pages
April 2009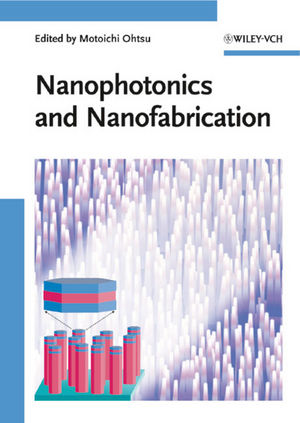 Starting out with a review of the principles of nanophotonics, this book covers a wide range of novel nanofabrication technologies. The internationally recognized editor pioneered this field of research and here he has gathered together a team of authors to highlight the technical details and procedures for both discrete particle as well as surface structure generation. They also illustrate the application potential of different materials, including biological, inorganic and artificial ones.
An invaluable monograph for materials scientists, chemists, physicists, telecommunications engineers, surface and physical chemists.

See More
INTRODUCTION
History
Fiber Probes and Sensing Systems
Theory
Devices
Fabrications
Applications to Systems and Evolution to Related Sciences
Toward the Future
NANOFABRICATION PRINCIPLES AND PRACTICE
Adiabatic Nanofabrication
Nonadiabatic Nanofabrication
NANOFABRICATIONS BY SELF-ORGANIZATION AND OTHER RELATED TECHNOLOGIES
Introduction
Near-Field Optical Chemical Vapor Deposition
Self-Assembling Method Via Optical Near-Field Interactions
Near-Field Imprint Lithography
Nonadiabatic Optical Near-Field Etching
FABRICATION OF QUANTUM DOTS FOR NANOPHOTONIC DEVICES
Introduction
Fabrication of Self-Assembled QDs
Fabrication Techniques of Site-Controlled Nanostructures
Silicon-Related Quantum Structure Fabrication Technology
ZnO NANOROD HETEROSTRUCTURES FOR NANOPHOTONIC DEVICE APPLICATIONS
Introduction
ZnO Axial Nanorod Quantum Structures
ZnO Radial Nanorod Heterostructures
LITHOGRAPHY BY NANOPHOTONICS
Introduction
Principle of the Optical Near-Field Lithography
Optical Near-Field Lithography System
Fabricated Patterns by Optical Near-Field Lithography
Improvement of Resolution and Fabricated Ultrafine Patterns
NANOPATTERNED MEDIA FOR HIGH-DENSITY STORAGE
Introduction
Nanopatterned Media
Block-Copolymer Lithography for Nanopatterned Media
Control of Orientation of Self-Assembled Periodic Patterns of Block-Copolymers
NANOPHOTONICS RECORDING DEVICE FOR HIGH-DENSITY STORAGE
Introduction
Thermally Assisted Magnetic Recording Simulation
The 'Nanobeak', a Near-Field Optical Probe
Bit-Patterned Medium with Magnetic Nanodots
Hybrid Recording Experiment
Near-Field Optical Efficiency in Hybrid Recording
X-RAY DEVICES AND THE POSSIBILITY OF APPLYING NANOPHOTONICS
Introduction
Design of the Multilayer Laminar-Type Grating
Specification of the Multilayer Laminar-Type Grating
Fabrication of Multilayer Laminar-Type Gratings
Simulation of Diffraction Efficiency
Measurement of Diffraction Efficiency
Roughness Evaluation Using Debye-Waller Factors
NANOSTRUCTURING OF THIN-FILM SURFACES IN FEMTOSECOND LASER ABLATION
Introduction
Experimental
Properties of Nanostructuring
Bonding-Structure Change
Dynamic Processes
Local Fields
Origin of Periodicity
QUANTUM DOTS NANOPHOTONIC WAVEGUIDES
Conceptual Formation and Modeling of the Device
From Concept to Realization -
Fabrication of the Device
How Well the Devices Work -
A First Probe
To Probe Further -
Summary and Outlook
HIERARCHY IN OPTICAL NEAR-FIELDS AND ITS APPLICATION TO NANOFABRICATION
Introduction
Angular Spectrum Representation of Optical Near-Fields
Generation of Smaller-Scale Structures via Optical Near-Fields: A Theoretical Basis
Experiment
f
See More
Motoichi Ohtsu is professor of electrical engineering and information systems at the University of Tokyo, Japan. He obtained his engineering doctorate degree from the Tokyo Institute of Technology and began his scientific career there. Professor Ohtsu has authored over 410 scientific publications and holds 87 patents.
He is the author, co-author, and editor of 55 books, including 22 in English. He has received 14 scientific awards, comprising the Issac Koga Gold Medal of URSI, the Japan Royal Medal with a Purple Ribbon from the Japanese Government, and Distinguished Achievement Award from the IEICE of Japan. He is a member of the board of numerous committees in the Japanese government and Japanese and international academic societies as well as a fellow of the OSA.

See More