Nanostructured Oxides
ISBN: 978-3-527-32152-0
532 pages
April 2009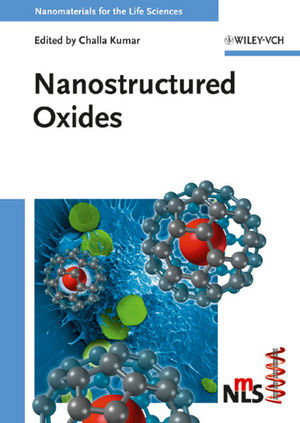 The book series Nanomaterials for the Life Sciences, provides an in-depth overview of all nanomaterial types and their uses in the life sciences.

Each volume is dedicated to a specific material class and covers fundamentals, synthesis and characterization strategies, structure-property relationships and biomedical applications. The series brings nanomaterials to the Life Scientists and life science to the Materials Scientists so that synergies are seen and developed to the fullest.

Written by international experts of various facets of this exciting field of research, the series is aimed at scientists of the following disciplines: biology, chemistry, materials science, physics, bioengineering, and medicine, together with cell biology, biomedical engineering, pharmaceutical chemistry, and toxicology, both in academia and fundamental research as well as in pharmaceutical companies.


For more information about the series, please visit www.wiley.com/go/nmls
See More
Preface

PART I: Metal Oxide Nanomaterials

THE BIOMIMETIC SYNTHESIS OF METAL OXIDE NANOMATERIALS
Introduction
Metal Oxides in Nature
Biomimetic Synthesis of Metal Oxide Nanomaterials
Constrained Biomineralization
Mediated Mineralization
Future Perspectives: Processing Metal Oxide Nanomaterials
SYNTHESIS OF SYMMETRIC AND ASYMMETRIC NANOSILICA FOR MATERIALS, OPTICAL AND MEDICAL APPLICATIONS
Introduction
Synthesis of Nanosilica
Characterization
Applications of Symmetric and Asymmetric Nanosilica
Conclusions
ONE-DIMENSIONAL SILICA STRUCTURES AND THEIR APPLICATIONS TO THE BIOLOGICAL SCIENCES
Introduction
Synthesis of Silica Nanowires and Nanosprings
Functionalization of 1-D Silica Nanomaterials
Toxicology Studies on 1-D Silica Nanomaterials
Biological Applications of 1-D Silica Nanomaterials
APPROACHES TO THE BIOFUNCTIONALIZATION OF SPHERICAL SILICA NANOMATERIALS
Introduction
Silica Nanoparticles
Biofunctionalization of Silica Nanoparticles
Applications
Summary and Future Perspectives
MESOPOROUS CAGE-LIKE SILICA MONOLITHS FOR OPTICAL SENSING OF POLLUTANT IONS
Introduction
General Sensing Techniques for Metal Ions
General Designs of Optical Nanosensors Based on Mesoporous Silica Carriers
Optical Sensing Assays of Metal Ions Using Nanosensors
One-Step and Simple Ion-Sensing Procedures
The Calibration Graphs and Analytical Parameters of Nanosensors
The Advantages of Nanosensor Designs
Conclusions and Outlook
NANOSCALE BIOACTIVE SILICATE GLASSES IN BIOMEDICAL APPLICATIONS
Introduction
Fabrication of Nanoscale Bioactive Glass Particles and Fibers
Applications of Nanoscale Bioactive Glasses
Summary and Future Perspective
TOXICITY OF SPHERICAL AND ANISOTROPIC NANOSILICA
Introduction
Synthesis of Amorphous Silica Nanoparticles
Invasion Pathways of Silica Nanomaterials into Living Systems
Mechanism of Nanomaterials-Induced Toxicity
Effects of Silica Nanomaterial Properties of Toxicity
Toxicity of Silica Nanomaterials: A Summary
Perspectives of Silica Nanomaterials
ZIRCONIA NANOMATERIALS: SYNTHESIS AND BIOMEDICAL APPLICATOIN
Introduction
Synthesis of Zirconia Nanomaterials
Biomedical Applications of Zirconia Nanomaterials
Summary and Conclusions
METAL OXIDE NANOMATERIALS FOR WATER TREATMENT
Introduction
Titanium Dioxide (TiO2)
Iron Oxides
Manganese Oxides
Cerium Oxide (CeO2)
Magnesium Oxide (MgO)
Alumina (A2O3)
Summary

PART II: Other Inorganic Nanomaterials

APPROACHES TO MESOSCALE MODELING OF NANOPARTICLE-CELL MEMBRANE INTERACTIONS
Introduction
Field-Theoretical Modeling of Nanoparticle-Membrane Interactions
Dissipative Particle Dynamic Simulations of Nanoparticle-Cell Membrane Interactions
The Next Steps, and Future Opportunities
Summary and Outlook
POROUS SILICON PARTICLES FOR IMAGING AND THERAPY OF CANCER
Introduction
Porous Silicon
Microfabrication
Characterization
Nanovectors for the Delivery of Therapeutics
Cellular Uptake of pSi Particles
Cancer Imaging
Conclusions
SPHERICAL AND ANISOTROPIC HYDROXYAPATITE NANOCRYSTALS
Introduction
Synthesis of Hydroxyapatite Nanocrystals
Characterization of Hydroxyapatite Nanocrystals
Bulk Structures Using Hydroxyapatite Nanocrystals
Future Trends
CALCIUM PHOSPHATE NANOPARTICLES IN BIOMINERALIZATION AND BIOMATERIALS
Introduction
Nano-Calcium Phosphates in Hard Tissues
Biological Formation of Calcium Phosphates
Characteristic Mechanical Properties
Stability of Nano-Calcium Phosphates
Synthesis of Nano-Calcium Phosphates
Nano-Calcium Phosphate in Biomedical Engineering
Summary
See More
Challa Kumar is currently the Director of Nanofabrication & Nanomaterials at the Center for Advanced Microstructures and Devicees (CAMD), Baton Rouge, USA. He is also the President and CEO of Magnano Technologies, a company established to commercialize nanomaterials for applications in life sciences. His research interests are in developing novel synthetic methods, including those based on microfluidic reactors, for multifunctional nanomaterials. He has also been involved in the development of innovative therapeutic & diagnostic tools based on nanotechnology. He has eight years of industrial R&D experience working for Imperial Chemical Industries and United Breweries. He is the founding Editor-in-Chief of the Journal of Biomedical Nanotechnology, published by American Scientific Publishers and Series editor for the ten-volume book series, Nanotechnologies for the Life Sciences (NtLS), published by Wiley-VCH.
See More
Buy Both and Save 25%!
Nanostructured Oxides (US $288.00)
-and- Polymeric Nanomaterials (US $217.00)
Total List Price: US $505.00
Discounted Price: US $378.75 (Save: US $126.25)
Cannot be combined with any other offers. Learn more.