Nanomaterials for the Life Sciences, 10 Volume Set
ISBN: 978-3-527-32261-9
5584 pages
April 2011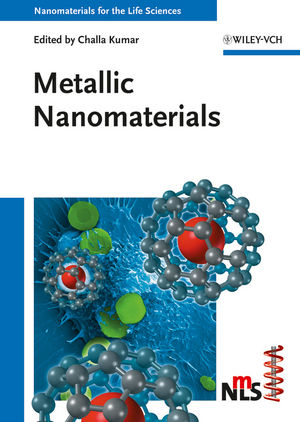 The must-have ten-volume successor to the critically acclaimed Nanotechnologies for the Life Sciences series, Nanomaterials for the Life Sciences, 10 Volume Set provides an excellent, in-depth overview of all nanomaterial types and their uses in the life sciences. Each volume is dedicated to a specific material class and covers fundamentals, synthesis strategies, structure-property relationships, material behavior fine-tuning, biological effects, and applications in the life sciences. This landmark set provides materials scientists, chemists, biologists, molecular biologists, clinical physicists, physiological chemists, medicinal chemists, and toxicologists with essential awareness of life science applications.
See More
Volume 1: Metallic Nanomaterials
Volume 2: Nanostructured Oxides
Volume 3: Mixed Metal Nanomaterials
Volume 4: Magnetic Nanomaterials
Volume 5: Nanostructured Thin Films and Surfaces
Volume 6: Semiconductor Nanomaterials
Volume 7: Biomimetic and Bioinspired Nanomaterials
Volume 8: Nanocomposites
Volume 9: Carbon Nanomaterials
Volume 10: Polymeric Nanomaterials
See More
Challa Kumar is Group Leader Nanofabrication at the Center for Advanced Microstructures and Devices (CAMD) in Baton Rouge, USA. He is the Editor of the ten-volume book series 'Nanotechnologies for the Life Sciences' (Wiley-VCH) and founding Editor-in-Chief of the Journal of Biomedical Nanotechnology (ASP). He has authored over thirty scientific publications and holds over ten patents either granted or pending.
He received his Ph.D. in Chemistry from Sri Sathya Sai Institute of Higher Learning in Prashantinilyam, India. He was a post doctoral fellow at Max-Planck Institute for Biochemie in Munich, Germany, followed by eight years of experience working in different chemical industries in various capacities.
See More