The MAK-Collection for Occupational Health and Safety
ISBN: 978-3-527-32306-7
349 pages
January 2011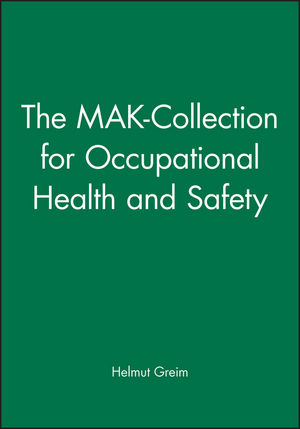 This volume provides documentations for the established MAK values (maximum workplace concentrations) of selected occupational toxicants, including an authoritative review of the available toxicological studies and data. For each substance, the toxic effects, mechanisms and modes of action, toxicogenetics and metabolism, effects in man and animals are described. In addition, the carcinogenic, germ-cell mutagenic, sensitizing or skin-resorptive effects as well as their toxicity to the reproductive system are evaluated, plus basic physico-chemical data are provided. The documentations are thus not only essential for the application of MAK values but also provide a concise toxicological overview for each substance.
See More
Acetic acid
Acrylic acid
Aniline
2-Butoxyethanol (Ethylene glycol monobutyl ether)
Chloroform
Dimethylformamide
Ethanol
Hydrogen bromide
Hydrogen peroxide
Methacrylic acid
Methylmethacrylate
N-Methyl-2-pyrrolidone (vapour)
Sulfuric acid
Tetrahydrothiophene
See More
Helmut Greim is the former Head of the DFG-Senate Commission for the Investigation of Health Hazards of Chemical Compounds in the Work Area and Head of the Scientific Committee for Occupational Exposure Limits (SCOEL), which is working for the European Commission.
See More