Handbook of Hot-dip Galvanization
ISBN: 978-3-527-32324-1
494 pages
May 2011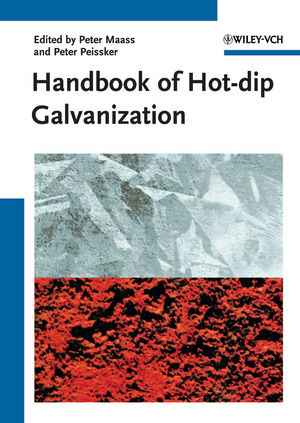 Hot-dip galvanization is a method for coating steel workpieces with a protective zinc film to enhance the corrosion resistance and to improve the mechanical material properties. Hot-dip galvanized steel is the material of choice underlying many modern buildings and constructions, such as train stations, bridges and metal domes.
Based on the successful German version, this edition has been adapted to include international standards, regulations and best practices. The book systematically covers all steps in hot-dip galvanization: surface pre-treatment, process and systems technology, environmental issues, and quality management. As a result, the reader finds the fundamentals as well as the most important aspects of process technology and technical equipment, alongside contributions on workpiece requirements for optimal galvanization results and methods for applying additional protective coatings to the galvanized pieces.
With over 200 illustrated examples, step-by-step instructions, presentations and reference tables, this is essential reading for apprentices and professionals alike.
See More
CORROSION AND CORROSION PROTECTION
Corrosion
Corrosion Protection
HISTORICAL DEVELOPMENT OF HOT-DIP GALVANIZING
SURFACE-PREPARATION TECHNOLOGY
As-Delivered Condition
Mechanical Surface-Preparation Methods
Chemical Cleaning and Degreasing
Rinsing of the Parts
Pickling
Hot-Dip Galvanizing Fluxes
HOT-DIP GALVANIZING AND LAYER-FORMATION TECHNOLOGY
Process Variants
Layer Formation in Hot-Dip Batch Galvanizing Between 435°C and 620°C
Liquid-Metal-Induced Embrittlement (LME)
After-Treatment
TECHNICAL EQUIPMENT
Preliminary Planning
Layout Variants of Plants
Pretreatment Plant
Drying Furnaces
Galvanizing Furnaces
Galvanizing Kettle
Zinc Bath Housings
After-Treatment
Unloading Area
Crossbeam Return
Crane Units
Filtration Plants
Semiautomatic Galvanizing Lines for Small Parts
Galvanizing Furnace with Ceramic Trough
Automatic Galvanizing Line for Small Parts
Pipe Galvanizing Line
Application of Vibrators
Energy Balance
Commissioning and Decommissioning of a Hot-Dip Galvanizing Kettle, Kettle Change, Method of Operation
ENVIRONMENTAL PROTECTION AND OCCUPATIONAL SAFETY IN HOT-DIP GALVANIZING PLANTS
Rules and Measures Concerning Air-Pollution Control
Measures for the Control of Air Pollution
Measuring Systems
Waste and Residual Materials
Noise
Occupational Safety
Practical Measures for Environmental Protection
DESIGN AND MANUFACTURING ACCORDING TO HOT-DIP GALVANIZING REQUIREMENTS
General Notes
Requirements Regarding Surface Quality of the Basic Material
Dimensions and Weights of Material to be Galvanized
Containers and Tubular Constructions (Hollow Bodies)
Steel Profile Constructions
Steel Sheet and Steel Wire
Constructions of Hot-Dip Galvanized Semifinished Products
Avoidance of Distortion and Crack Formation
Welding Before and After Hot-Dip Galvanizing
Hot-Dip Galvanizing of Small Parts
Reworking and Repair of Zinc Coatings
Hot-Dip Galvanizing of Cast Materials
Local Avoidance of Zinc Adherence
Standards and Guidelines
Defects and Avoiding Defects
QUALITY MANAGEMENT IN HOT-DIP GALVANIZING COMPANIES
Why Quality Management?
Important Criteria
Structure of the QM System According to DIN EN ISO 9001:2000
Short Description of QM Elements Sections 4-8
Introduction of QM Systems
Trends
CORROSION BEHAVIOR OF ZINC COATINGS
Corrosion -
Chemical Properties
Corrosion Caused by Atmosphere
Corrosion through Water
Corrosion in Soils
Corrosion Resistance to Concrete
Corrosion in Agricultural Facilities and Caused by Agricultural Products
Corrosion through Nonaqueous Media
Corrosion Protection Measures at Defective Spots
Examination of Corrosion Resistance and Quality Test
COATINGS ON ZINC LAYERS -
DUPLEX SYSTEMS
Fundamentals, Use, Main Fields of Application
Definitions of Terms
Protection Period of Duplex-Systems
Special Features of the Constructive Design of Components
Quality Requirements for the Zinc Coating for Protective Paint Layers
Surface Preparation of the Zinc Coating for the Protective Paint
Coating Materials, Protective Paint Systems
ECONOMIC EFFICIENCY OF HOT-DIP GALVANIZING
EXAMPLES OF USE
Building Construction
Civil Engineering
Traffic Engineering
Sport/Leisure
Plant Engineering
Mining
Energy Supply
Agriculture
Component Parts/Fasteners
Environmental Protection
Handicraft
Art
Continuous-Sheet Galvanizing
Conclusion
APPENDIX
Requirements for the Zinc Coating
Assessment Criteria for Hot-Dip Galvanized Coatings on Steel Structures
Major Defects in the Zinc Coating or at the Hot-Dip Galvanized Workpiece

See More
Peter Maaß is a specialist engineer for corrosion protection. In addition to his engineering degree, he holds a PhD in economics. In his professional career he headed the central office for hot-dip galvanization of the German Democratic Republic for twenty years. Later Peter Maaß became head of the northeastern branch of the Institute of Hot-Dip Galvanization, Ltd., in Düsseldorf, Germany. He edited three German editions of the handbook of hot-dip galvanization that became the de facto standard for vocational training.
See More