Aluminium Alloys
ISBN: 978-3-527-32367-8
2504 pages
November 2008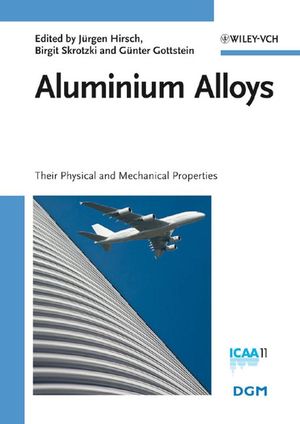 Aluminium is a well established modern lightweight engineering and functional material with a unique combination of specific properties like strengh, formability, durability, conductivity, corrosion resistance, etc. It is present in many intelligent solutions in established markets like building, transport, packaging, printing, and many others, in our fast moving modern society. The various aluminium alloys can be processed quite efficiently in large quantities by conventional fabrication routes, as well as in special sophisticated forms and material combinations for highly innovative high-tec solutions and applications. This book contains latest information about all these aspects in form of the refereed papers of the II th International Conference on Aluminium Alloys "ICAA", where world-wide experts from academia and engineers from industry present latest results and new ideas in fundamental as well as applied research. Since 22 years the ICAA series provides scientists and engineers with a complete overview over the latest scientific and technological developments, featuring profound technology-based overviews and new innovative perspectives.
This book is a reference for the scientific community as well as for the aluminium industry working on aluminium alloy development, processing and application issues. It gives a global perspective on the current focus of international research with emphasis on in-depth understanding of specific properties and applications of conventional and advanced aluminium alloys.
See More
VOLUME 1

Plenary
Alloy Development
Casting and Solidification
Recycling
Thermomechanical Processing
Characterisation
Phase Transformation
Recrystallization and Texture

VOLUME 2

Simulation and Modelling
Mechanical Properties
Forming and Formability
Joining Technology
Corrosion and Surface
Novel Materials
Applications

See More
Jürgen Hirsch is senior researcher at the Hydro Aluminium Deutschland GmbH, Bonn. He was awarded the Tammann commemorative medal of the Deutsche Gesellschaft für Materialkunde for his outstanding work on crystallographic textures in metallic materials and the introduction of modelling approaches into industrial research. His has made many contributions to the metallurgy of aluminium and to the advancement of modern concepts in the aluminium industry.
See More