Carbohydrates: Tools for Stereoselective Synthesis
ISBN: 978-3-527-32379-1
394 pages
March 2013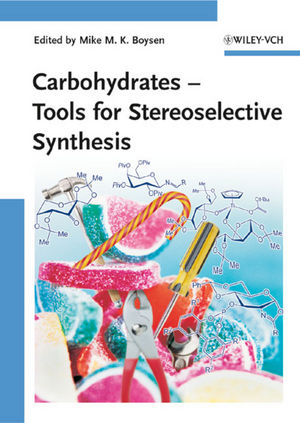 Closing a gap in the literature, this comprehensive book presents the utility of carbohydrate derivatives as chiral auxiliaries, reagents, complex
ligands and organocatalysts, together with details of their preparation, as well as their successful application in stereoselective synthesis.

Divided into four parts:
* Carbohydrate Auxiliaries
* Carbohydrate Reagents
* Carbohydrate Ligands
* Carbohydrate Organocatalysts

It is an indispensable source for every organic chemist.

See More
GENERAL CONCEPTS
Structural Considerations
Pseudo Enantiomeric Approach

CARBOHYDRATE AUXILIARIES
Addition of Nucleophiles to Imines
1,4-Addition of Nucleophiles to alphe, beta-Unsaturated Carbonyl Compounds
Reaction of Enolates
Cycloadditions
Cyclopropanation
Epoxidation
Miscellaneaous Reactions

CARBOHYDRATE REAGENTS
Hydride Reductions
Aldol-Type Reactions
1,2-Additions of Nucleophiles to Carbonyl Compounds Using Stochiometric Reagents
1,2-Additions of Nucleophiles to Carbonyl Compounds Using Additives
Miscellaneous Reactions
CARBOHYDRATE LIGANDS
Hydrogenation Reactions
Hydroformylations
Hydrovinylations
Hydrocyanations
Tsuji-Trost Reactions
Asymmetric Heck Reactions
1,4-Additions of Nucleophiles to alpha, beta-Unsaturated Carbonyl Compounds
1,2-Addition of Nucleophiles to Carbonyl Compounds
Cyclopropanations
Ring Opening Reactions
Miscellaneous Reactions

CARBOHYDRATE ORGANOCATALYSIS
Oxidations
Strecker and Mannich Reactions
Michael Additions
Miscellaneous Reactions
See More
Mike Boysen is Junior Professor and Heisenberg Fellow of the German Research Foundation at the Leibniz University Hannover, Germany. He obtained his Ph.D. degree under the guidance of Thisbe K. Lindhorst at the University Kiel. After a postdoctoral fellowship with Stefan Oscarson at Göteborg University he joined the faculty at Hannover University. His research interests include synthetic carbohydrate chemistry,
development of novel chiral ligands for metal catalysis based on carbohydrates and enantioselective synthesis.
See More