Electrochemistry in Nonaqueous Solutions, 2nd, Revised and Enlarged Edition
ISBN: 978-3-527-32390-6
Hardcover
432 pages
December 2009
US $185.00

Add to Cart
This price is valid for United States. Change location to view local pricing and availability.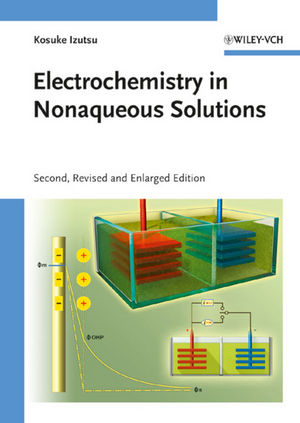 Other Available Formats:
E-book
Preface
PART I: Fundamentals of Chemistry in Nonaqueous Solutions: Electrochemical Aspects

PROPERTIES OF SOLVENTS AND SOLVENT CLASSIFICATION
Properties of Solvents
Classifications of Solvents
Effects of Solvent Properties on Chemical Reactions
SOLVATION AND COMPLEX FORMATION OF IONS AND BEHAVIOR OF ELECTROLYTES
Influence of Ion Solvation on Electrolyte Dissolution
Some Fundamental Aspects of Ion-Solvation
Comparison of Ionic Solvation Energies in Different Solvents and Solvent Effects on Ionic Reactions and Equilibria
Solvent Effects on the Complexation of Metal Ions
Selective Solvation of Ions in Mixed Solvents
Ion Association and Solvent Permittivities
ACID-BASE REACTIONS IN NON-AQUEOUS SOLVENTS
Solvent Effects on Acid-Base Reactions
pH-Scales in Non-Aqueous Solutions
REDOX REACTIONS IN NON-AQUEOUS SOLVENTS
Solvent Effects on Various Types of Redox Reactions
Redox Properties of Solvents and Potential Windows
Redox Titrations in Non-Aqueous Solutions

PART II: Electrochemical Techniques and Their Applications in Non-Aqueous Solutions

OVERVIEW IN ELECTROANALYTICAL TECHNIQUES
Classification of Electrochemical Techniques
Fundamentals of Electrode Reactions and Current-Potential Relations
DC Polarography ? Methods that Electrolyze Electroactive Species Only Partially
New Types of Polarography ? Methods that Electrolyze Electroactive Species Only Partially
Voltammetry and Related New Techniques ? Methods that Electrolyze Electroactive Species Only Partially
Electrogravimetry and Coulometry ? Methods that Completely Electrolyze Electroactive Species
Potentiometry ? A Method that Does Not Electrolyze Electroactive Species
Conductimetry ? A Method that is Not Based on Electrode Reactions
Electrochemical Instrumentation ? Roles of Operational Amplifiers and Microcomputers
POTENTIOMETRY IN NON-AQUEOUS SOLUTIONS
Basic Techniques of Potentiometry in Non-Aqueous Solutions
pH Measurements in Non-Aqueous Solutions
Applications of Potentiometry in Non-Aqueous Solutions
Liquid Junction Potentials between Different Solvents
CONDUCTIMETRY IN NON-AQUEOUS SOLUTIONS
Dissociation of Electrolytes and Electrolytic Conductivity
Ionic Conductivities and Solvents
Applications of Conductimetry in Non-Aqueous Solutions
POLAROGRAPHY AND VOLTAMMETRY IN NON-AQUEOUS SOLUTIONS
Basic Experimental Techniques in Non-Aqueous Solutions
Polarography and Voltammetry of Inorganic Species
Polarography and Voltammetry of Organic Compounds
Cyclic Voltammetry for Electrochemical Studies in Non-Aqueous Solutions
Voltammetry of Isolated Nanoparticle Solutions (Nanoelectrochemistry)
OTHER ELECTROCHEMICAL TECHNIQUES IN NON-AQUEOUS SOLUTIONS
Use of Electrolytic and Coulometric Techniques in Non-Aqueous Solutions
Combinations of Electrochemical and Nonelectrochemical Techniques
PURIFICATION OF SOLVENTS AND TESTS FOR IMPURITIES
Influences of Solvent Impurities on Electrochemical Measurements
Procedures for the Purification of Solvents
Tests for Purity of Solvents
Purification Methods for Solvents of Common Use
SELECTION AND PREPARATION OF SUPPORTING ELECTROLYTES
Selection of Supporting Electrolytes for Electrochemical Measurements
Methods for Preparing and Purifying Supporting Electrolytes
USE OF NONAQUEOUS SOLUTIONS IN MODERN ELECTROCHEMICAL TECHNOLOGIES
New Batteries Using Non-Aqueous Solutions (Lithium Batteries)
New Capacitors Using Non-Aqueous Solutions
Conducting Polymers and Electrochemistry in Non-Aqueous Solutions
Electrochemiluminescence (ECL)
Electrochemical Reduction of CO2 in Non-Aqueous Solvents
Use of Acetonitrile in Electrowinning and Electrorefining of Copper
Electrodeposition of Metals and Semiconductors from Non-Aqueous Solutions

PART III: Electrochemistry in New Solvent Systems

ELECTROCHEMISTRY IN CLEAN SOLVENTS
Introduction
Supercritical Fluids
Ionic Liquids
ELECTROCHEMISTRY AT THE LIQUID-LIQUID INTERFACES
Interfaces between Two Immiscible Electrolyte Solutions
Interfaces between Ionic-Liquids and Water

Buy Both and Save 25%!
Electrochemistry in Nonaqueous Solutions, 2nd, Revised and Enlarged Edition (US $185.00)
-and- Modern Electroplating, 5th Edition (US $165.00)
Total List Price: US $350.00
Discounted Price: US $262.50 (Save: US $87.50)
Cannot be combined with any other offers. Learn more.