Epigenetics and Human Health: Linking Hereditary, Environmental and Nutritional Aspects
ISBN: 978-3-527-32427-9
316 pages
December 2009, Wiley-Blackwell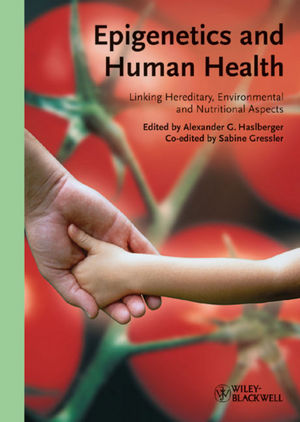 After first introducing the concept of epigenetics, this handbook and ready reference provides an overview of the main research on epigenetics. It adopts a multidisciplinary approach, involving molecular biology, molecular epidemiology and nutritional science, with a special focus of the book is on disease prevention and treatment.
Of interest to all healthcare-related professionals as well as nutritionists, and the medical community focusing on disease prevention.

See More
GENERAL INTRODUCTION
The research program in epigenetics: the birth of a new paradigm (Vineis)
Interactions between nutrition and health (Elmadfa)
Epigenetics: Comments from an Ecologist (Schiemer)
Interaction of hereditary and epigenetic mechanisms in gene expression (Haslberger)
HEREDITARY ASPECTS
Methylenetetrahydrofolate reductase C677T and A1298C polymorphisms and cancer risk: a review of the
published meta-analyses (Boccia)
The Role of Biobanks for the Understanding of Gene-Environment Interactions (Zatloukal)
Case studies on epigenetic inheritance (Kaati)
ENVIRONMENTAL AND TOXICOLOGICAL ASPECTS
Genotoxic, non-genotoxic and epigenetic mechanisms in chemical hepatocarcinogenesis: Implications for safety evaluation (Bursch)
Carcinogens in foods: occurrence, modes of action and modulation of human risks by genetic factors and food components (Knasmüller)
NUTRITIONAL ASPECTS
From molecular nutrition to nutritional systems biology (Vergères)
Effects of dietary natural compounds on DNA methylation related to cancer chemoprevention and anticancer epigenetic therapy (Stefanska)
Health determinants throughout the life cycle (Rust)
CASE STUDIES
Viral infections and epigenetic control mechanisms (Klaus Huber)
Epigenetic aspects in gynaecology and reproductive medicine (Johannes Huber)
Epigenetics and Tumorigenesis (Karlic)
Epigenetic approaches in oncology (Mader)
Epigenetic Dysregulation in Aging and Cancer (Komninou)
The impact of genetic and environmental factors in neurodegeneration: emerging role of epigenetics (Migliore)
Epigenetic biomarkers in neurodegenerative disorders (Peterlin)
Epigenetic mechanisms in asthma (Miller)
WAYS FOR TRANSLATION OF THE CONCEPT
Public Health Genomics -
Integrating Genomics and Epigenetics into National and European Health Strategies and Policies (Schulte in den Bäumen)
Taking a first step: epigenetic health and responsibility
(Gesche)
See More
Alexander G Haslberger is group leader at the Department for Nutritional Sciences at the University of Vienna where he also received his academic degrees. He worked in research groups of the Sandoz Research Inst., the University of Minnesota, the WHO in Geneva and headed a group at the Fed. Ministry of Health, Vienna. He participated in the preparation of the WHO report on modern food biotechnology, the UN Millennium Ecosystem Assessment, the preparation of the OECD conference on genetic testing, Vienna 2000, the Public Health Genomic EC network, EC research projects and in WHO expert groups.
See More
Buy Both and Save 25%!
Epigenetics and Human Health: Linking Hereditary, Environmental and Nutritional Aspects (US $197.95)
-and- The Colors of Mice: A Model Genetic Network (US $197.95)
Total List Price: US $395.90
Discounted Price: US $296.92 (Save: US $98.98)
Cannot be combined with any other offers. Learn more.