Industrial Scale Natural Products Extraction
ISBN: 978-3-527-32504-7
314 pages
May 2011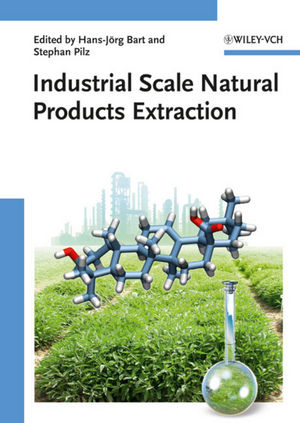 Covering the latest technologies in process engineering, this handbook and ready reference features high pressure processing, alternative solvents and processes, extraction technologies and biotransformations -- describing greener, more efficient and sustainable techniques. The result is an expert account of engineering details from lab-scale experiments to large-scale industrial design.
The major focus is on the engineering aspects of extraction with organic and supercritical solvents, ionic liquids or surfactant solutions, and is supplemented by aspects of both up- and downstream processing, biotransformation, as well as a survey of typical products in food, pharmaceutical and cosmetic applications. This is rounded off by market developments, economic considerations and regulations requirements in the field
Authored by experts from leading industrial and academic institutions, this is essential reading for the hands-on scientist and office manager alike.
See More
Preface
EXTRACTION OF NATURAL PRODUCTS FROM PLANTS -
AN INTRODUCTION
Introduction
Cultivation
Extraction
Extraction Techniques
Purification
SOLUBILITY OF COMPLEX NATURAL AND PHARMACEUTICAL SUBSTANCES
Introduction
Solubility Calculations
Thermodynamic Modeling
Examples
Summary
ALTERNATIVE SOLVENTS IN PLANT EXTRACTION
Introduction
Ionic Liquids in the Extraction of Natural Compounds from Plant and Fungi
Surfactants and Aqueous Two-Phase Systems in Plant Extraction
Summary
HIGH PRESSURE PROCESSING
Introduction
Supercritical Fluids
Physical Properties -
Mass Transfer Characteristics
Process Units
Process Design and Operation
Applications
PROCESS ENGINEERING AND MINI-PLANT TECHNOLOGY
Introduction
Chromatographic Screening
Preparative Task
Liquid-Liquid Extraction
Mini-Plant Technology for Extraction Process Development
Cost Estimation
Total Process Development
Future Developments
EXTRACTION TECHNOLOGY
Introduction
Extraction Process Basics
Experimental Procedures
Theoretical Modeling and Scale-Up
Industrial Extraction Equipment
EXTRACTION OF LIGNOCELLULOSE AND ALGAE FOR THE PRODUCTION OF BULK AND FINE CHEMICALS
Introduction
Products from Lignocellulose
Polysaccharides and Sporopollenin from Marine Algae
NATURAL PRODUCTS -
MARKET DEVELOPMENT AND POTENTIALS
Introduction
Natural Products Market Overview
Natural Products in Food and Functional Food
Natural Products for Pharmaceutical Applications
Summary
REGULATIONS AND REQUIREMENTS
Introduction
Definition of Plant Extracts as Medicines or Foods -
A Borderline Issue
Application of Plant Extracts in Flavorings, Functional Foods, Novel Foods and Food Supplements
Requirements Concerning Quality and Safety Issues
Conclusions

See More
Prof. Hans-Jörg Bart is the Head of the Department Process Engineering at Technical University of Kaiserslautern, Germany. He obtained his academic degrees from Technical University of Graz, Austria, and later became Head of the Christian Doppler Laboratorium "Modelling of Reactive Systems in Process Engineering". Professor Bart has authored over 300 publications, is on the editorial board of several journals, including "Chemical Engineering Technology Journal" and "CIT-Plus". Prof. Bart is Head of the ProcessNet working party "Extraction" and is an appointed board member of several scientific working parties.

Dr. Stephan Pilz is former Head of the High Pressure Technologies Development at Evonik Degussa GmbH in Trostberg, Germany and furthermore developed processes for natural substances. After passing functions in Business Development and Strategic Projects, he is now in International Sales and located in Shanghai. He received his degree from Stuttgart University, Germany, worked on his master thesis with British Gas, UK, and his PhD with Daimler Chrysler AG at Karlsruhe University. Dr. Pilz is co-chairman of the Process-Net working party "Natural Plant Extracts - Processes and Products".
See More