Chiral Amine Synthesis: Methods, Developments and Applications
ISBN: 978-3-527-32509-2
520 pages
April 2010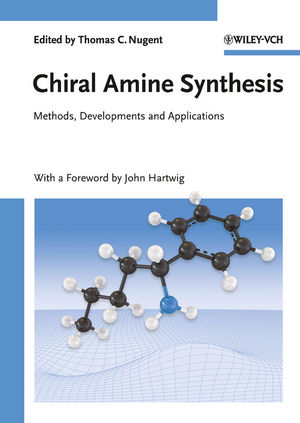 This first comprehensive presentation of this hot and important topic compiles the most up-to-date methods for chiral amine synthesis. The international list of authors reads like a "Who's Who" of the subject, providing a large array of highly practical information concentrated into the useful and essential methods.
Following an introductory chapter devoted to helping readers quickly determine which strategies to choose for their investigation, this handbook and ready reference focuses on the examination of methods that are reliable and simultaneously efficient for the synthesis of structurally diverse aliphatic and aromatic chiral amines. Modern methods and applications found in (pharmaceutical) industry are also covered.

See More
Preface
STEREOSELECTIVE SYNTHESIS OF ALPHA-BRANCHED AMINES BY NUCLEOPHILIC ADDITION OF UNSTABILIZED CARBANIONS TO IMINES
Introduction
Overview of the Methods for the Preparation of Imines
Chiral Auxiliary-Based Approaches
Catalytic Asymmetric Nucleophilic Addition to Achiral Imines
Conclusion
ASYMMETRIC METHODS FOR RADICAL ADDITION TO IMINO COMPOUNDS
Background and Introduction
Intermolecular Radical Addition Chiral N-Acylhydrazones
Asymmetric Catalysis of Radical Addition
Closing Remarks
ENANTIOSELECTIVE SYNTHESIS OF AMINES BY CHIRAL BRONSTED ACID CATALYSTS
Introduction
Carbon-Carbon Bond Forming Reactions
Carbon-Hydrogen Bond Forming Reactions
Carbon-Heteroatom Bond Forming Reactions
Conclusion
REDUCTION OF IMINES WITH TRICHLOROSILANE CATALYZED BY CHIRAL LEWIS BASES
Introduction
Formamides as Lewis-Basic Organocatalysts in Hydrosilylation of Imines
Other Amides as Organocatalysts in Hydrosilylation of Imines
Sulfinamides as Organocatalysts in Hydrosilylation of Imines
Supported Organocatalysts in Hydrosilylation of Imines
Mechanistic Considerations
Synthetic Applications
Conclusions
Typical Procedures for the Catalytic Hydrosilylation of Imines
CATALYTIC, ENANTIOSELECTIVE;
VINYLOGOUS MANNICH REACTIONS
Introduction
Vinylogous Mukaiyama-Mannich Reactions of Silyl Dienolates
Direct Vinylogous Mannich Reactions of Unmodified Substrates
Miscellaneous
Conclusion
CHIRAL AMINES FROM TRANSITION-METAL-MEDIATED HYDROGENATION AND TRANSFER HYDROGENATION
Scope and Related Publications
Chiral Amines with a Disubstituted Nitrogen Atom, HNR*R1
Chiral Amines with Trisubstituted Nitrogen, NR*R1R2
Conclusion
ASYMMETRIC REDUCTIVE AMINATION
Introduction
Transition Metal-Mediated Homogenous Reductive Amination
Enantioselective Organocatalytic Reductive Amination
Diastereoselective Reductive Amination
Conclusions
ENANTIOSELECTIVE HYDROGENATION OF ENAMINES WITH MONODENTATE PHOSPHORUS LIGANDS
Introduction
Asymmetric Hydrogenation of Enamides
Asymmetric Hydrogenation of N,N-Dialkyl Enamines
Conclusion and Outlook
BIDENTATE LIGANDS FOR ENANTIOSELECTIVE ENAMIDE REDUCTION
Introduction
Catalytic Enantioselective Hydrogenation of Enamides
Conclusions
ENANTIOSELECTIVE REDUCTION OF NITROGEN-BASED HETEROAROMATIC COMPOUNDS
Asymmetric Hydrogenation of Quinolines
Asymmetric Hydrogenation of Isoquinolines
Asymmetric Hydrogenation of Pyrroles
Asymmetric Hydrogenation of Quinoxalines
Asymmetric Hydrogenation of Pyridine Derivatives
Summary and Outlook
ASYMMETRIC HYDROAMINATION
Introduction: Synthesis of Amines via Hydroamination
Hydroamination of Simple, Nonactivated Alkenes
Hydroamination of Dienes, Allenes, and Alkynes
Hydroamination with Enantiomerical Pure Amines
Synthesis of Chiral Amines via Tandem Hydroamination/Hydrosilylation
Conclusions
Experimental Section
ENANTIOSELECTIVE C-H AMINATION
Introduction
Background
Racemic C-H Amination
Substrate-Controlled Chiral Amine Synthesis via C-H Amination
Enantioselective C-H Amination of Achiral Substrates
Conclusion
CHIRAL AMINES DERIVED FROM ASYMMETRIC AZA-MORITA-BAYLIS-HILLMAN REACTION
Introduction
Recent Mechanistic Insights
Asymmetric Aza-MBH Reaction
Chiral Auxiliary-Induced Diastereoselective Aza-MBH Reaction
Chiral Teriary Amine Catalysts
Chiral Phosphine Catalysts
Chiral Bifunctional N-Heterocyclic Carbenes
Chiral Ionic Liquids as Reaction Medium
Aza-MBH-Type Reaction to Obtain Chiral Amines
Strategies for the Removal of Protecting Groups
Selected Typical Experimental Procedures
Summary and Outlook
BIOCATALYTIC ROUTES TO NONRACEMIC CHIRAL AMINES
Introduction
Kinetic Resolution of Racemic Amines
DKR and Deracemization of Amines
Asymmetric Synthesis of Amines Using Transaminases
Conclusions and Future Perspectives
See More
Tom Nugent gained his Ph.D. in Organic Chemistry in 1995 from Virginia Tech working with Professor Tomas Hudlicky. From 1996-1997, he completed his postdoctoral studies at the University of Liverpool (Great Britain) with Professor Stanley Roberts.
Over the next six years he worked as a process research chemist, first with Catalytica Fine Chemicals / DSM (Mountain View, California, 1998-2000) and then with Pharmacia/Pfizer Corporation (South San Francisco, California, 2001-2003). In 2004 he began his academic career at Jacobs University as Assistant Professor of Organic Chemistry.

See More
Buy Both and Save 25%!
Chiral Amine Synthesis: Methods, Developments and Applications (US $230.00)
-and- Heterocyclic Chemistry, 5th Edition (US $59.95)
Total List Price: US $289.95
Discounted Price: US $217.46 (Save: US $72.49)
Cannot be combined with any other offers. Learn more.