Biochemical Engineering: A Textbook for Engineers, Chemists and Biologists
ISBN: 978-3-527-32536-8
282 pages
November 2009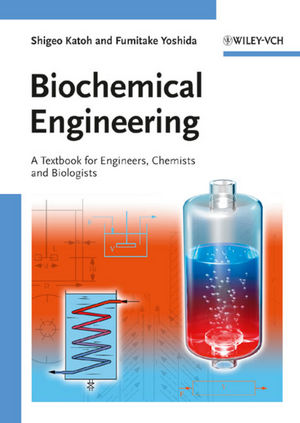 Written by renowned professors drawing on their experience gained in the world's most innovative biotechnology market, Japan, this advanced textbook provides an excellent and comprehensive introduction to the latest developments in the field.
It provides an array of questions & answers and features numerous applied examples, extending to industrial applications with chapters on medical devices and downstream operations in bioprocesses.
Useful for students studying the fundamentals of biochemical engineering, as well as for chemical engineers already working in this vital and expanding field.
See More
PART I: Basic Concepts and Principles

INTRODUCTION
Background and Scope
Dimensions and Units
Intensive and Extensive Properties
Equilibria and Rates
Batch vs. Continuous Operation
Material Balance
Energy Balance
ELEMENTS OF PHYSICAL TRANSFER PROCESSES
Introduction
Heat Conduction and Molecular Diffusion
Fluid Flow and Momentum Transfer
Laminar vs. Turbulent Flow
Transfer Phenomena in Turbulent Flow
Film Coefficients of Heat and Mass Transfer
CHEMICAL AND BIOCHEMICAL KINETICS
Introduction
Fundamental Reaction Kinetics
CELL KINETICS
Introduction
Cell Growth
Growth Phases in Batch Culture
Factors Affecting Rates of Cell Growth
Cell Growth in Batch Fermentors and Continuous Stirred Tank Fermentor (CSTF)

PART II: Unit Operations and Apparatus for Bio-Systems

HEAT TRANSFER
Introduction
Overall Coefficients U and Film Coefficients h
Mean Temperature Difference
Estimation of Film Coefficients h
Estimation of Overall Coefficients U
MASS TRANSFER
Introduction
Overall Coefficients K and Film Coefficients k of Mass Transfer
Types of Mass Transfer Equipment
Models for Mass Transfer at the Interface
Liquid Phase Mass Transfer with Chemical Reactions
Correlations for Film Coefficients of Mass Transfer
Performance of Packed Column
BIOREACTORS
Introduction
Some Fundamental Concepts
Bubbling Gas-Liquid Reactors
Mechanically Stirred Tanks
Gas Dispersion in Stirred Tanks
Bubble Columns
Airlift Reactors
Packed-Bed Reactors
Microreactors
MEMBRANE PROCESSES
Introduction
Dialysis
Ultrafiltration
Microfiltration
Reverse Osmosis
Membrane Modules
CELL-LIQUID SEPARATION AND CELL DISRUPTION
Introduction
Conventional Filtration
Microfiltration
Centrifugation
Cell Disruption
STERILIZATION
Introduction
Kinetics of Thermal Death of Cells
Batch Heat Sterilization of Culture Media
Continuous Heat Sterilization of Culture Media
Sterilizing Filtration
ADSORPTION AND CHROMATROGRAPHY
Introduction
Equilibria in Adsorption
Rates of Adsorption into Adsorbent Particles
Single- and Multi-Stage Processes for Adsorption
Adsorption in Fixed Beds
Separation by Chromatography

PART III: Practical Aspects in Bioengineering

FERMENTOR ENGINEERING
Introduction
Stirrer Power Requirements for Non-Newtonian Liquids
Heat Transfer in Fermentors
Gas-Liquid Mass Transfer in Fermentors
Criteria for Scaling-Up Fermentors
Modes of Fermentor Operation
Fermentors for Animal Cell Culture
DOWNSTREAM OPERATIONS IN BIOPROCESSES
Introduction
Separation of Microorganisms by Filtration and Microfiltration
Separation by Chromatography
Separation in Fixed Beds
Sanitation in Downstream Processes
MEDICAL DEVICES
Introduction
Blood and Its Circulation
Oxygenation of Blood
Artificial Kidney
Bioartificial Liver
See More
Prof. Shigeo Katoh is Head of the Bioengineering Laboratory at Kobe University, Japan. He holds PhD in Chemical Engineering from the University of Kyoto, Japan. Prof. Katoh is an enthusiastic lecturer in Biochemical Engineering, Bioseparation Engineering and Immunotechnology. He is an outstanding expert in biochemical engineering and has published numerous papers in this field.

Prof. em. Fumitake Yoshida was one of the world's most respected chemical engineers. Most recently he was professor emeritus of chemical engineering at Kyoto University and well beyond his retirement he continued to be a visiting lecturer at universities around the world. He conducted research on various mass transfer operations, gas-liquid systems in particular, investigating their applications in bioengineering and medical technology. Yoshida received his BS and PhD degrees in engineering from Kyoto University. Among his many awards and citations was election to the National Academy of Engineering of the United States in 1979 for his leadership in chemical, biochemical, and biomedical engineering in Japan.





See More