Pharmaceutical Process Chemistry
ISBN: 978-3-527-32650-1
526 pages
December 2010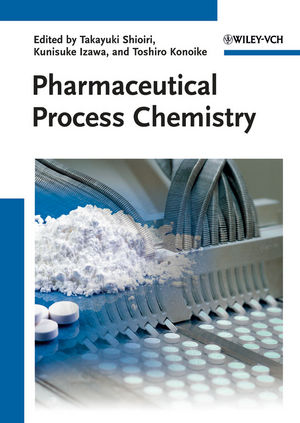 Covering the whole area of process chemistry in the pharmaceutical industry, this monograph provides the essential knowledge on the basic chemistry needed for future development and key industrial techniques, as well as morphology, engineering and regulatory compliances.
Application-oriented and well structured, the authors include recent examples of excellent industrial production of active pharmaceutical ingredients.

See More
PART 1: INTRODUCTORY REMARKS
From Milligrams to Tons: The Importance of Synthesis & Process Research in the Development of New Drugs

PART 2: FUTURE APPLICATIONS
Design of Dynamic Salt Catalysts Based on Acid-Base Combination Chemistry
Asymmetric Oxidation with Hydrogen Peroxide, an Effective and Versatile Oxidant
New Methods for the Functionalization of Aromatic Compounds
Streamlining Synthesis via C-H Oxidation
Byproduct-Free C-C Bond Formation via Catalytic Hydrogenation and Transfer Hydrogenation
Enzymo-Metallic Dynamic Kinetic Resolution as a New Tool for Chiral Synthesis
Some Progress of Organic Synthesis of Pharmaceuticals in China

PART 3: USEFUL SYNTHTIC TECHNOLOGIES
Boron Reagents in Process Chemistry: Excellent Tools for Selective Reductions
Commercialization of a Sodium Hydride Mediated Arylation Process
An Entirely New Methodology for Synthesizing Perfluorinated Compounds
Application of Whole-Cell Biocatalysts in the Manufacture of Fine Chemicals

PART 4: CONSTRUCTION OF EFFICIENT PRACTICAL PROCESSES
Synthetic Studies on the Halichondrin B Analog, Eribulin Mesylate
Process Development of An Anthracycline Anticancer Drug
Process Development of HIV Integrase Inhibitor S-1360
An Efficient Synthesis of the PKC Inhibitor JTT-010
Practical Process Development of KRP-103 for Treatment of Urinary Incontinence
Development of a Novel Synthetic Method for RNA Oligomers

PART 5: USEFUL ENGINEERING TECHNOLOGIES
Process Research with Explosive Reactions
Novel Resolution Technologies Controlled by Effectively Designed Molecular Recognition Mechanism
Development on New Drug and Crystal Polymorph
Measurements and Mechanism of Drying of Active Pharmaceutical Ingredients
Matching Chemistry with Chemical Engineering for Optimum Design and Performance of Pharmaceutical Processing
Design Space for Drug Substance - the Approach used for Vandetanib

See More
Takayuki Shioiri is President of the Japanese Society for Process Chemistry since 2001. He received his B. A. in 1959 and M. A. in 1961 from University of Tokyo. During his Ph. D. course, he was appointed a research associate at University of Tokyo in 1962. After obtaining his Ph. D. degree in 1967, he worked for Prof. D. H. R. Barton as a postdoctoral fellow at the Imperial College from 1968 to 1970. He returned to his alma mater and promoted to Associate Professor in 1977. In the same year, he was appointed Professor of Nagoya City University. He retired from Nagoya City University and became Emeritus Professor in 2001. Since 2002, he was Professor of Graduate School of Environmental and Human Sciences, Meijo University. He retired from Meijo University in 2007 and is now an adjunct Professor of Graduate School of Environmental and Human Sciences, Meijo University. He was a recipient of 1993 Pharmaceutical Society of Japan Award and 1999 Japanese Peptide Society Award. From 1990 to 2007, he was a Japan Regional Executive Editor of the international journal Tetrahedron and he is experienced book author. He was President of the Japanese Peptide Society from 2000 to 2002.
See More