Privileged Chiral Ligands and Catalysts
ISBN: 978-3-527-32704-1
484 pages
May 2011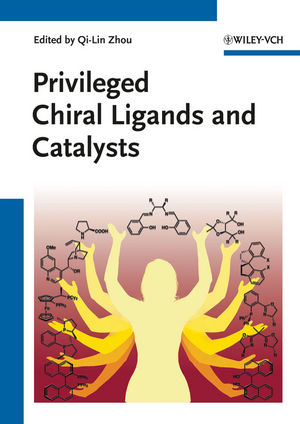 This ultimate "must have" and long awaited reference for every chemist working in the field of asymmetric catalysis starts with the core structure of the catalysts, explaining why a certain ligand or catalyst is so successful. It describes in detail the history, the basic structural characteristics, and the applications of these "privileged catalysts". A novel concept that gives readers a much deeper insight into the topic.
See More
Preface
BINAP
Introduction: Structural Consideration
Hydrogenation of Olefins
Hydrogenation of Ketones
Isomerization of Allylamines and Allylalcohols
Hydroboration, Hydrosilylation, Hydroacylation, and Hydroamination
Allylic Alkylation
Heck Reaction
Aldol and Mannich-Type Reactions
Nucleophilic Additions to Carbonyl and Imino Compounds
Alpha-Substitution Reactions of Carbonyl Compounds
Michael-Type Reactions
Conjugate Additions Using Organoboron and Grignard Reagents
Diels-Alder Reaction
Ene Reaction
Cyclization
Ring-Opening Reactions
Concluding Remarks

BISPHOSPHACYCLES -
FROM DuPHOS AND BPE TO A DIVERSE SET OF BROADLY APPLIED LIGANDS
Introduction
Development of Bisphosphacycle Ligands
Applications of Bisphosphacycle Ligands
Concluding Remarks

JOSIPHOS LIGANDS: FROM DISCOVERY TO TECHNICAL APPLICATIONS
Introduction and Background
Discovery and Development of the Josiphos Ligand Family
Why Are Josiphos Ligands So Effective?
Catalytic Profile of the Josiphos Ligand Family
Concluding Remarks

CHIRAL SPIRO LIGANDS
Introduction
Preparation of Chiral Spiro Ligands
Asymmetric Hydrogenation
Asymmetric Carbon-Carbon Bond Forming Reaction
Asymmetric Carbon-Heteroatom Bond Forming Reaction
Conclusion

CHIRAL BISOXAZOLINE LIGANDS
Introduction
Enantioselective Carbon-Carbon Bond Formation
Enantioselective Carbon-Heteroatom Bond Formation
Enantioselective Cycloaddition Reactions
Conclusions

PHOX LIGANDS
Introduction
Synthesis of PHOX Ligands
Nucleophilic Allylic Substitution
Decarboxylative Tsuji Allylations
Heck Reaction
Hydrogenation
Cycloadditions
Miscellaneous Reactions
Conclusion

CHIRAL SALEN COMPLEXES
Introduction
Synthesis of Chiral Salen Complexes
Structural Properties of Chiral Salen Complexes
Asymmetric Reactions Catalyzed by Chiral Salen Complexes
Conclusion and Outlook

BINOL
Introduction
Applications in Reduction and Oxidation
Metal/BINOL Chiral Lewis Acid Catalysts in Asymmetric C-C Bond Forming Reactions
Acid/Base Bifunctional Metal/BINOL Catalysts
BINOL in Organocatalysis
Summary

TADDOLATE LIGANDS
Introduction
Nucleophilic Additions to C=O Double Bonds
Nucleophilic Conjugate Additions to Electron-Deficient C=C Double Bonds
Nucleophilic Substitutions
Cycloaddition Reactions
Oxidation and Reduction Reactions
Miscellaneous Reactions
Conclusions

CINCHONA ALKALOIDS
Introduction
Metal Catalysis
Phase-Transfer Catalysis
Nucleophilic Catalysis
Base Catalysis
Cooperative and Multifunctional Catalysis
Conclusion

PROLINE DERIVATIVES
Introduction
Proline as Organocatalyst
Proline Analogs as Organocatalysts
5-Pyrrolidin-2-yltetrazole as Organocatalyst
Pyrrolidine-Based Sulfonamides as Organocatalysts
Pyrrolidine-Based Amides as Organocatalysts
Pyrrolidine Diamine Catalysts
Diarylprolinols or Diarylprolinol Ether Catalysts
Concluding Remarks

See More
Qi-Lin Zhou is the Director of the Institute of Elemento-organic Chemistry, Nankai University in Tianjin, China. He obtained his PhD degree at Shanghai Institute of Organic Chemistry. After several years of postdoctoral research (with professors Andreas Pfaltz and Michael Doyle et al.) he started his independent research in the field of asymmetric catalysis in China. Qi-Lin Zhou has authored over 100 scientific publications and has received many scientific awards including the Prize for Creation in Organic Synthesis (Chinese Chemical Society, Division of Organic Chemistry), Yao-Zeng Huang Prize of Organometallics (Chinese Chemical Society), and JSPS Fellowship Award (Japan Society for the Promotion of Science). He is also a member of different editorial boards such as Acc. Chem. Res..
See More
Buy Both and Save 25%!
Privileged Chiral Ligands and Catalysts (US $180.00)
-and- Applied Homogeneous Catalysis (US $95.00)
Total List Price: US $275.00
Discounted Price: US $206.25 (Save: US $68.75)
Cannot be combined with any other offers. Learn more.