Organized Organic Ultrathin Films: Fundamentals and Applications
ISBN: 978-3-527-32733-1
226 pages
December 2012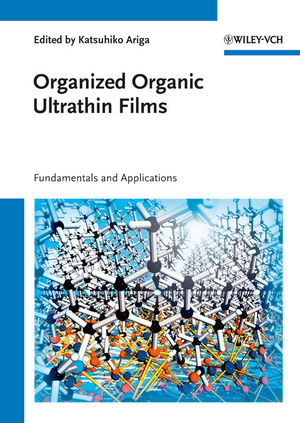 This handy reference is the first comprehensive book covering both fundamentals and recent developments in the field with an emphasis on nanotechnology.
Written by a highly regarded author in the field, the book details state-of-the-art preparation, characterization and applications of thin films of organic molecules and biomaterials fabricated by wet processes and also highlights applications in nanotechnology
The categories of films covered include monomolecular films (monolayers) both on a water surface and on a solid plate, Langmuir-Blodgett films (transferred multilayer films on a solid plate from a water surface), layer-by-layer films (adsorbed multilayer films on a solid support), and spontaneously assembled films in solution.
See More
PREFACE

INTRODUCTION

SELF-ASSEMBLED MONOLAYER (SAM)
Introduction
Preparation and Characterization
Functions and Applications
Future Perspective

LANGMUIR?BLODGETT (LB) FILM
Concept and Mechanism
Preparation and Characterization
Functions and Applications

LAYER-BY-LAYER (LBL) ASSEMBLY
Concept and Mechanism
Preparation and Characterization
Functions and Applications
Brief Summary and Perspectives

OTHER THIN FILMS
Bilayer Vesicle and Cast Film
Self-Assembled Fibers, Tubes, and Ribbons
Polymer Brush Layer
Organic -
Inorganic Hybrids
Colloidal Layers
Newly Appearing Techniques

INDEX

See More
Dr. Katsuhiko Ariga is the Director of Supermolecules Unit and Principal Investigator of World Premier International (WPI) Research Center for Materials Nanoarchitectonics (MANA), the National Institute for Materials Science (NIMS). He received his B.Eng., M.Eng., and Ph.D. degrees from the Tokyo Institute of Technology (TIT). He was Assistant Professor at TIT, worked as a postdoctoral fellow at the University of Texas at Austin, USA, and then served as a group leader in the Supermolecules Project at Japan Science and Technology Agency (JST). Thereafter, Dr. Ariga worked as Associate Professor at the Nara Institute of Science and Technology, and then became involved with the ERATO Nanospace
Project at JST. In January 2004, Dr. Ariga moved to NIMS. He was also appointed Professor at several Universities. His research field is based on supermolecular chemistry and surface science, including the boundary research areas of organic chemistry, physical chemistry,
biochemistry, and materials chemistry. His major interests are the fabrication of novel functional nanostructures based on molecular recognition and self-assembly, including Langmuir-Blodgett films, layer-by-layer films, and mesoporous materials.
See More