Metal-Organic Frameworks: Applications from Catalysis to Gas Storage
ISBN: 978-3-527-32870-3
Hardcover
414 pages
August 2011
US $155.00

Add to Cart
This price is valid for United States. Change location to view local pricing and availability.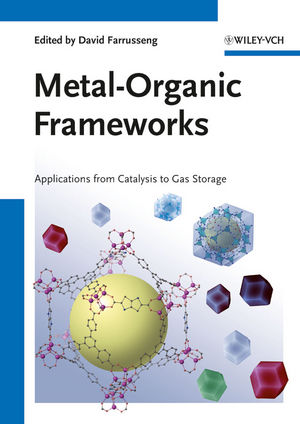 Other Available Formats:
E-book
Preface

PART I: Design of Multifunctional Porous MOFs

DESIGN OF POROUS COORDINATION POLYMER/METAL-ORGANIC FRAMEWORKS: PAST, PRESENT AND FUTURE
Introduction
Background and Ongoing Chemistry of Porous Coordination Polymers
Multifunctional Frameworks
Preparation of Multifunctional Frameworks
Perspectives
DESIGN OF FUNCTIONAL METAL-ORGANIC FRAMEWORKS BY POST-SYNTHETIC MODIFICATION
Building a MOFs Toolbox by Post-Synthetic Modification
Post-Functionalization of MOFs by Host-Guest Interactions
Post-Functionalization of MOFs Based on Coordination Chemistry
Post-Functionalization of MOFs by Covalent Bonds
Tandem Post-Modification for the Immobilization of Organometallic Catalysts
Critical Assessment
Conclusion

PART II: Gas Storage and Separation Applications

THERMODYNAMIC METHODS FOR PREDICTION OF GAS SEPARATION IN FLEXIBLE FRAMEWORKS
Introduction
Theoretical Background
Molecular Simulation Methods
Analytical Methods Based on Experimental Data
Outlook
SEPARATION AND PURIFICATION OF GASES BY MOFS
Introduction
General Principles of Gas Separation and Purification
MOFs for Separation and Purification Processes
Conclusions and Perspectives
OPPORTUNITIES FOR MOFS IN CO2 CAPTURE FROM FLUE GASES, NATURAL GAS, AND SYNGAS BY ADSORPTION
Introduction
General Introduction to Pressure Swing Adsorption
Production of H2 from Syngas
CO2 Removal from Natural Gas
Post-Combustion CO2 Capture
MOFs
Conclusions
MANUFACTURE OF MOF THIN FILMS ON STRUCTURED SUPPORTS FOR SEPARATION AND CATALYSIS
Advantages and Limitations of Membrane Technologies for Gas and Liquid Separation
Mechanisms of Mass Transport and Separation
Synthesis of Molecular Sieve Membranes
Application of MOF Membranes
Limitations
Conclusions and Outlook
RESEARCH STATUS OF METAL-ORGANIC FRAMEWORKS FOR ON-BOARD CRYO-ADSORPTIVE HYDROGEN STORAGE APPLICATIONS
Introduction -
Research Problem and Significance
MOFs as Adsorptive Hydrogen Storage Options
Experimental Techniques and Methods for Performance and Thermodynamic Assessment of Porous MOFs for Hydrogen Storage
Material Research Results
From Laboratory-Scale Materials to Engineering
Conclusion

PART III: Bulk Chemistry Applications

SEPARATION OF XYLENE ISOMERS
Xylene Separation: Industrial Processes, Adsorbents, and Separation Principles
Properties of MOFs Versus Zeolites in Xylene Separations
Separation of Xylenes Using MIL-47 and MIL-53
Conclusions
METAL-ORGANIC FRAMEWORKS AS CATALYSTS FOR ORGANIC REACTIONS
Introduction
MOFs with Catalytically Active Metal Nodes in the Framework
Catalytic Functionalization of Organic Framework Linkers
Homochiral MOFs
MOF-Encapsulated Catalytically Active Guests
Mesoporous MOFs
Conclusions

PART IV: Medical Applications

BIOMEDICAL APPLICATIONS OF METAL-ORGANIC FRAMEWORKS
Introduction
MOFs for Bioapplications
Therapeutics
Diagnostics
From Synthesis of Nanoparticles to Surface Modification and Shaping
Discussion and Conclusion
METAL-ORGANIC FRAMEWORKS FOR BIOMEDICAL IMAGING
Introduction
Gadolinium Carboxylate NMOFs
Manganese Carboxylate NMOFs
Iron Carboxylate NMOFs: The MIL Family
Iodinated NMOFs: CT Contrast Agents
Lanthanide Nucleotide NMOFs
Guest Encapsulation within NMOFs
Conclusion

PART V: Physical Applications

LUMINESCENT METAL-ORGANIC FRAMEWORKS
Introduction
Luminescence Theory
Ligand-Based Luminescence
Metal-Based Luminescence
Guest-Induced Luminescence
Applications of Luminescent MOFs
Conclusion
DEPOSITION OF THIN FILMS FOR SENSOR APPLICATIONS
Introduction
Literature Survey
Signal Transduction Modes
Considerations in Selecting MOFs for Sensing Applications
MOF Thin Film Growth: Methods, Mechanisms, and Limitations
Conclusions and Perspectives

PART VI: Large-Scale Synthesis and Shaping of MOFs

INDUSTRIAL MOF SYNTHESIS
Introduction
Raw Materials
Synthesis
Shaping
Applications
Conclusion and Outlook
MOF SHAPING AND IMMOBILISATION
Introduction
MOF@Fiber Composite Materials
Requirements of Adsorbents for Individual Protection
MOFs in Monolithic Structures

Buy Both and Save 25%!
Metal-Organic Frameworks: Applications from Catalysis to Gas Storage (US $155.00)
-and- Synthesis of Inorganic Materials (US $95.00)
Total List Price: US $250.00
Discounted Price: US $187.50 (Save: US $62.50)
Cannot be combined with any other offers. Learn more.