Ideas in Chemistry and Molecular Sciences
ISBN: 978-3-527-32875-8
1272 pages
August 2010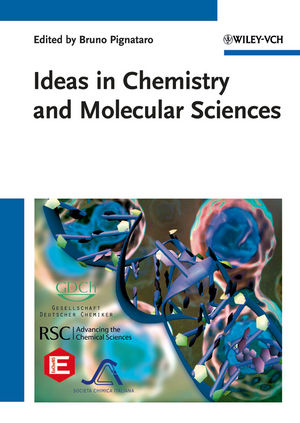 Written by some of the most talented young chemists in Europe, this text covers most of the groundbreaking issues in chemistry. It provides an account of the latest research results in European chemistry based on a selection of leading young scientists participating in the 2008 European Young Chemists Award competition. The contributions range from self-organization to new catalytic synthetic methodologies to organocatalysis. In addition, the authors provide a current overview of their field of research and a preview of future directions.
For organic, catalytic, natural products and biochemists.
See More
INNOVATIVE PROCESSES IN ORGANIC CHEMISTRY
N-Hydrocyderivatives: Key Organocatalysts for the Selective Free-Radical Aerobic Oxidation of Organic Compounds
Gold-Catalyzed Intra- and Intermolecular Cycloadditions of Push-Pull Dienynes
N-Heterocyclic Carbenes in Copper-Catalyzed Reactions
Supported Organocatalysts as a Powerful Tool in Asymmetric Synthesis
The Complex-Induced Proximity Effect in Organolithium Chemistry and its Importance for the Lithiation of Tertiary Amines
PREDICTIVE TOOLS IN ORGANIC CHEMICAL REACTIONS
Double Hydrogen Bonding in Asymmetric Organocatalysis: A Mechanistic Perspective
Dynamic Covalent Capture: A Sensitive Novel Tool for Detecting Molecular Interactions
CHEMICAL REACTIONS, SUSTAINABLE PROCESSES AND ENVIRONMENT
Furfural and Furfural-Based Industrial-Chemicals
Multiple Bond-Forming Transformations: The Key Concept Towards Eco-Compatible Synthetic Organic Chemistry
Modelling of Indirect Phototransformation Reactions in Surface Waters
ORGANIC SYNTHESIS AND MATERIALS
Bottom-Up Approaches to Nanographenes Through Organic Synthesis
Differentiated Ligands for the Sequential Construction of Crystalline Heterometallic Architectures
Water-Soluble Perylene Dyes
See More
Bruno Pignataro, born in Bologna in 1972, is Professor of Physical Chemistry at the University of Palermo. He received his degree in chemistry in 1995 from the University of Catania and his PhD in materials science five years later. He has helped establish a wide network of international collaborations and organized more than 10 meetings at national and international level, including coordinating the Young Chemists Group of the Italian Chemical Society and chairing the first editions of the European Young Chemist Award. He is a referee for several leading chemistry and materials journals, has more than 70 scientific publications and some 90 conference communications to his name, along with several invited lectures. Professor Pignataro's research interests focus on the related fields of the physical chemistry of molecular surfaces and soft nanotechnologies.
See More