Extrusion-Cooking Techniques: Applications, Theory and Sustainability
ISBN: 978-3-527-32888-8
234 pages
March 2011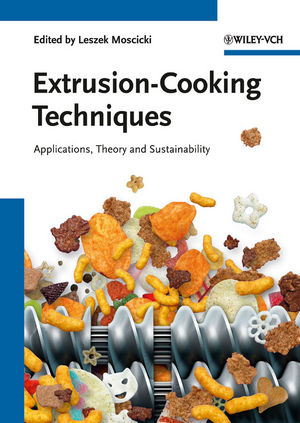 Offering an engineering perspective plus the latest information on the application of this rapidly expanding technique, this practical book covers the technology, engineering, materials and products, as well as economic and ecological aspects. In addition to the theory, it also utilizes case studies that can easily be put into industrial practice.
Each step of the process is discussed in terms of sustainability, and all data complies with the EU and FTA environmental regulations.
Invaluable reading for food chemists and technologists, process engineers, chemists in industry, agricultural scientists, and chemical engineers.

See More
Preface

EXTRUSION-COOKING AND RELATED TECHNIQUE
Extrusion-Cooking Technology
Quality Parameters
Extrusion-Cooking Technique
MOdern Food Extruders
Concluding Remarks

ENGINEERING ASPECTS OF EXTRUSION
Mass Flow and Temperature Distribution in a Single-Screw Extruder
Energy Balance
Mass and Heat Transfer in a Twin-Screw Extruder

RAW MATERIALS IN THE PRODUCTION OF EXTRUDATES
Introduction
Structure-Forming Raw Materials and Additional Components
Physical and Chemical Changes in Vegetable Raw Materials During the Extrusion-Cooking
Nutritional Value of Extrusion-Cooked Foods
Concluding Remarks

PRODUCTION OF BREAKFAST CEREALS
Introduction
Direct Extruded Breakfast Cereals
Flaked Cereals
Remarks on Operation

SNACK PELLETS
Introduction
The Methods of Snack Pellets Manufacturing

CRISP BREAD, BREAD CRUMBS, BABY FOOD
Production of Crisped Bread
Production of Bread Crumbs
Production of Precooked Flour, Instant Semolina and Baby Food

PRECOOKED PASTA
Introduction
Raw Materials Used in Pasta Processing
Extrusion-Cooked Pasta Like Products
Conclusions

PROCESSING OF FULL FAT SOYBEANS AND TEXTURED VEGETABLE PROTEINS
Introduction
Extrusion-Cooking of Full-Fat Soybeans and Other Protein-Rich Vegetable Materials
Production of Textured Proteins and Meat Analogues

EXTRUSION TECHNIQUE IN CONFECTIONERY
Introduction
Sweets and Candy
Creams and Pastes
Gums and Jellies
Other Products
Concluding Remarks

PET FOOD AND AQUAFEED
Introduction
Market Development
Feed Extruders
Technology
Concluding Remarks

EXPANDERS
Introduction
Design of Expanders
Application
Concluding Remarks

EXTRUSION-COOKING IN WASTE MANAGEMENT AND PAPER PULP
Introduction
Processing of Animal Waste
Utilisation of Non-Meat Waste of the Food Industry
Extrusion in Paper Pulp Processing

PROCESS AUTOMATION
Introduction
Control and Automation

THERMOPLASTIC STARCH
Introduction
Raw Materials
Physical and Utility Features
Production of Biodegradable Packaging Materials
Concluding Remarks

SCALE UP OF EXTRUSION-COOKING in Single Screw Extruders
Introduction
Basic Analysis
Summary of Equations Used
Kinematical Similarity
Geometrical and Kinetic Similarity
Motor Power and Torque
Equal Average End Temperature
Similar Temperature Profiles
Similarity in Residence Times
Guidelines for Scaling
PRODUCERS OF FOOD EXTRUDERS AND EXPANDERS

See More
An industrial expert in food and feed sectors and a pioneer of extrusion cooking, Leszek Moscicki is head of the Department of Food Process Engineering, Lublin University of Life Sciences, Poland. After completing his PhD at Lublin Agricultural University, he continued his research at Wageningen Agricultural University, the Netherlands.
He has more than 150 scientific publications to his name, is a national delegate to the International Association of Cereal Science and Technology, a committee member of the Polish Academy of Science as well as several other Polish scientific and professional associations, and has coordinated several EU projects on HTST processing of vegetable raw materials.
See More