Dispersion of Powders in Liquids and Stabilization of Suspensions
ISBN: 978-3-527-32941-0
298 pages
July 2012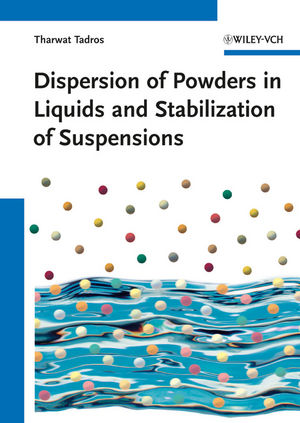 Teaching the fundamental knowledge required for successful dispersion of powders in a liquid, this book covers a host of topics -- from recent advances to industrial applications.
In 15 chapters it supports formulation chemists in preparing a suspension in a more rational way, by applying the principles of colloid and interface science, while at the same time enabling the research scientist to discover new methods for preparing stable suspensions.
Essential reading for those working in the pharmaceutical, cosmetic, food, paint, ceramic and agricultural industries.

See More
General Introduction
Fundamentals of Wetting and Spreading
The Critical Surface Tension of Wetting and the Role of Surfactants in Powder Wetting
Structure of the Solid?Liquid Interface and Electrostatic Stabilization
Electrokinetic Phenomena and Zeta Potential
General Classification of Dispersing Agents and Adsorption of Surfactants at the Solid/Liquid Interface
Adsorption and Conformation of Polymer Surfactants at the Solid-Liquid Interface
Stabilization and Destabilization of Suspensions Using Polymeric Surfactants and the Theory of Steric Stabilization
Properties of Concentrated Suspensions
Sedimentation of Suspensions and Prevention of Formation of Dilatant Sediments
Characterization of Suspensions and Assessment of Their Stability
Rheological Techniques for Assessment of Stability of Suspensions
Rheology of Concentrated Suspensions

See More
Dr. Tharwat Tadros was formerly a senior research associate at ICI/ZENECA (Jealott's Hill, Brackness, UK) where he was a leader of a research group specialized in Colloid and Interface Science. He was a visiting Professor at Imperial College, Bristol University and Reading University. At present he is an independent consultant for various Multi-National Companies and gives lectures on various topics all over the world. Dr. Tadros has published over 250 papers in the field of concentrated dispersions, rheology, emulsions, nanoemulsions and microemulsions. In particular, Dr. Tadros carried out a great deal of research on polymeric surfactants and their stabilization mechanisms. He also carried out research work on wetting spreading and adhesion. Dr. Tadros has written five books on "Surfactants in Agrochemicals" (1994) and on "Applied Surfactants" (2005), "Colloids in Agrochemicals" (2009), "Colloids in Paints" (to be published 2010), "Rheology of Dispersions" (to be published 2010). He has edited several books on "Surfactants (1984), "Solid/Liquid Dispersion" (1987). More recently he edited a series of six volumes on "Colloids and Interface Sciences Series". He also is editing another series on "Topics on Colloid and Interface Science". Dr. Tadros was the Editor-in-Chief of "Colloids and Surfaces" as well as "Advanced Colloid and Interface Science". He is still an Honorary Editor of both journals. He was the past president of the International Association of Colloid and Interface Science (IACIS). Due to his distinguished research Dr. Tadros was awarded two medals from the Royal Society of Chemistry in the UK.
See More