Ammonium Nitrate Explosives for Civil Applications: Slurries, Emulsions and Ammonium Nitrate Fuel Oils
ISBN: 978-3-527-33028-7
230 pages
February 2013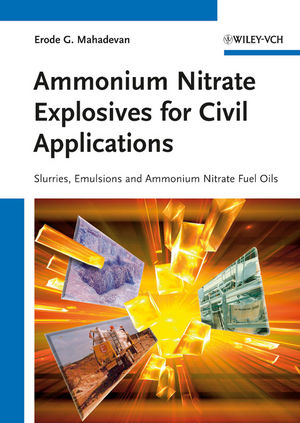 The book describes the science and technology of formulation and manufacturing of non-nitroglycerine explosives with ammonium nitrate as the main ingredient. Based on the author's industry experience of more than thirty years, it provides an unparalleled treatment of one of the commercially most important classes of explosives and therefore stimulates further research and development efforts in the field of explosives for civil applications.
See More
PREFACE

CLASSIFICATION OF EXPLOSIVES
Initiation Sensitivity
Size
Usage
Physical Form

EXPLOSIVE SCIENCE
Introduction
Initiation and Detonation
Propagation and Detonation
Reaction Chemistry in Explosives

AMMONIUM NITRATE EXPLOSIVES
Introduction
Tests
Assessment of Safety and Stability Characteristics
Summary

AMMONIUM NITRATE AND AN/FO
Introduction and History
Physical and Chemical Properties of Ammonium Nitrate
Manufacture of Ammonium Nitrate
Ammonium Nitrate Fuel Oil Explosives

SLURRIES AND WATER GELS
Development
Design
Process Technology
Quality Checks
Process Hazards (Dust Explosions/Fire Hazards/Health Hazards)
Role of GG
Permissible Explosives
General Purpose Small-Diameter Explosives (GPSD)
Sensitizers

EMULSION EXPLOSIVES
Introduction
Concept of Emulsion Explosives
General Composition of Emulsion Explosives
Structure and Rheology
Composition and Theory of Emulsion Explosives
Manufacture
Quality Checks
Explosive Properties of Emulsion Matrix/Explosives
Permissible Emulsions
General Purpose Small-Diameter (GPSD) Emulsion Explosives
Bulk Emulsions
Heavy AN/FO
Packaged Large-Diameter Emulsion Explosives

RESEARCH AND DEVELOPMENT
Areas of Interest
Development Work and Upscaling
Management of R&D

FUNCTIONAL SAFETY DURING MANUFACTURE OF AN EXPLOSIVES
Introduction -
Personal View Point on Safety
Safety Considerations in AN Explosives
Explosion Hazards in Equipment
Concluding Remarks

ECONOMICS OF AN-BASED EXPLOSIVES
In Manufacture
In Applications
Blast Design
Influence of Explosives in Underground Mining

CURRENT STATUS AND CONCLUDING REMARKS

APPENDIX A

APPENDIX B: GUIDELINES FOR INVESTIGATION OF AN ACCIDENT
Introduction
Detailed Inspection
Interviewing and Questioning
Collection of Samples
Examination of Witnesses
Examination of Dead/Injured

INDEX


See More
Erode Mahadevan is currently a Technology Consultant based in India. Before that for more than thirty years he was engaged in the field of commercial explosives and accessories and specialty chemicals. He has worked with many multinational companies such as ICI (UK), BASF (Germany), Atlas Chemicals (USA), Dow Chemical (USA), Nitro Nobel (Sweden), Dyno Industries (Norway). For twenty years Erode Mahadevan was Managing Director of IDL Industries Ltd., a leading producer of civil explosives based in India. He holds a Masters Degree in Physical Chemistry from the University of Mysore, Bangalore, and a PhD from the Technische Hochschule in Karlsruhe, Germany. Before starting his career in industry, Erode Mahadevan was a postdoctoral researcher at the Department of Chemistry at the Columbia University, New York.
See More