Nanomaterials in Catalysis
ISBN: 978-3-527-33124-6
516 pages
February 2013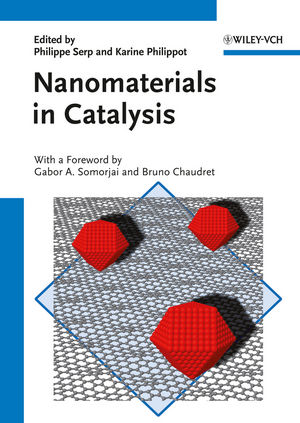 Nanocatalysis has emerged as a field at the interface between homogeneous and heterogeneous catalysis and offers unique solutions to
the demanding requirements for catalyst improvement. Heterogeneous catalysis represents one of the oldest commercial applications of nanoscience and nanoparticles of metals, semiconductors, oxides, and other compounds have been widely used for important chemical reactions. The main focus of this fi eld is the development of well-defined catalysts, which may include both metal nanoparticles and a nanomaterial as the support. These nanocatalysts should display the benefits of both homogenous and heterogeneous catalysts, such as high efficiency and selectivity, stability and easy recovery/recycling. The concept of nanocatalysis is outlined in this book and, in particular, it provides a comprehensive overview of the science of colloidal nanoparticles. A broad range of topics, from the fundamentals to applications in catalysis, are covered, without excluding micelles, nanoparticles in ionic liquids, dendrimers, nanotubes, and nanooxides, as well as modeling, and the characterization of nanocatalysts, making it an indispensable reference for both researchers at universities and
professionals in industry.
See More
FOREWORD

PREFACE

CONCEPTS IN NANOCATALYSIS
Introduction
The Impact of the Intrinsic Properties of Nanomaterials on Catalysis
How can Nanocatalyst Properties be Tailored?
Nanocatalysis: Applications in Chemical Industry
Conclusions and Perspectives

METALLIC NANOPARTICLES IN NEAT WATER FOR CATALYTIC APPLICATIONS
Introduction
Synthesis of Nanoparticles in Water: The State of The Art
Water-Soluble Protective Agents and their use in Nanocatalysis
Conclusion and Perspectives

CATALYSIS BY DENDRIMER-STABILIZED AND DENDRIMER-ENCAPSULATED LATE-TRANSITION-METAL NANOPARTICLES
Introduction
Synthesis
Homogeneous Catalysis with DENs Generated from PAMAM and PPI Dendrimers
Highly Efficient 'click'-Dendrimer-Encapsulated and Stabilized Pd Nanoparticle Pre-Catalysts
Heterogeneous Catalysis
Electrocatalysis
Conclusion and Outlook

NANOSTRUCTURED METAL PARTICLES FOR CATALYSTS AND ENERGY-RELATED MATERIALS
General Survey
Nanostructured Clusters and Colloids as Catalyst Precursors
Nanostructured Materials in Energy-Related Processes
Characterization of Nanostructured Metallic Catalyst Precursors and their Interaction with Coatings and Supports Using X-ray Absorption Spectroscopy

METALLIC NANOPARTICLES IN IONIC LIQUIDS -
APPLICATIONS IN CATALYSIS
Introduction
Interactions between Ionic Liquids and Metallic Nanoparticles
Catalytic Applications
Conclusions

SUPPORTED IONIC LIQUID THIN FILM TECHNOLOGY
Introduction
Nanoparticle Catalysis with Supported Ionic Liquids
Benefits for Synthesis and Processes
Conclusion

NANOSTRUCTURED MATERIALS SYNTHESIS IN SUPERCRITICAL FLUIDS FOR CATALYSIS APPLICATIONS
Introduction: Properties of Supercritical Fluids
Synthesis of Nanopowders as Nanocatalysts in SCFs
Synthesis of Supported Nanoparticles as Nanocatalysts in SCFs
Supercritical Microfluidic Synthesis of Nanocrystals
Conclusion

RECOVERY OF METALLIC NANOPARTICLES
Introduction
Immobilization on a Solid Support
Multiple Phases
Precipitation and Redispersion
Magnetic Separation
Filtration
Conclusions

CARBON NANOTUBES AND RELATED CARBONACEOUS STRUCTURES
Introduction
Carbon Nanotubes as Nanosupport
Purification and Functionalization
Preparation of CNT-Supported Catalysts
Applications of CNT-Supported Catalysts
Other Related Carbonaceous Materials
Summary

NANO-OXIDES
Introduction
Synthesis and Characterization of Nano-oxides
Catalytic Applications of Nano-oxides
Conclusions and Perspectives

CONFINEMENT EFFECTS IN NANOSUPPORTS
Introduction
Confinement Effects in Carbon Nanotubes
Metal Catalyst-Free Chemical Reactions inside Carbon Nanotubes
Catalytic Reactions over Metal Particles Confined Inside Carbon Nanotubes
Summary

IN SILICO NANOCATALYSIS WITH TRANSITION METAL PARTICLES: WHERE ARE WE NOW?
Introduction
Surface Chemistry and Chemistry on Facets of Nanoparticles: Is it the Same?
Electronic and Geometric Factors that Determine the Reactivity of Metal Surfaces
Theoretical Studies of Multistep Pathways

CONCLUSION

INDEX

See More
Philippe Serp
has been a Professor of Inorganic Chemistry at the Institute National Polytechnique de Toulouse (France) since 2005. His research interests in the Laboratory of Coordination Chemistry include the catalytic preparation of nanostructured catalytic materials,such as nanoparticles, nanotubes and nanowires, and the understanding of homogeneous catalytic reactions, fi elds in which he has published over 120 papers, including 7 review articles, 12 book chapters and 13 patents. He was the recipient of the Catalysis Division of the French Chemical Society Award in 2004, the APDF 'Celestino da Costa/Jean Perrin' award in 2005, and the Industrial Chemistry Division of the French Chemical Society Award in 2012.
Karine Philippot is Directrice de Recherche at CNRS in the Laboratory of Coordination Chemistry at Toulouse (France). Her research interests concern the development of synthetic methods based on organometallic chemistry to prepare metal nanoparticles and nanomaterials displaying well-controlled characteristics (size, composition and shape) and their application in colloidal or supported catalysis. She has published 93 papers including 1 review article, 4 book chapters and 4 patents.
See More