Characterization Techniques for Polymer Nanocomposites
ISBN: 978-3-527-33148-2
378 pages
August 2012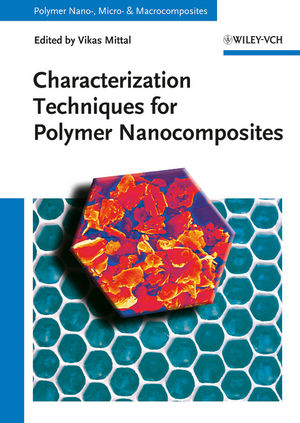 With its focus on the characterization of nanocomposites using such techniques as x-ray diffraction and spectrometry, light and electron microscopy, thermogravimetric analysis, as well as nuclear magnetic resonance and mass spectroscopy, this book helps to correctly interpret the recorded data. Each chapter introduces a particular characterization method, along with its foundations, and makes the user aware of its benefits, but also of its drawbacks.
As a result, the reader will be able to reliably predict the microstructure of the synthesized polymer nanocomposite and its thermal and mechanical properties, and so assess its suitability for a particular application.
Belongs on the shelf of every product engineer.
See More
CHARACTERIZATION OF NANOCOMPOSITE MATERIALS: AN OVERVIEW
Introduction
Characterization of Morphology and Properties
Examples of Characterization Techniques

THERMAL CHARACTERIZATION OF FILLERS AND POLYMER NANOCOMPOSITES
Introduction
TGA of Fillers
TGA of Polymer Nanocomposites
DSC of Fillers
DSC of Composites

FLAME RETARDANDY CHARACTERIZATION OF POLYMER NANOCOMPOSITES
Introduction
Types of Flame Retardant Nanoadditives
Thermal, Flammability, and Smoke Characterization Techniques
Thermal and Flame Retardancy of Polymer Nanocomposites

PVT CHARACTERIZATION OF POLYMERIC NANOCOMPOSITES
Introduction
Components of Polymeric Nanocomposites
Pressure-Volume-Temperature (PVT) Measurements
Derivatives;
Compressibility and Thermal Expansion Coefficient
Thermodynamic Theories
Thermodynamic Interaction Coefficients
Theoretical Predictions
Summary and Conclusions

FOLLOWING THE NANOCOMPOSITES SYNTHESIS BY RAMAN SPECTROSCOPY AND X-RAY PHOTOELECTRON SPECTROSCOPY (XPS)
Nanocomposites Based on POSS and Polymer Matrix
Raman and XPS Applied in Synthesis of Nanocomposites Based on Carbon Nanotubes and Polymers

TRIBOLOGICAL CHARACTERIZATION OF POLYMER NANOCOMPOSITES
Introduction
Tribological Fundamentals
Wear Experiments
Selection Criteria
Design of Polymer Nanocomposites and Multiscale-Composites
Selected Experimental Results

DIELECTRIC RELAXATION SPECTROSCOPY FOR POLYMER NANOCOMPOSITES
Introduction
Theory of Dielectric Relaxation Spectroscopy
PVDF/Clay Nanocomposites
PVDF/BaTiO3 Nanocomposites
PVDF/Fe3O4 Nanocomposites
Comparative Analysis of PVDF Nanocomposites
Conclusions

AFM CHARACTERIZATION OF POLMYER NANOCOMPOSITES
Atomic Force Microscope (AFM)
Elasticity Measured by AFM
Example Studies
Conclusion

ELECTRON PARAMAGNETIC RESONANCE AND SOLID-STATE NMR STUDIES OF THE SURFACTANT INTERPHASE IN POLYMER-CLAY NANOCOMPOSITES
Introduction
NMR, EPR and Spin Labeling Techniques
Characterization of Organically Modified Layered Silicates
Characterization of Nanocomposites
Conclusion

CHARACTERIZATION OF RHEOLOGICAL PROPERTIES OF POLYMER NANOCOMPOSITES
Introduction
Fundamental Rheological Theory for Studying Polymer Nanocomposites
Characterization of Rheological Properties of Polymer Nanocomposites
Conclusions

SEGMENTAL DYNAMICS OF POLYMERS IN POLYMER/CLAY NANOCOMPOSITES STUDIED BY SPIN-LABELING ESR
Introduction
Spin-Labeling: Basic Principles
Exfoliated Poly(methyl acrylate) (PMA)/Clay Nanocomposites
Intercalated Poly(ethylene oxide) (PEO)/Clay Nanocomposites
Conclusions

CHARACTERIZATION OF POLYMER NANOCOMPOSITE COLLOIDS BY SEDIMENTATION ANALYSIS
Introduction
Materials and Experimental Methods
Results and Discussion
Conclusions

BIODEGRADABILITY CHARACTERIZATION OF POLYMER NANOCOMPOSITES
Introduction
Methods of Measuring Biodegradation
Standards for Biodegradation
Biodegradable Nanocomposites
Starch Nanocomposites
PCL Nanocomposites
PHA/PHB Nanocomposites
Nanocomposites of Petrochemical Based Polymer
Conclusions
See More
Vikas Mittal is an Assistant Professor at the Chemical Engineering Department of The Petroleum Institute, Abu Dhabi. He obtained his PhD in 2006 in Polymer and Materials Engineering from the Swiss Federal Institute of Technology in Zurich, Switzerland. Later, he worked as Materials Scientist in the Active and Intelligent Coatings section of SunChemical in London, UK and as Polymer Engineer at BASF Polymer Research in Ludwigshafen, Germany. His research interests include polymer nanocomposites, novel filler surface modifications, thermal stability enhancements, polymer latexes with functionalized surfaces etc. He has authored over 40 scientific publications, book chapters and patents on these subjects.
See More