RNA Regulation, 2 Volume Set
ISBN: 978-3-527-33156-7
892 pages
June 2014, Wiley-Blackwell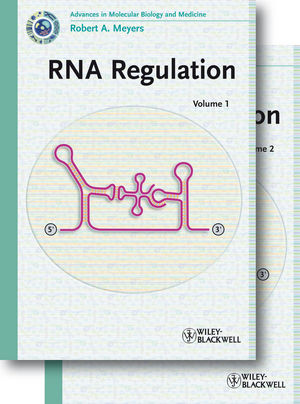 Based on one of the leading encyclopedic resources in cell and molecular biology worldwide, this two-volume work contains more than 75% new content, not previously published in the Encyclopedia. All the other chapters have been carefully updated.
The result is a comprehensive overview of the different functions of the various forms of RNA in living organisms, with each contributor carefully selected and an internationally recognized expert on his or her field. Special focus is on the different forms of expression regulation through RNA, with medical applications in the treatment of diseases -- from cancers and immune responses to infections and aging -- covered in detail. At least 45 of the 55 articles are new content previously not published in the Encyclopedia.

See More
MOLECULAR CELL BIOLOGY
RNA Regulation in Apoptosis (Christopher von Roretz, Imed-Eddine Gallouzi)
Bacterial Trans-translation: From Functions to Applications (Reynald Gillet)
RNA-mediated Control of Bacterial Gene Expression: Role of Regulatory Non-coding RNAs (Pierre Mandin, Alejandro Toledo-Arana, Aymeric Fouquier d'Herouel, Francis Repoila)
Functions and Applications of RNA-guided CRISPR-Cas Immune Systems (Rodolphe Barrangou, Philippe Horvath)
RNA Regulation in Myogenesis (Andrie Koutsoulidou, Nikolaos P. Mastroyiannopoulos, Leonidas Phylactou)
Regulation of Animal Gene Expression by Ingested Plant Small RNAs (Xi Chen, Lin Zhang, Chen-Yu Zhang)
RNA Interference in Animals (Mikiko Siomi)
To Translate or Degrade: Cytoplasmic mRNA Decision Mechanisms (Daniel Beisang, Paul R. Bohjanen)
RNA Modification (Yuri Motorin)
Regulation of Gene Expression (Anil Kumar, Sarika Garg, Neha Garg)
RNA Silencing in Plants (Charles W. Melnyk and C. Jake Harris)
RNA Stability (Ashley T. Neff, Carol J. Wilusz, Jeffrey Wilusz)
Visualization of RNA and RNA Interactions in Cells (Natalia Broude)
RNA as a Regulator of Chromatin Structure (Yota Murakami)
Intracellular RNA Localization and Localized Translation (Florence Besse)
tRNA Subcellular Dynamics (Tohru Yoshihisa)
ANALYTICAL METHODS AND MEDICAL APPLICATIONS
RNA Methodologies (Robert E. Farrell, Jr.)
Bacterial Vectors for RNAi Delivery (Hermann Lage)
RNAi Screening and Assays (Marie Lundbaek, Pal Saetrom)
Translation Regulation by microRNAs in Leukemia (Sotiris Papageorgiou)
Cancer Stem Cells (Zhang Mei)
RNAi Synthetic Logic Circuits for Sensing, Information Processing and Actuation (Ron Weiss)
Clinical and Pharmacological Applications of Regulatory RNA (Sailen Barik, Vira Bitko)
RNAi to Treat Chronic Hepatitis C Infection (Patrick Arbuthnot)
RNAi Gene Therapy to Combat HIV-1 Infection (Pierre Corbeau)
Virus-encoded microRNAs (Lee Tuddenham, Sebastien Pfeffer)
See More
Dr. Robert A. Meyers, the Editor in Chief (EiC) of the Encyclopedia of Cell and Molecular Biology and Molecular Medicine, originated the Encyclopedia and continues responsibility for the project.

Dr. Meyers has a Ph.D. in organic chemistry from UCLA and was a postdoctoral and faculty member at the California Institute of Technology. He is president of Ramtechlimited and is author or editor in chief of an additional twelve books and 20 technical papers as well as ten patents.
See More
More in this series