Microwaves in Organic and Medicinal Chemistry, 2nd, Completely Revised and Enlarged Edition
ISBN: 978-3-527-33185-7
683 pages
May 2012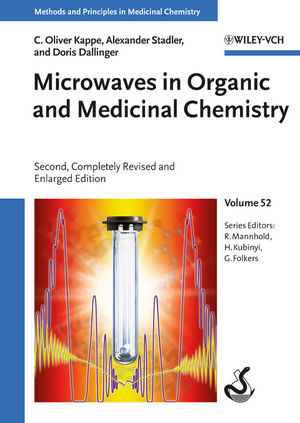 Tailored to the needs of medicinal and natural products chemists, the second edition of this unique handbook brings the contents up to speed,
almost doubling the amount of chemical information with an additional volume.
As in the predecessor, a short introductory section covers the theoretical background and evaluates currently available instrumentation and
equipment. The main part of the book then goes on to systematically survey the complete range of published microwave-assisted synthesis
methods from their beginnings in the 1990s to mid-2011, drawing on data from more than 5,000 reports and publications. Throughout, the
focus is on those reactions, reagents and reaction conditions that work, and that are the most relevant for medicinal and natural products
chemistry. A much expanded section is devoted to combinatorial, highthroughput and flow chemistry methods.
See More
PPREFACE

INTRODUCTION: MICROWAVE SYNTHESIS IN PERSPECTIVE
Microwave Synthesis and Medicinal Chemistry
Microwave-Assisted Organic Synthesis (MAOS): A Brief History
Scope and Organization of the Book

MICROWAVE THEORY
Microwave Radiation
Microwave Dielectric Heating
Dielectric Properties
Microwave versus Conventional Thermal Heating
Microwave Effects

EQUIPMENT REVIEW
Introduction
Domestic Microwave Ovens
Dedicated Microwave Reactors for Organic Synthesis
Single-Mode Instruments
Multimode Instruments

MICROWAVE PROCESSING TECHNIQUES
Solvent-Free Reactions
Phase-Transfer Catalysis
Open- versus Closed-Vessel Conditions
Pre-pressurized Reaction Vessels
Nonclassical Solvents
Passive Heating Elements
Processing Techniques in Drug Discovery and High-Throughput Synthesis
Scale-Up in Batch and Continuous Flow

LITERATURE SURVEY PART A: TRANSITION METAL-CATALYZED REACTIONS
General Comments
Carbon?Carbon Bond Formations
Carbon?Heteroatom Bond Formations
Other Transition Metal-Mediated Processes

LITERATURE SURVEY PART B: MISCELLANEOUS ORGANIC
Transformations
Rearrangement Reactions
Cycloaddition Reactions
Oxidations
Reductions and Hydrogenations
Mitsunobu Reactions
Glycosylation Reactions and Related Carbohydrate-Based Transformations
Organocatalytic Transformations
Organometallic Transformations (Mg, Zn, and Ti)
Multicomponent Reactions
Alkylation Reactions
Nucleophilic Aromatic Substitutions
Ring-Opening Reactions
Addition and Elimination Reactions
Substitution Reactions
Enamine and Imine Formations
Reductive Aminations
Ester and Amide Formation
Decarboxylation Reactions
Free Radical Reactions
Protection/Deprotection Chemistry
Preparation of Isotopically Labeled Compounds
Miscellaneous Transformations

7 LITERATURE SURVEY PART C: HETEROCYCLE SYNTHESIS
Three-Membered Heterocycles with One Heteroatom
Four-Membered Heterocycles with One Heteroatom
Five-Membered Heterocycles with One Heteroatom
Five-Membered Heterocycles with Two Heteroatoms
Five-Membered Heterocycles with Three Heteroatoms
Five-Membered Heterocycles with Four Heteroatoms
Six-Membered Heterocycles with One Heteroatom
Six-Membered Heterocycles with Two Heteroatoms
Six-Membered Heterocycles with Three Heteroatoms
Larger Heterocyclic and Polycyclic Ring Systems

LITERATURE SURVEY PART D: COMBINATORIAL CHEMISTRY AND HIGH-THROUGHPUT ORGANIC SYNTHESIS
Solid-Phase Organic Synthesis
Soluble Polymer-Supported Synthesis
Fluorous-Phase Organic Synthesis
Grafted Ionic Liquid-Phase-Supported Synthesis
Polymer-Supported Reagents
Polymer-Supported Catalysts
Polymer-Supported Scavengers


See More
C. Oliver Kappe is Professor of organic chemistry and Director of the Doppler Laboratory for Microwave Chemistry at the University
of Graz, Austria, where he also received his doctorate in 1992. After postdoctoral work with CurtWentrup at the University of Queensland, Australia, and with Albert Padwa at Emory University, Atlanta, USA, he returned to the University of Graz and became Associate Professor in 1999. He has been a visiting scientist at the Scripps Research Institute as well as the Tokyo Institute of Technology. Professor Kappe's current research focuses on microwave-assisted synthesis and continuous flow processing.

Alexander Stadler studied chemistry at the University of Graz, Austria, where he also obtained his doctoral degree for studies on microwave-accelerated reactions in solution and on solid phase in the group of C. Oliver Kappe. He conducted postdoctoral research work on microwave-assisted transition metal-catalyzed coupling reactions in the group of Mats Larhed at the University of Uppsala, Sweden. In 2004 he joined Anton Paar GmbH in Graz where he is currently working as product manager for microwave synthesis instruments.

Doris Dallinger obtained her PhD degree in the group of C. Oliver Kappe at the University of Graz, Austria, on projects related to microwave chemistry and high-throughput synthesis. After postdoctoral research work at the Christian Doppler Laboratory for Microwave Chemistry she joined the faculty of the University of Graz as staff scientist in 2011.
See More
Buy Both and Save 25%!
Microwaves in Organic and Medicinal Chemistry, 2nd, Completely Revised and Enlarged Edition (US $245.00)
-and- Protein-Ligand Interactions (US $196.00)
Total List Price: US $441.00
Discounted Price: US $330.75 (Save: US $110.25)
Cannot be combined with any other offers. Learn more.
More in this series