Trypanosomatid Diseases: Molecular Routes to Drug Discovery
ISBN: 978-3-527-33255-7
576 pages
May 2013, Wiley-Blackwell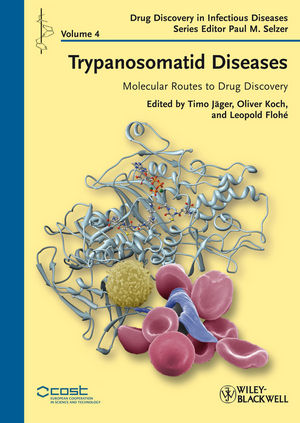 This is the first resource to provide researchers in academia and industry with an urgently needed update on drug intervention against trypanosomatides. As such, it
covers every aspect of the topic from basic research findings, via current treatments to translational approaches in drug development and includes both human and livestock diseases. The outstanding editor and contributor team reads like a Who?s Who of the field, thus guaranteeing the outstanding quality of this ready reference.
See More
DISEASE BURDEN, CURRENT TREATMENTS, MEDICAL NEEDS AND STRATEGIC APPROACHES
Visceral leishmaniasis: current treatments and needs (Poonam Salotra, Ruchi Singh, Karin Seifert)
Chemotherapy of Leishmaniasis. A Veterinary perspective (María Jesús Corral-Caridad, José María Alunda)
Pharmacological metabolomics in trypanosomes (Darren J. Creek, Isabel M. Vincent, Michael P. Barrett)
Drug design and screening by in silico approaches (Mattia Mori, Maurizio Botta)
Computational Approaches and Collaborative Drug Discovery for Trypanosomal Diseases (Sean Ekins, Barry A. Bunin)
METABOLIC PECULIARITIES IN THE TRYPANOSOMATID FAMILY GUIDING DRUG
Interaction of Leishmania parasites with host cells and its functional consequences (Uta Schurigt, Anita Masic, Heidrun Moll)
The function of glycosomes in the metabolism of trypanosomatid parasites and the promise of glycosomal proteins as drug targets (Melisa Gualdrón-López, Paul A.M. Michels, Wilfredo Quiñones, Ana J. Cáceres, Luisana Avilán, Juan-Luis Concepción)
The glyoxalase enzymes in trypanosomatids (Marta Sousa Silva, António E. N. Ferreira, Ricardo Gomes, Ana M. Tomás, Ana Ponces Freire, Carlos Cordeiro)
The trypanothione-based redox metabolism of trypanosomatids (Marcelo A. Comini, Leopold Flohé)
Thiol peroxidases of trypanosomatids (Helena Castro, Ana M. Tomás)
Peroxynitrite as a cytotoxic effector against Trypanosoma cruzi: oxidative killing and antioxidant resistance mechanisms (Madia Trujillo, María Noel Alvarez, Lucía Piacenza, Martín Hugo, Gonzalo Peluffo, Rafael Radi)
Selenoproteome of Kinetoplastids (Alexei V. Lobanov, Vadim N. Gladyshev)
The Replication Machinery of Kinetoplast DNA (Rachel Bezalel-Buch, Nurit Yaffe, Joseph Shlomai)
Life and death of Trypanosoma brucei: New perspectives for drug development (Torsten Barth, Jasmin Stein, Stefan Mogk, Caroline Schönfeld, Bruno K. Kubata, Michael Duszenko)
VALIDATION AND SELECTION OF DRUG TARGETS IN KINETOPLASTS
Rational selection of antimicrobial drug targets: unique or conserved? (Boris Rodenko, Harry P. de Koning)
Drug Targets in Trypanosomal and Leishmanial Pentose Phosphate Pathway (Marcelo A. Comini, Cecilia Ortíz, Juan José Cazzulo)
GDP-mannose: a key point for target identification and drug design in kinetoplastids (S. Pomel, P.M. Loiseau)
Transporters in antiparasitic drug development and resistance (Vincent Delespaux, Harry P. de Koning)
Peptidases in autophagy are a therapeutic target for Leishmaniasis (Roderick A.M. Williams)
Proteases of Trypanosoma brucei (Dietmar Steverding)
EXAMPLES OF TARGET-BASED APPROACHES AND COMPOUNDS UNDER CONSIDERATION
Screening Approaches towards Trypanothione Reductase (Mathias Beig, Frank Oellien, Luise Krauth-Siegel, Paul M. Selzer)
Redox-active agents in reactions involving the trypanothione/trypanothione reductase-based system to fight kinetoplastidal parasites (Gendron Thibault, Don Antoine Lanfranchi, Elisabeth Davioud-Charvet)
Inhibition of trypanothione synthetase as therapeutic concept (Oliver Koch, Timo Jäger, Leopold Flohé, Paul M. Selzer)
Targeting the trypanosomatidic enzymes pteridine reductase and dihydrofolate reductase (Stefania Ferrari, Valeria Losasso, Puneet Saxena, Maria Paola Costi)
Contribution to new therapies for Chagas? disease (Juan Patricia S. Doyle, C. Engel)
Ergosterol Biosynthesis for the Specific Treatment of Chagas disease: From Basic Science to Clinical Trials (Julio A. Urbina)
New Developments in the Treatment of Late Stage Human African Trypanosomiasis (Cyrus J. Bacchi, Robert T. Jacobs, Nigel Yarlett)

See More
Volume Editors:

Timo Jäger studied biology at the Technical University of Braunschweig, Germany, where he also received his PhD. He worked as a Postdoc at the German Research Centre for Biotechnology, Braunschweig, and served as Head of Biological Research and Development for MOLISA GmbH in Magdeburg, Germany. His research centered on the redox metabolism of pathogens, function and catalytic mechanism of peroxiredoxins, target evaluation, characterization, and drug development against infectious diseases, especially tuberculosis and trypanosomiasis. He is currently Managing Director of the Coordination Office of the German Centre for Infection Research DZIF in Braunschweig.

Oliver Koch studied pharmacy and computer science at the Philipps-University of Marburg, Germany, where he also received his PhD in the field of computer-aided drug design. During his post-doctoral studies, he worked as a scientific software engineer at the Cambridge Crystallographic Data Centre (CCDC) in Cambridge, UK, before joining the drug discovery department at MSD Animal Health Innovation GmbH, Germany. Currently, he is junior research group leader at the faculty of chemistry, TU Dortmund, Germany. His research interests focus on the development and application of computational methods in drug discovery and molecular design.

Leopold Flohé studied philosophy, medicine and biochemistry and obtained his MD and the venia legendi for Biochemistry from the University of Tübingen, Germany. He served as Scientific Director for Grünenthal GmbH in Aachen, the German Biotechnology Centre (HZI) in Braunschweig and Molisa GmbH in Magdeburg, Germany, while simultaneously teaching at the local universities. His contributions to science were acknowledged with Honorary Degrees from the Universities of Buenos Aires and Montevideo, the Claudius-Galenus-Preis, the Klaus Schwarz Commemorative Medal, the Science and Humanity Price (OCC) and the Trevor Frank Slater Award and Gold Medal (SFRRI).

Paul M. Selzer studied biology, parasitology, and biochemistry at the University of Tübingen, Germany, where he also received his PhD in biochemistry. He spent three years at the Molecular Design Institute and the Parasitology and Tropical Disease Research Laboratory at the University of California, San Francisco. During his career he has worked as a researcher and scientific manager for several pharmaceutical companies, and is currently Director, Molecular Discovery Sciences at MSD Animal Health Innovation GmbH, Germany. He is also a visiting professor and teacher at the Biochemistry Institute of the University of Tübingen, and an honorary professor of the Department of Infection, Immunity, and Inflammation at the University of Glasgow, UK.

See More
More in this series