Non-Noble Metal Fuel Cell Catalysts
ISBN: 978-3-527-33324-0
448 pages
May 2014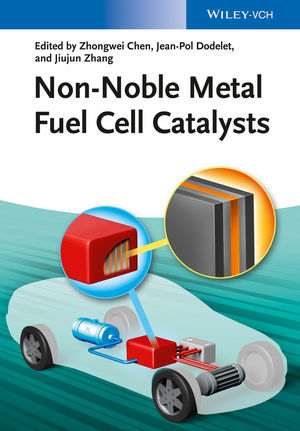 Written and edited by top fuel cell catalyst scientists and engineers from both industry and academia, this is the first book to provide a complete overview of this hot topic. It covers the synthesis, characterization, activity validation and modeling of different non-noble metal electrocatalysts, as well as their integration into fuel cells and their performance validation, while also discussing those factors that will drive fuel cell commercialization.
With its well-structured approach, this is a must-have for researchers working on the topic, and an equally valuable companion for newcomers to the field.
See More
ELECTROCATALYSTS FOR ACID PROTON EXCHANGE MEMBRANE (PEM) FUEL CELLS -
AN OVERVIEW
Introduction
Acid PEM Fuel Cell Background and Fundamentals
Acid PEM Fuel Cell Catalysis for Cathode of O2 Reduction Reaction
Catalyst Challenges and Perspective in Acid PEM Fuel Cells
Conclusion

HEAT-TREATED TRANSITION METAL-NxCy ELECTROCATALYSTS FOR O2 REDUCTION REACTION IN ACID PEM FUEL CELLS
Introduction
Synthesis Approaches for Heat-Treated Me/N/C Catalysts
Important Parameters for Highly Active Me/N/C Catalysts
Nature of the Active Sites
Electrochemical Investigation by RDE/RRDE Methods
Conclusions

MODIFIED CARBON MATERIALS FOR O2 REDUCTION REACTION ELECTROCATALYSTS IN ACID PEM FUEL CELLS
Introduction
Doped Carbon Materials
Doped Carbons as ORR Catalysts
Conclusions

TRANSITION METAL CHALCOGENIDES FOR OXYGEN REDUCTION ELECTROCATALYSTS IN PEM FUEL CELLS
Introduction
Non-Noble Metal Chalcogenide Electrocatalysts for Oxygen Reduction Reaction
Synthesis Methods for Non-Noble Metal Chalcogenices
Oxygen Reduction Reaction on Non-Noble Metal Chalcogenides
Methanol Tolerance
Fuel Cell Measurements
Conclusions

TRANSITION METAL OXIDES, CARBIDES, NITRIDES, OXYNITRIDES, AND CARBONITRIDES FOR O2 REDUCTION REACTION ELECTROCATALYSTS IN ACID PEM FUEL CELLS
Introduction
Transition Metal Nitrides and Carbonitrides as Cathode Catalysts
Stability of Oxides in Acid Electrolyte
Non-Noble Metal Oxide-Based Cathode Catalysts
Conclusions

THEORETICAL MODELING OF NON-NOBLE METAL ELECTROCATALYSTS FOR ACID AND ALKALINE PEM FUEL CELLS
Introduction
Mechanisms of ORR
Simple Metal-N4 Macrocycles
Heat-Treated Transition Metal Nitrogen-Carbon Precursors (M-Nx/C)
Functionalized Graphitic Materials
Conducting Polymers
Outlook

MEMBRANES FOR ALKALINE POLYELECTROLYTE FUEL CELLS
Introduction
Two Main Challenges of APEs
APEs Reported in the Literature
Strategies for Improving the Ionic Conductivity of APE
Efforts of Improving the Chemical Stability of the Cationic Functional Group
Research on the Chemical Stability of APE Backbone
Conclusions and Perspective

ELECTROCATALYSTS FOR ALKALINE POLYMER EXCHANGE MEMBRANE (PEM) FUEL CELLS -
OVERVIEW
Introduction
Alkaline Fuel Cell Overview -
History, Status, and Advantages
Alkaline Fuel Cell and Alkaline PEM Fuel Cell -
Thermodynamics and Kinetics
Silver-Based Materials for Cathode Electrocatalysts in Alkaline PEM Fuel Cells
Catalysts for Oxidation of a Broad Range of Fuels for Alkaline PEM Fuel Cells
Major Challenges of Alkaline Fuel Cells and Alkaline PEM Fuel Cells

CARBON COMPOSITE CATHODE CATALYSTS FOR ALKALINE PEM FUEL CELLS
Introduction
Metal-Free Carbon Catalysts
Heat-Treated M-N-C (M:Fe, Co) Carbon Composite Catalysts
Nanocarbon/Transition Metal Compound Hybrid Catalysts
ORR Mechanism on NPMCs in Alkaline Media
NPMC Cathode Performance in Anion Exchange Membrane Fuel Cell
Summary and Perspective

NON-PRECIOUS METAL OXIDES AND METAL CARBIDES FOR ORR IN ALKALINE-BASED FUEL CELLS
Introduction
Metal Oxides
Perovskite-Type Oxides
Spinel-Type Oxides
Metal Carbides
Conclusion and Outlook

AUTOMOTIVE APPLICATIONS OF ALKALINE MEMBRANE FUEL CELLS
Introduction
History of Alkaline Fuel Cells in Automotive Applications
Fuel Used in Modern Alkaline PEM Fuel Cells in Automotive Applications
Components of an Alkaline PEM Fuel Cell Membrane Electrode Assembly for Automotive Applications
Major Challenges to Overcome in Alkaline PEM Fuel Cells
Conclusion

Index
See More
Zhongwei Chen is an Associate Professor in the Department of Chemical Engineering at University of Waterloo. His current research interests are in the development of advanced electrode materials for metal-air batteries, lithium-ion batteries and fuel cells. He received his Ph.D. in Chemical and Environmental Engineering from the University of California-Riverside. Prior to joining the faculty at Waterloo in 2008, he was focusing on the advanced catalysts research in the Los Alamos National Laboratory (LANL) at New Mexico, USA. He has published 4 book chapters and more than 70 peer reviewed journal articles. These publications have earned him to date more than 3000 citations with H-index 28. He is also listed as inventor on 3 US patents and 8 provisional US patents.

Jean-Pol Dodelet is Professor of Physical Chemistry at L'Institut National de la Recherche Scientifique (INRS, Canada). After receiving his Ph.D. in Physical Chemistry in 1969 from L'Université Catholique de Louvain (Belgium) he became a Postdoctoral Fellow and then Research Associate in Radiation Chemistry at the University of Alberta (Canada). In 1976, he became Professor of Physical Chemistry at L'Université du Québec à Trois Rivières (Canada), where he worked until 1981 on the photoconducting properties of molecular photoconductors, before he took his current position. At INRS, he first continued his work on molecular photoconductors before becoming interested, in 1990, in non-noble metal electrocatalysts, the research area where he is still active today. In the last several years, Dr. Dodelet collaborated with General Motors in the frame of an Industrial Research Chair in electrocatalysis, sponsored by General Motors of Canada and the Natural Sciences and Engineering Research Council of Canada.

Jiujun Zhang is Principal Research Officer and Catalysis Core Competency Leader at the National Research Council of Canada's Energy, Mining & Environment Portfolio (NRC-EME). After having received B.Sc and M.Sc in physical chemistry at Peking University he received his Ph.D. in Electrochemistry from Wuhan University in 1988. He then took a position as an associate professor at the Huazhong Normal University for two years, followed by postdoctoral research at the California Institute of Technology, York University, and the University of British Columbia. Dr. Zhang has over twenty-eight years of R&D experience in theoretical and applied electrochemistry and three years of electrochemical sensor experience. He holds several adjunct professorships, including one at the University of Waterloo, one at the University of British Columbia, and one at Peking University.


See More