Self-Healing Polymers: From Principles to Applications
ISBN: 978-3-527-33439-1
446 pages
August 2013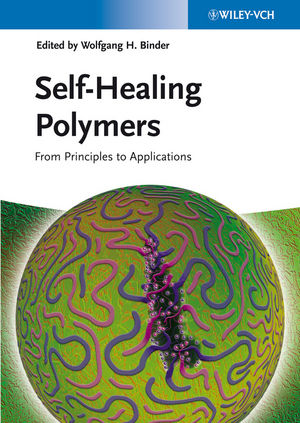 This self-contained reference, written by a team of renowned international authors adopt a didactical approach to systematically cover all important aspects of designing self-healing polymers from concepts to applications - transferring lessons learnt from nature to materials science.
It is the first to discuss the chemical and physical concepts for self-healing polymers, including aspects of biomimetic processes of healing in nature and tissue regeneration.
Chapters cover the design of self-healing polymers and explain the dynamics in these systems.
Different self-healing concepts such as encapsulated systems and supramolecular systems are also included, with analysis and friction detection in self-healing polymers and on applications rounding off the whole.
See More
INTRODUCTION
DESIGN OF SELF-HEALING MATERIALS
Biomimicry in Living Systems
Modelling of Self-Healing Processes in Polymers
Principles of Self-Healing Polymers

DYNAMICS
Dynamics of Polymer-Chains
Physical Chemistry and Principles of Crosslinking-Processes in Polymers
Thermally Remendable Polymers
Photochemically Remendable Polymers
Mechanochemistry of Polymers
Chemistry of Crosslinking Processes

ENCAPSULATED SYSTEMS
Principles of Encapsulation
Channel Based Healing Systems

SUPRAMOLECULAR SYSTEMS
Supramolecular and Hydrogen Bonded Networks
Metal-Complex Based Self-Healing Systems
Ionomers

ANALYSIS AND FRICTION DETECTION IN SELF-HEALING POLYMERS

APPLICATION OF SELF-HEALING MATERIALS
Epoxy-Based Systems and Composites
Self-Healing Coatings
Application of Self-Healing Materials in Aerospace Engineering
See More
Wolfgang H. Binder is Professor for Macromolecular Chemistry at the University of Halle, Germany. He received his PhD in Organic Chemistry in 1995 at the University of Vienna. In his post doc research at Emory University, USA, he specialized on colloidal chemistry/macromolecular chemistry. In 1997 he became an Assistant Professor at the Technical University of Vienna and in 2004 Associate Professor. His research is focused on tailored synthetic methods (living polymerization methods) and analytical polymer science, with applications in material science, nanotechnology and medicine; Wolfgang H. Binder has published over 120 scientific articles.
See More