De novo Molecular Design
ISBN: 978-3-527-33461-2
576 pages
December 2013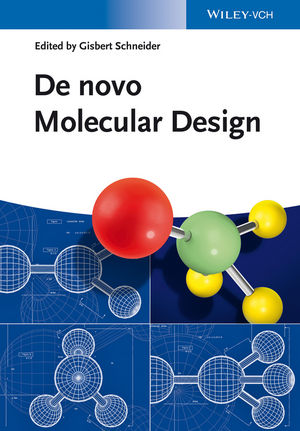 Systematically examining current methods and strategies, this ready reference covers a wide range of molecular structures, from organic-chemical drugs to peptides, Proteins and nucleic acids, in line with emerging new drug classes derived from biomacromolecules.

A leader in the field and one of the pioneers of this young discipline has assembled here the most prominent experts from across the world to provide first-hand knowledge. While most of their methods and examples come from the area of pharmaceutical discovery and development, the approaches are equally applicable for chemical probes and diagnostics, pesticides, and any other molecule designed to interact with a biological system. Numerous images and screenshots illustrate the many examples and method descriptions.

With its broad and balanced coverage, this will be the firststop resource not only for medicinal chemists, biochemists and biotechnologists, but equally for bioinformaticians and molecular designers for many years to come.


From the content:

* Reaction-driven de novo design
* Adaptive methods in molecular design
* Design of ligands against multitarget profiles
* Free energy methods in ligand design
* Fragment-based de novo design
* Automated design of focused and target family-oriented compound libraries
* Molecular de novo design by nature-inspired computing
* 3D QSAR approaches to de novo drug design
* Bioisosteres in de novo design
* De novo design of peptides, proteins and nucleic acid structures, including RNA aptamers

and many more.

See More
De novo design: from models to molecules
Structure-based molecular de novo design
Computational Fragment-Based Drug Design
De novo design by fragment growing and docking
Reaction-based de novo design
Virtual organic synthesis for de novo compound construction
Pharmacophore-based de novo design
Ligand-based molecular design using pseudoreceptors
Shape-based approaches to de novo drug design
Multi-dimensional de novo design of druglike compounds
Polypharmacology-based de novo design
Combinatorial molecular de novo design
Fragment-based design of focused compound libraries
Construction of druglike compounds by Markov chains
Molecular design by fragment shuffling
Ligand design by Free Energy Perturbation
Bioisosteric replacements for de novo drug design
Peptide design by nature-inspired computing
Peptoid de novo design
Designing proteins de novo
De novo design of nucleic acid structure
See More
Gisbert Schneider is full professor of computer-assisted drug design at ETH Zürich, Switzerland. He studied biochemistry and computer science at the Free University of Berlin, Germany. After several international postdoctoral research activities he joined F. Hoffmann-La Roche Pharmaceuticals in Basel, Switzerland, where he headed the cheminformatics group. From 2002-2009 he was full professor of cheminformatics and bioinformatics (Beilstein Endowed Chair) at Goethe-University Frankfurt, Germany. Professor Schneider coined the terms "scaffold-hopping" and "frequent hitter" in drug design. His research activities concentrate on method development for adaptive molecular design and their tight integration with innovative chemical and biophysical techniques in drug discovery.
See More