Ceramic Membranes: New Opportunities and Practical Applications
ISBN: 978-3-527-33493-3
408 pages
August 2016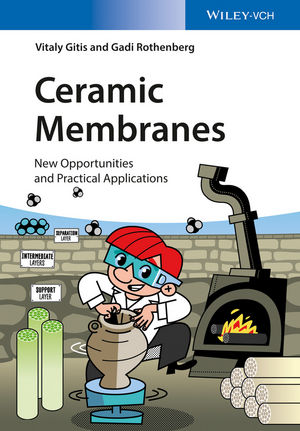 This textbook gives a clear and coherent overview of ceramic membranes, from preparation methods all the way to applications and economics. The authors, who are known for their clear writing style, combine their expertise in environmental engineering and porous materials to cover a wide range of examples, with over 1000 references. Chapters 1, 2 and 3 give a detailed introduction to membrane synthesis, transport mechanisms, and characterisation. Building on this, Chapter 4 outlines the state-of-the-art in ceramic membrane applications, including fuel cells, water purification, gas separation, and the making of cheeses, fruit juice, wine and beer. The final chapter deals with the economics of ceramic membrane processes, using industrial case studies to examine market barriers and opportunities.
Ceramics are known throughout history, but now, after thousands of years, they´re making a comeback. Indeed, they may hold the key for addressing three of today´s biggest challenges: clean energy, drinking water and air pollution. This book is a must-have for anyone who wants to enter the ceramic membranes field, or keep up-to-date with the latest developments and applications.
See More
The Basics
Fundamentals of Membrane Separation
Characterization of Ceramic Membranes
Applications
Economics



See More
Vitaly Gitis is Senior Lecturer at the Unit of Energy Engineering in the Faculty of Engineering Sciences in Ben-Gurion University of the Negev, and is an expert on granular and membrane filtration separation processes. He specialises in water purification, with over 60 papers in peer-reviewed journals. His current research interests include multilayered ceramic membranes, wastewater treatment, and new materials for clean energy solutions.
Gadi Rothenberg is Professor and Chair of Heterogeneous Catalysis and Sustainable Chemistry at the Van`t Hoff Institute for Molecular Sciences at the University of Amsterdam, and teaches courses on catalysis, thermodynamics and scientific writing. He has published over 160 papers in peer-reviewed journals, invented 14 patents, and co-founded the companies Sorbisense A/S, Yellow Diesel BV and Plantics BV. His current research interests include fuel cells, biomass conversion and multifunctional materials, and his latest invention is a simple catalytic process for cleaning out cyanide ions from industrial waste streams.
See More