Cascade Biocatalysis Integrating Stereoselective and Environmentally Friendly Reactions
ISBN: 978-3-527-33522-0
488 pages
September 2014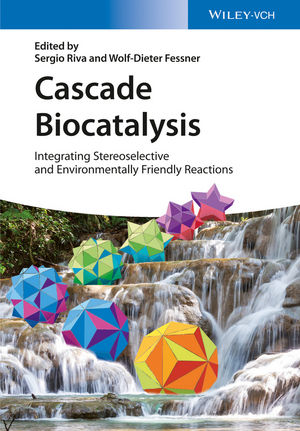 This ready reference presents environmentally friendly and stereoselective methods of modern biocatalysis. The experienced and renowned team of editors have gathered top international authors for this book. They cover such emerging topics as chemoenzymatic methods and multistep enzymatic reactions, while showing how these novel methods and concepts can be used for practical applications. Multidisciplinary topics, including directed evolution, dynamic kinetic resolution, and continuous-flow methodology are also discussed.

From the contents:
* Directed Evolution of Ligninolytic Oxidoreductases: from Functional Expression to Stabilization and Beyond
* New Trends in the In Situ Enzymatic Recycling of NAD(P)(H) Cofactors
* Monooxygenase-Catalyzed Redox Cascade Biotransformations
* Biocatalytic Redox Cascades Involving w-Transaminases
* Multi-Enzyme Systems and Cascade Reactions Involving Cytochrome P450 Monooxygenases
* Chemo-Enzymatic Cascade Reactions for the Synthesis of Glycoconjugates
* Synergies of Chemistry and Biochemistry for the Production of Beta-Amino Acids
* Racemizable Acyl Donors for Enzymatic Dynamic Kinetic Resolution
* Stereoselective Hydrolase-Catalyzed Processes in Continuous-Flow Mode
* Perspectives on Multienzyme Process Technology
* Nitrile Converting Enzymes Involved in Natural and Synthetic Cascade Reactions
* Mining Genomes for Nitrilases
* Key-Study on the Kinetic Aspects of the In-Situ NHase/AMase Cascade System of M. imperiale Resting Cells for Nitrile Bioconversion
* Enzymatic Stereoselective Synthesis of Beta-Amino Acids
* New Applications of Transketolase: Cascade Reactions for Assay Development
* Aldolases as Catalyst for the Synthesis of Carbohydrates and Analogs
* Enzymatic Generation of Sialoconjugate Diversity
* Methyltransferases in Biocatalysis
* Chemoenzymatic Multistep One-Pot Processes

See More
List of Contributors XIII
Preface XXI
1 Directed Evolution of Ligninolytic Oxidoreductases: from Functional Expression to Stabilization and Beyond 1
Eva Garcia-Ruiz, Diana M. Mate, David Gonzalez-Perez, Patricia Molina-Espeja, Susana Camarero, Angel T. Martínez, Antonio O. Ballesteros, and Miguel Alcalde
1.1 Introduction 1
1.2 Directed Molecular Evolution 1
1.3 The Ligninolytic Enzymatic Consortium 3
1.4 Directed Evolution of Laccases 6
1.4.1 Directed Evolution of Low-Redox Potential Laccases 7
1.4.2 Directed Evolution of Medium-Redox Potential Laccases 7
1.4.3 Directed Evolution of Ligninolytic High-Redox Potential Laccases (HRPLs) 8
1.5 Directed Evolution of Peroxidases and Peroxygenases 11
1.6 Saccharomyces cerevisiae Biomolecular Tool Box 15
1.7 Conclusions and Outlook 16
Acknowledgments 17
Abbreviations 17
References 18
2 New Trends in the In Situ Enzymatic Recycling of NAD(P)(H) Cofactors 23
Erica Elisa Ferrandi, Daniela Monti, and Sergio Riva
2.1 Introduction 23
2.2 Recent Advancements in the Enzymatic Methods for the Recycling of NAD(P)(H) Coenzymes and Novel Regeneration Systems 24
2.2.1 In Situ Regeneration of Reduced NAD(P)H Cofactors 24
2.2.1.1 Formate Dehydrogenase and Glucose Dehydrogenase 24
2.2.1.2 Phosphite Dehydrogenase 26
2.2.1.3 Hydrogenase 27
2.2.1.4 Glucose 6-Phosphate Dehydrogenase 29
2.2.1.5 Alcohol Dehydrogenase 29

2.2.2 In Situ Regeneration of Oxidized NAD(P)+ Cofactors 31
2.2.2.1 Lactate Dehydrogenase 31
2.2.2.2 NAD(P)H Oxidase 32
2.2.2.3 Alcohol Dehydrogenase 34
2.2.2.4 Mediator-Coupled Enzyme Systems 35
2.3 Conclusions 37
Acknowledgments 38
References 38
3 Monooxygenase-Catalyzed Redox Cascade Biotransformations 43
Florian Rudroff and Marko D. Mihovilovic
3.1 Introduction 43
3.1.1 Scope of this Chapter 43
3.1.2 Enzymatic Oxygenation 43
3.1.3 Effective Cofactor Recycling 44
3.1.4 In Vitro Multistep Biocatalysis 46
3.1.5 Combined In Vitro and In Vivo Multistep Biocatalysis 48
3.1.6 In Vivo Multistep Biocatalysis 51
3.1.7 Chemo-Enzymatic Cascade Reactions 56
3.1.8 Conclusion and Outlook 60
References 61
4 Biocatalytic Redox Cascades Involving -Transaminases 65
Robert C. Simon, Nina Richter, and Wolfgang Kroutil
4.1 Introduction 65

4.2 General Features of ω-Transaminases 66
4.2.1 Cascades to Shift the Equilibrium for Amination 67

4.3 Linear Cascade Reactions Involving ω-Transaminases 69
4.3.1 Redox and Redox-Neutral Cascade Reactions 70
4.3.2 Carbonyl Amination Followed by Spontaneous Ring Closure 75
4.3.3 Deracemization of Racemic Amines Employing Two ω-Transaminases 78

4.3.4 Cascade Reactions of ω-TAs with Lyases and C–C Hydrolases/Lipases 80
4.4 Concluding Remarks 82
References 83
5 Multi-Enzyme Systems and Cascade Reactions Involving Cytochrome P450 Monooxygenases 87
Vlada B. Urlacher and Sebastian Schulz
5.1 Introduction 87
5.1.1 Multistep Cascade Reactions 87
5.1.2 Cytochrome P450 Monooxygenases 88
5.1.3 General Overview of presented cascade types 91
5.2 Physiological Cascade Reactions Involving P450s 92
5.2.1 Multistep Oxidations Catalyzed by a Single P450 92
5.2.2 Multistep Oxidations Catalyzed by Multiple P450s 102
5.3 Artificial Cascade Reactions Involving P450s 108
5.3.1 Cascade Reactions Involving P450s and Cofactor Regenerating Enzymes 108
5.3.1.1 Cofactor Regeneration in Cell-Free Systems (In Vitro) 108
5.3.2 Cofactor Regeneration in Whole-Cell Biocatalysts 114
5.3.3 Artificial Enzyme Cascades Involving P450s and Other Enzymes 115
5.3.3.1 Artificial Multi-Enzyme Cascades with Isolated Enzymes 116
5.3.3.2 Artificial Multi-Enzyme Cascades In Vivo 120
5.4 Conclusions and Outlook 124
References 125
6 Chemo-Enzymatic Cascade Reactions for the Synthesis of Glycoconjugates 133
Ruben R. Rosencrantz, Bastian Lange, and Lothar Elling
6.1 Introduction 133
6.1.1 Impact of Glycoconjugates and Their Synthesis 133
6.1.2 Biocatalysts for the Synthesis of Glycoconjugates 134
6.1.2.1 Glycosyltransferases 134
6.1.2.2 Glycosidases and Glycosynthases 136
6.1.3 Definition of Cascade Reactions 137
6.2 Sequential Syntheses 139
6.2.1 Nucleotide Sugars 139
6.2.2 Glycoconjugates 141
6.3 One-Pot Syntheses 146
6.3.1 Nucleotide Sugars 146
6.3.2 Glycan Structures 148
6.4 Convergent Syntheses 151
6.5 Conclusion 153
Acknowledgment 153
References 153
7 Synergies of Chemistry and Biochemistry for the Production of -Amino Acids 161
Josefa María Clemente-Jiménez, Sergio Martínez-Rodríguez, Felipe Rodríguez-Vico, and Francisco Javier Las Heras-Vázquez
7.1 Introduction 161
7.2 Dihydropyrimidinase 163

7.3 N-Carbamoyl-β-Alanine Amidohydrolase 166

7.4 Bienzymatic System for β-Amino Acid Production 173
7.5 Conclusions and Outlook 174
Acknowledgments 174
References 174
8 Racemizable Acyl Donors for Enzymatic Dynamic Kinetic Resolution 179
Davide Tessaro
8.1 Introduction 179
8.2 The Tools 180
8.2.1 The Enzymes 180
8.2.2 The Racemization of Acyl Compounds 182
8.3 Applications of DKR to Acyl Compounds 183
8.3.1 Base-Catalyzed Racemization 183
8.3.2 DKR of Oxoesters 185
8.3.3 DKR of Thioesters 188
8.4 Conclusions 193
Acknowledgments 194
References 194
9 Stereoselective Hydrolase-Catalyzed Processes in Continuous-Flow Mode 199
Zoltán Boros, Gábor Hornyánszky, József Nagy, and László Poppe
9.1 Introduction 199
9.1.1 General Remarks on Reactions in Continuous-Flow Systems 199
9.1.1.1 Stereoselective Reactions in Continuous Flow Systems 202
9.1.1.2 Analytical Applications 203
9.1.2 Nonstereoselective Enzymatic Processes 204
9.2 Enzyme-Catalyzed Stereoselective Reactions in Continuous-Flow Systems 204
9.2.1 Stereoselective Processes Catalyzed by Nonhydrolytic Enzymes 204
9.2.2 Stereoselective Processes Catalyzed by Hydrolases 207
9.2.2.1 Applicable Types of Selectivities 207
9.2.2.2 Stereoselective Hydrolytic Reactions 207
9.2.2.3 Stereoselective Acylations 211
9.2.2.4 Effects of the Operation Conditions and the Mode of Enzyme Immobilization 220
9.3 Outlook and Perspectives 222
References 222
10 Perspectives on Multienzyme Process Technology 231
Paloma A. Santacoloma and John M. Woodley
10.1 Introduction 231
10.2 Multienzyme System Classification 233
10.3 Biocatalyst Options 233
10.3.1 Transport Limitations 235
10.3.2 Compartmentalization 237
10.4 Reactor Options 237
10.5 Process Development 239
10.5.1 Recombinant DNA Technology 240
10.5.2 Process Engineering 241
10.6 Process Modeling 241
10.7 Future 244
10.8 Concluding Remarks 245
References 245
11 Nitrile Converting Enzymes Involved in Natural and Synthetic Cascade Reactions 249
Ludmila Martínková, Andreas Stolz, Fred van Rantwijk, Nicola D'Antona, Dean Brady, and Linda G. Otten
11.1 Introduction 249
11.2 Natural Cascades 250
11.2.1 Nitrile Hydratase – Amidase 250
11.2.2 Aldoxime Dehydratase–Nitrile Hydratase–Amidase 255
11.2.3 Other Natural Cascades 256
11.3 Artificial Cascades 257
11.3.1 Nitrile Hydratase–Amidase 257
11.3.2 Nitrilase–Amidase 258
11.3.3 Hydroxynitrile Lyase–Nitrilase 259
11.3.4 Hydroxynitrile Lyase–Nitrilase–Amidase 261
11.3.5 Hydroxynitrile Lyase–Nitrile Hydratase 261
11.3.6 Oxygenase–Nitrilase 262
11.3.7 Lipase–Nitrile Hydratase–Amidase 263
11.4 Conclusions and Future Use of These Enzymes 264
Acknowledgments 265
References 265
12 Mining Genomes for Nitrilases 271
Ludmila Martnková
12.1 Strategies in Nitrilase Search 271
12.2 Diversity of Nitrilase Sequences 272
12.2.1 Nitrilases in Bacteria 274
12.2.2 Nitrilases in Fungi 274
12.2.3 Nitrilases in Plants 275
12.3 Structure–Function Relationships 275
12.3.1 Sequence Clustering 275
12.3.2 Analysis of Specific Regions 276
12.3.3 Analysis of Enzyme Mutants 276
12.4 Enzyme Properties and Applications 277
12.4.1 Arylacetonitrilases 277
12.4.2 Aromatic Nitrilases 278
12.4.3 Aliphatic Nitrilases 278
12.4.4 Cyanide-Transforming Enzymes 279
12.5 Conclusions 279
Acknowledgment 279
References 280
13 Key-Study on the Kinetic Aspects of the In Situ NHase/AMase Cascade System of M. imperiale Resting Cells for Nitrile Bioconversion 283
Laura Cantarella, Fabrizia Pasquarelli, Agata Spera, Ludmila Martínková, and Maria Cantarella
13.1 Introduction 283
13.2 The Temperature Effect on the NHase–Amidase Bi-Enzymatic Cascade System 284
13.3 Effect of Nitrile Concentration on NHase Activity and Stability 287
13.4 Effect of Nitrile on the AMase Activity and Stability 289
13.5 Concluding Remarks 293
Acknowledgments 293
References 293
14 Enzymatic Stereoselective Synthesis of -Amino Acids 297
Varsha Chhiba, Moira Bode, Kgama Mathiba, and Dean Brady
14.1 Introduction 297

14.2 Preparation of β-Amino Acids 298

14.2.1 Chemical Methods for Generating β-Amino Acids 298

14.2.2 Biocatalytic Preparation of Enantiopure β-Amino Acids 299
14.2.2.1 Lipases and Aminoacylases 299
14.2.2.2 Transaminases 300
14.2.2.3 Nitrile Converting Biocatalysts 300
14.3 Nitrile Hydrolysis Enzymes 301
14.3.1 Nitrilase 301
14.3.1.1 Nitrilase Structure and Mechanism 301
14.3.1.2 Nitrilase Substrate Selectivity 302
14.3.2 Nitrile Hydratase 302
14.3.2.1 Nitrile Hydratase Structure and Mechanism 303
14.3.3 Amidases 304
14.3.3.1 Amidase Structure and Mechanism 304
14.3.4 Nitrile Hydratase and Amidase Cascade Substrate Selectivity 304
14.4 Conclusion 308
Acknowledgments 309
References 309
15 New Applications of Transketolase: Cascade Reactions for Assay Development 315
Laurence Hecquet, Wolf-Dieter Fessner, Virgil Hélaine, and Franck Charmantray
15.1 Introduction 315
15.2 Cascade Reactions for Assaying Transketolase Activity In Vitro 317
15.2.1 Coupling with Other Enzymes as Auxiliary Agents 317
15.2.1.1 Coupling with NAD(H)-Dependent Dehydrogenases 317
15.2.1.2 Coupling with Bovine Serum Albumin 319
15.2.1.3 Coupling with BSA and Polyphenol Oxidase 321
15.2.2 Coupling with a Nonprotein Auxiliary Agent 325
15.2.2.1 Chemoenzymatic Cascade Reaction Based on Redox Chromophore 325
15.2.2.2 Phenol Red as pH Indicator 326
15.3 Cascade Reactions for Assaying Transketolase Activity by In Vivo Selection 329
15.3.1 Biocatalyzed Synthesis of Probes 16a,b 330
15.3.2 In Vitro Studies with Wild-Type TK and Probes 16a,b by LC/MS 330
15.3.3 Detection of TK Activity in E. coli Auxotrophs from Amino Acid Precursors 331
15.4 Conclusion 334
References 335
16 Aldolases as Catalyst for the Synthesis of Carbohydrates and Analogs 339
Pere Clapés, Jesús Joglar, and Jordi Bujons
16.1 Introduction 339
16.2 Iminocyclitol and Aminocyclitol Synthesis 340
16.3 Carbohydrates and Other Polyhydroxylated Compounds 351
16.4 Conclusions 355
Acknowledgments 356
References 356
17 Enzymatic Generation of Sialoconjugate Diversity 361
Wolf-Dieter Fessner, Ning He, Dong Yi, Peter Unruh, and Marion Knorst
17.1 Introduction 361
17.2 A Generic Strategy for the Synthesis of Sialoconjugate Libraries 363
17.2.1 Synthesis of Sialic Acid Diversity 368
17.2.1.1 Neuraminic Acid Aldolase 368
17.2.1.2 Neuraminic Acid Synthase 371
17.2.2 Nucleotide Activation of Sialic Acids 372
17.2.2.1 Kinetics of Sialic Acid Activation 373
17.2.2.2 Substrate Binding Model 373
17.2.2.3 Engineering of Promiscuous CSS Variants 376
17.2.3 Sialic Acid Transfer 377
17.3 Cascade Synthesis of neo-Sialoconjugates 378
17.3.1 Choice of Sialyl Acceptor 378
17.3.2 One-Pot Two-Step Cascade Reactions 379
17.3.3 One-Pot Three-Step Cascade Reactions 383
17.3.4 Metabolic Diversification 385
17.3.5 Post-Synthetic Diversification 386
17.3.6 Biomedical Applications of Sialoconjugate Arrays 388
17.4 Conclusions 388
Acknowledgments 389
References 389
18 Methyltransferases in Biocatalysis 393
Ludger Wessjohann, Martin Dippe, Martin Tengg, and Mandana Gruber-Khadjawi
18.1 Introduction 393
18.2 SAM-Dependent Methyltransferases 395
18.2.1 Substrates 396
18.2.2 Cofactors 400
18.2.3 Higher Homologs and Derivatives of SAM 403
18.2.4 Cofactor (Re)Generation 406
18.2.5 Cascade Applications 410
18.3 Conclusion and Outlook 415
Abbreviations 417
Acknowledgement 417
References 418
19 Chemoenzymatic Multistep One-Pot Processes 427
Harald Gröger and Werner Hummel
19.1 Introduction: Why Chemoenzymatic Cascades and Why One-Pot Processes? 427
19.2 Concepts of Chemoenzymatic Processes 427
19.3 Combination of Substrate Isomerization and their Derivatization with Chemo- and Biocatalysts Resulting in Dynamic Kinetic Resolutions and Related Processes 429
19.4 Combination of Substrate Synthesis (Without Isomerization) and Derivatization Step(s) 438
19.4.1 One-Pot Processes with an Initial Biocatalytic Step, Followed by Chemocatalysis or a Noncatalyzed Chemical Process 439
19.4.2 One-Pot Process with an Initial Chemo Process, Followed by Biocatalysis 443
19.4.2.1 Combination of Noncatalyzed Organic Reactions and Biocatalysis 443
19.4.2.2 Combination of Metal Catalysis and Biocatalysis 445
19.4.2.3 Combination of Organocatalysis and Biocatalysis 449
19.5 Conclusion and Outlook 453
References 453
Index 457
See More
Dr. Sergio Riva is the Director of the Institute of the Chemistry of Molecular Recognition (ICRM) of the Italian National Council of Research (C.N.R.), where he has been working since 1984, and "Professore a Contratto" at the University of Modena and Reggio Emilia since 2000.
He took his Laurea in Chemistry at Milano University in 1983 and his Diploma di Specialità in Organic Synthesis at Milano Politecnico in 1989.
He spent one year (1987) at M.I.T. (Cambridge, USA) working with Prof. A. Klibanov.
In 1993 he was awarded the Ciamician medal by the Organic Chemical Division of the Italian Chemical Society for his research activity in BIOCATALYSIS.
His research activity is documented by more than 150 publications reporting on the isolation and characterization of different groups of enzymes (hydrolases, dehydrogenases, oxynitrilases, aldolases, laccases, glycosyltransferases), and on the use of these biocatalysts for the selective modification of different natural compounds (steroids, alkaloids, terpenes, sugars and natural glycosides).

Wolf-Dieter Fessner obtained his PhD from the University of Freiburg, following which he carried out postdoctoral research at Harvard University with George Whitesides and at the University of Southern California with George Olah. Since 1998 he has been Full Professor of Organic Chemistry at the Technische Universität Darmstadt. His primary research interest is focused on the development of practical methods for enzymatic carbon-carbon bond formation and oligosaccharide synthesis, and on the interface between chemical and biological catalysis.

See More