Hydroformylation: Fundamentals, Processes, and Applications in Organic Synthesis
ISBN: 978-3-527-33552-7
736 pages
April 2016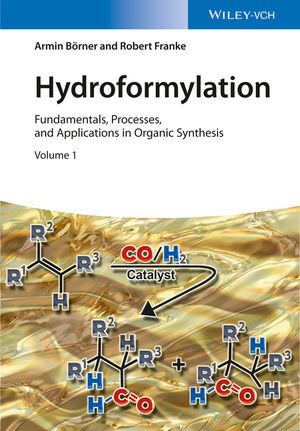 Filling a gap in the market for an up-to-date work on the topic, this unique and timely book in 2 volumes is comprehensive in covering the entire range of fundamental and applied aspects of hydroformylation reactions.
The two authors are at the forefront of catalysis research, and unite here their expertise in synthetic and applied catalysis, as well as theoretical and analytical chemistry. They provide a detailed account of the catalytic systems employed, catalyst stability and recovery, mechanistic investigations, substrate scope, and technical implementation. Chapters on multiphase hydroformylation procedures, tandem hydroformylations and other industrially applied reactions using syngas and carbon monoxide are also included.
The result is a must-have reference not only for synthetic chemists working in both academic and industrial research, but also for theoreticians and analytical chemists.

See More
Introduction
Metals in Hydroformylation
Organic Ligands
Syngas and Alternative Syngas Sources
Hydroformylation Reactions
Tandem and other Sequential Reactions using a Hydroformylation Step
Synthesis of Special Products via Hydroformylation
Hydroformylation in Nonconventional Reaction Media
Decarbonylation and Dehydrocarbonylation of Aldehydes
Selected Aspects of Production Processes

See More
Armin Börner studied education and chemistry at the University of Rostock and completed his PhD thesis in the group of Prof. Dr. H. Kristen in 1984. Between 1984 and 1992 he was a scientific co-worker in the field of complex catalysis at the Academia of Science under Prof. Dr. H. Pracejus. After a postdoctoral term in the group of Prof. Dr. H. B. Kagan in Orsay, France, he relocated to the Max-Planck-Group for Asymmetric Catalysis in Rostock in 1993, where he was awarded his professorial research degree (habilitation) in 1995. Since 2000 he has been Professor of Organic Chemistry at the University of Rostock and head of a research department at the Leibniz-Institute for Catalysis (LIKAT) Rostock. His research focuses on applied homogeneous catalysis and he has published over 250 scientific papers, reviews, book chapters and patents. More than 15 catalytic processes and analytical tools which have been developed in his department are running in a technical scale or have been commercialized.

Robert Franke studied chemistry at Bochum University, Germany. He earned his doctorate degree in 1994 in the field of relativistic quantum chemistry under Prof. Dr. W. Kutzelnigg. After working for a period as a research assistant, he joined the process engineering department of the former Hüls AG in Germany, a predecessor company of Evonik Performance Materials GmbH, in 1998. He is now Director Innovation Management Hydroformylation. He was awarded his professorial research degree (habilitation) in 2002, since when he has taught at the University of Bochum. In 2011 he was made adjunct professor. His research focuses on homogeneous catalysis, process intensification, and computational chemistry. He has published over 150 scientific papers, reviews, book chapters and patents.



See More