Ullmann's Food and Feed, 3 Volume Set
ISBN: 978-3-527-33990-7
1576 pages
June 2017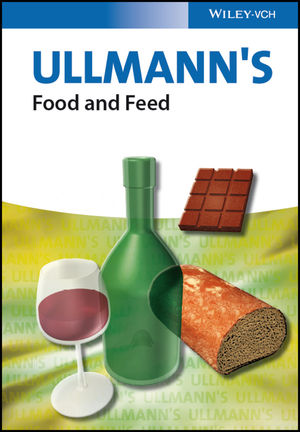 A compilation of 58 carefully selected, topical articles from the Ullmann's Encyclopedia of Industrial Chemistry, this three-volume handbook provides a wealth of information on economically important basic foodstuffs, raw materials, additives, and processed foods, including a section on animal feed. It brings together the chemical and physical characteristics, production processes and production figures, main uses, toxicology and safety information in one single resource. More than 40 % of the content has been added or updated since publication of the 7th edition of the Encyclopedia in 2011 and is available here in print for the first time.
The result is a "best of Ullmann's", bringing the vast knowledge to the desks of professionals in the food and feed industries.

See More
VOLUME 1
Part I: Introduction
Foods, 1. Survey
Foods, 2. Food Technology
Foods, 3. Food Additives
Foods, 4. Food Packaging
Feeds

Part II: Beverages
Beer
Beverages, Nonalcoholic
Coffee
Coffee-Based Beverages
Milk and Dairy Products
Spirits
Tea
Wine, 1. Introduction and Classification
Wine, 2. Chemical and Physical Composition
Wine, 3. Grapes, Viticulture, and Fermentation

VOLUME 2
PART III: Bulk Food Components
Bread and Other Baked Products
Cereal Products
Cereals
Cheese, Processed Cheese, and Whey
Chocolate
Confectionery
Dairy Products, Imitation
Fats and Fatty Oils
Fatty Acids
Glucose and Glucose-Containing Syrups
Ice Cream and Frozen Desserts
Margarines
Meat and Meat Products
Milk and Dairy Products
Proteins
Sugar
Vinegar
Yeasts

VOLUME 3
PART IV: Food Additives
Citric Acid
Cyclodextrins
Flavors and Fragrances, 1. General Aspects
Flavors and Fragrances, 2. Aliphatic Compounds
Flavors and Fragrances, 3. Aromatic and Heterocyclic Compounds
Flavors and Fragrances, 4. Natural Raw Materials
Functional Foods
Gelatin
Inulin
Lecithin
Monosodium Glutamate
Seasonings
Sweeteners
Vitamins, 1. Introduction
Vitamins, 2. Vitamin A (Retinoids)
Vitamins, 3. Vitamin D
Vitamins, 4. Vitamin E (Tocopherols, Tocotrienols)
Vitamins, 5. Vitamin K
Vitamins, 6. B Vitamins
Vitamins, 7. Vitamin C (l-Ascorbic Acid)
Vitamins, 8. Pantothenic Acid
Vitamins, 9. Biotin
Vitamins, 10. Folic Acid


See More
Selected by the ULLMANN'S editorial team, this handbook contains contributions by internationally acknowledged authors from the food and feed industry (Nestle, Unilever, DSM) and from leading academic institutions.
See More