Wide Bandgap Light Emitting Materials And Devices
ISBN: 978-3-527-40331-8
228 pages
October 2007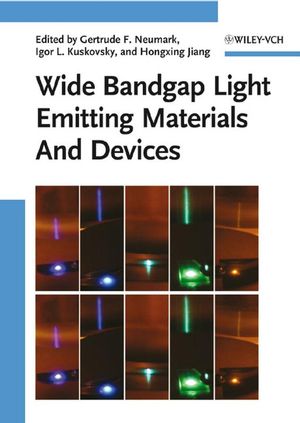 Wide bandgap light emitters include laser diodes and light-emitting diodes (LED), the most modern diodes widely used in current technologies as microelectronics and optoelectronics. Rapid advances have been made during the last few years, with the result that more research is devoted to applications in line with the expanding market for optoelectronics.
This volume deals with recent research results on wide bandgap light emitting materials, introducing new concepts for devices based on these materials. The editors, scientists with the best reputations, have invited authors from different institutions who are acknowledged researchers in the field as well as being involved in industrial applications. They represent several lines of research: III-nitride compounds, ZnO and ZnSe, the most promising materials for device applications.
See More
Part I
1 III–Nitride Light-Emitting Diodes on Novel Substrates 3
Xian-An Cao
1.1 Introduction 3
1.2 LEDs on Sapphire Substrates 4
1.2.1 LED Heteroepitaxy 4
1.2.2 Current Spreading 8
1.2.3 Carrier Transport 10
1.2.4 Carrier Confi nement and Localization 12
1.2.5 Radiative and Nonradiative Recombination 18
1.2.6 Light Extraction 20
1.3 LEDs on SiC Substrates 22
1.4 LEDs on Si Substrates 24
1.5 LEDs on Free-Standing GaN Substrates 26
1.5.1 LED Homoepitaxy 26
1.5.2 Electrical Characteristics 29
1.5.3 Optical Characteristics 33
1.5.4 High-Current Operation 37
1.6 LEDs on Other Novel Substrates 41
1.7 Conclusions 43
References 44
2 III–Nitride Microcavity Light Emitters 51
Hongxing Jiang and Jingyu Lin
2.1 Introduction 51
2.2 III–Nitride Microstructure Fabrication 52
2.2.1 Microstructure Fabrication by Photolithography Patterning and Plasma Dry Etching 52
2.2.2 Microscale Pyramids and Prisms Fabricated by Selective Epitaxial Overgrowth 55
2.2.3 Submicron Waveguides 57
2.3 Optical Studies of III–Nitride Microstructures 58
2.3.1 Microdisks 59
2.3.2 Microrings 64
2.3.3 Micropyramids 66
2.3.3.1 Optical Properties 66
2.3.3.2 Pyramidal Microcavities 71
2.3.4 Submicron Quantum-Well Waveguides 75
2.3.5 Optically Pumped Vertical-Cavity Surface-Emitting Laser Structures 80
2.4 Current-Injection Microcavity Light-Emitting Diodes 82
2.4.1 Microdisk Cavity LEDs 82
2.4.2 Vertical-Cavity Surface-Emitting LEDs 86
2.5 III–Nitride Microscale LED Applications 87
2.5.1 Interconnected Microdisk LEDs for Boosting LED Emission Efficiencies 88
2.5.2 Nitride Microdisplays 91
2.5.3 III–Nitride Photonic Crystals 97
2.6 Concluding Remarks 102
References 105
3 Nitride Emitters – Recent Progress 109
Tao Wang
3.1 Introduction 109
3.2 Ultraviolet Emitters 111
3.2.1 Ultraviolet LEDs Based on GaN Buffer Technology 112
3.2.2 Ultraviolet LEDs Based on GaN-Free Technology 118
3.2.3 Ultraviolet Lasers 125
3.3 InGaN-Based Emitters 130
3.4 Nonpolar and Semipolar III–Nitride Emitters 135
3.5 Summary 140
References 140
Part II
4 ZnSeTe Rediscovered: From Isoelectronic Centers to Quantum Dots 147
Yi Gu, Igor L Kuskovsky, and G. F. Neumark
4.1 Introduction 147
4.2 Sample Growth 149
4.3 Structural Properties 151
4.4 Optical Properties 154
4.4.1 Dilute Bulk ZnSe1−xTex Alloys 155
4.4.2 δ-ZnSe:Te 156
4.4.3 δ³-ZnSe:Te 160
4.4.3.1 Type-II Quantum Dots 161
4.4.3.2 Coexistence of Type-II Quantum Dots and Isoelectronic Centers 166
4.4.3.3 Controlling Quantum Dot Size by Varying Growth Conditions 169
4.4.3.4 Magneto-PL of Type-II QDs: Aharonov–Bohm Effect and QD Size 172
4.5 Summary 174
References 176
5 Optical Properties of ZnO Alloys 179
John Muth and Andrei Osinsky
5.1 Introduction 179
5.2 Index of Refraction of ZnO 181
5.3 Excitonic Features of ZnO 185
5.4 Electric Field Effects on Excitons 187
5.5 Photoluminescence 189
5.6 ZnO Alloys 191
References 202
Index 205
See More
Gertrude F. Neumark has been a full professor at the Columbia University Fu Foundation School of Engineering and Applied Science since 1985, and became the Howe Professor of Material Science and Engineering at the School in 1999; she is the first woman to hold a named chair in the School. She received her degrees in chemistry, a Ph.D. from Columbia University, an M.A. from Radcliffe College, and a B.A., Summa Cum Laude, from Barnard College. Professor Neumark's primary research interests are in optical and electrical properties of wide-band gap semiconductors. She has authored or co-authored over 100 publications, including a cover story in Physics Today and several invited chapters including one in the 1995 McGraw-Hill Yearbook of Science and Technology. She also holds five U.S. patents as well as several foreign patents.

Igor L. Kuskovsky is assistant professor of Physics at Queens College of CUNY, New York. He graduated with high honours from the Physics Department of Odessa State University, Ukraine in 1991. He was awarded a Ph.D. in Applied Physics/Solid State from Columbia University in 1998. He published more than 40 scientific papers. His research interests include microstructural, electrical and electro-optical properties of wide band-gap semiconductors, optical and magneto-optical properties of wide band-gap quantum dots and nanowires as well as applications of low dimensional systems for bio-imaging.

Hongxing Jiang received his B.S. in Physics in 1981 from Fudan University, China and his Ph.D. in Physics in 1986 from Syracuse University. He is currently a University Distinguished Professor of Physics at Kansas State University. He has published 250 technical papers in the area of compound semiconductors, holds more than 10 patents (approved and pending), edited three books, and delivered over 60 invited presentations.
See More