Handbook of Optical Systems, Volume 1, Fundamentals of Technical Optics
ISBN: 978-3-527-40377-6
Hardcover
848 pages
March 2005
US $540.00

Add to Cart
This price is valid for United States. Change location to view local pricing and availability.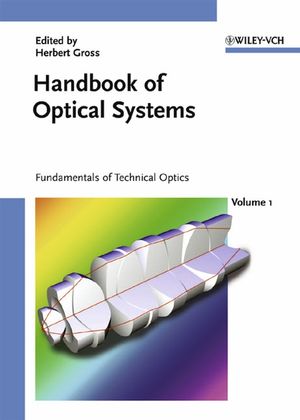 The state-of-the-art full-colored handbook gives in six volumes a comprehensive introduction to the principles and the practice of calculation, layout and understanding of optical systems and lens design. Written by reputed industrial experts in the field the user is introduced to the basic properties of optical systems, aberration theory, classification and characterization of systems, advanced simulation models, measuring of system quality and manufacturing issues. More than 3,000 full-colored illustrations and images support the reader and supply an easy understanding of complex optical systems and optical modeling.
Vol.1 Fundamentals of Technical Optics
Vol.2 Physical Image Formation
Vol.3 Aberration Theory and Correction of Optical Systems
Vol.4 Survey of Optical Instruments
Vol.5 Metrology of Optical Components and Systems
Vol.6 Advances Physical Optics
In this volume
Volume 1 gives a general introduction to the field of technical optics. Although part of the series, it acts as a fully selfstanding textbook. With more than 700 full color graphs and it is a intuitive introduction for the beginner and a comprehensive reference for the professional.
1 Introduction
2 Paraxial optics
3 Dielectric interfaces
4 Materials
5 Raytracing
6 Photometry
7 Lightsources
8 Sensors and receivers
9 Theory of color
10 Optical systems
11 Aberrations
12 Waveoptics
13 Plates and prisms
14 Gratings
15 Special components
16 Testing