Handbook of Vacuum Technology
ISBN: 978-3-527-40723-1
1040 pages
October 2008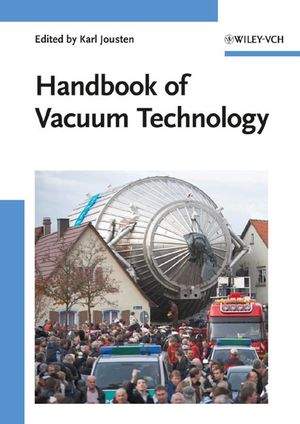 A comprehensive standard work and important resource for both students and professionals in research and industry who need detailed knowledge of the theory and applications. Many numerical examples and numerous illustrations visualize the theoretical issues, backed by many useful tables and charts, plus over 500 illustrations. The Handbook discusses the latest developments in vacuum measurement techniques and leak detection in vacuum systems, as well as the connection of vacuum systems to computerized control systems.
See More
1. History of vacuum science and technology (K.Jousten)
2. Applications of vacuum technology (K. Jousten)
3. Gas laws and kinetic gas theory (W.Jitschin)
4. Gas flows (W.Jitschin)
5. Elements of rarified gas dynamics and numerical approximations (F.Sharipov)
6. Sorption and diffusion (K.Jousten)
7. Positive displacement vacuum pumps (K.Jousten)
8. Condensors (H.Grave)
9. Jet pumps (K.Jousten, K.Galda)
10. Turbomolecular pumps (K.-H.Bernhardt)
11. Sorption pumps (K.Jousten, S.Paetz)
12. Cryo technique and cryo pumps (K.Jousten)
13. Total pressure vacuum gauges (K.Jousten)
14. Partial pressure analyzers and leak detectors (N.Müller, R.Ellefson, W.Große Bley)
15. Calibration and standards (K:Jousten)
16. Materials (K.Jousten)
17. Vacuum components and sealings (K.Jousten)
18. Operating vacuum systems/Control of vacuum systems (F.Altenheimer, U.Meissner, B.Schimunek)
19. Methods of leak detection (W.Große Bley)
20. Appendix: Tables, graphs
See More
Karl Jousten is head of the section Vacuum Metrology at the Physikalisch-Technische Bundesanstalt (PTB), the German National Institute for Metrology, in Berlin. He obtained his masters and Ph.D. degree in physics from the University of Heidelberg. After working as a post-doc at the Max-Planck-Institute for Nuclear Physics in Heidelberg, at the Oregon Graduate Institute of Science and Technology in the United States, and finally at the Fritz-Haber-Institute in Berlin, he joined the vacuum group at PTB in Berlin in 1990. Since then he has authored many scientific articles in the field as well as contributions to textbooks. He is active in the field of national (DIN) and international (ISO) standardization in vacuum technology. Since 2005, he is also President of the German Vacuum Society.
See More