Surface Design: Applications in Bioscience and Nanotechnology
ISBN: 978-3-527-40789-7
Hardcover
532 pages
July 2009
US $171.00

Add to Cart
This price is valid for United States. Change location to view local pricing and availability.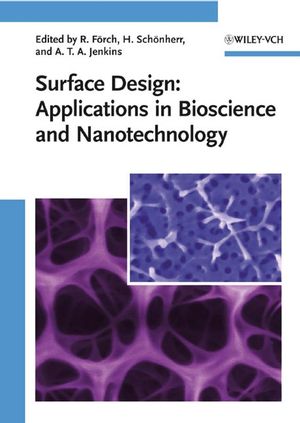 Other Available Formats:
E-book
1. Tutorial Reviews
1.1 Coupling Chemistries for the Modification and Functionalization of Surfaces to Create Advanced Bio-interfaces, H. Schönherr
1.2 Surface Plasmon Resonance-Based Biosensors, J. Dostálek, Chun Jen Huang and W. Knoll
1.3 Surface Modification and Adhesion, R. Förch
1.4 Modern Biological Sensors, A.T.A. Jenkins

2. Functional Thin Film Architectures and Platforms Based on Polymers
2.1 Controlled Block Copolymer Thin Film Architectures, M. Roerdink, M. A. Hempenius, G. J. Vancso
2.2 Stimuli Responsive Polymer Brushes, E. Benetti, M. Navarro, S. Zapotoczny, G. J. Vancso
2.3 Cyanate Ester Resins as Thermally Stable Adhesives for PEEK, B. Yameen, M. Tamm, N. Vogel, A. Echler, R. Förch, U. Jonas and W. Knoll
2.4 Structured and Functionalized Polymer Thin Film Architectures, H. Schönherr, C. L. Feng, A. Embrechts, G. J. Vancso

3. Biointerfaces, Biosensing, and Molecular Interactions
3.1 Surface Chemistry in Forensics, K. Bender
3.2 Modification of Surfaces by Photosensitive Silanes, X.S. Li, S. Pradhan-Kadam, M. Álvarez-Chamorro, U. Jonas
3.3 Solid Supported Bilayer Lipid Membranes, I. Köper, I. Vockenroth
3.4 Interaction of Structured and Functionalized Polymers with Cancer Cells, A. Embrechts, C. L. Feng, I. Bredebusch, J. Schnekenburger, Wolfram Domschke, G. J. Vancso, and H. Schönherr
3.5 Fabrication and Application of Surface Tethered Vesicles, A.T.A. Jenkins and T. L. Williams
3.6 Plasma Polymerized Allylamine Thin Films for DNA Sensing, L. Q. Chu, W. Knoll, R. Förch

4. Nanoparticles and -containers
4.1 Defined Colloidal 3D Architectures, N. V. Dziomkina, M. A. Hempenius, G. J. Vancso
4.2 Nanoparticles at the Interface: The Properties of Nanoparticles Assembled into 2-D and 3-D Structures at Planar Electrode Surfaces, P. J. Cameron
4.3 Surface Engineering of Quantum Dots with Designer Ligands, N. Tomczak, D. Janczewsk, O. Tagit, M. Y. Han, G. J. Vancso
4.4 Stimuli Responsive Capsules, Y. Ma, M. A. Hempenius, E. S. Kooij, W.-F. Dong, H. Möhwald, and G. J. Vancso
4.5 Nanoporous Thin Films as Highly Versatile and Sensitive Waveguide Biosensors, K.H. Aaron Lau, P. J. Cameron, H. Duran, A. I. Abou-Kandil, W. Knoll

5. Surface and Interface Analysis
5.1 Stretching and Rupturing Single Covalent and Associating Macromolecules by AFM-based Single Molecule Force Spectroscopy, M. I. Giannotti, W. Q. Shi, S. Zou, H. Schönherr, G. J. Vancso
5.2 Quantitative Lateral Force Microscopy, H. Schönherr, E. Tocha, J. Song, G. J. Vancso
5.3 Long Range Surface Plasmon-enhanced Fluorescence Spectroscopy as a Platform for Biosensors, A. Kasry, J. Dostalek, W. Knoll

6. Glossary of Surface Analytical Tools, R. Förch, H. Schönherr, and A. T. A. Jenkins
6.1 Atomic Force Microscopy
6.2 Contact Angle Goniometry
6.3 Ellipsometry
6.4 Infra Red Spectroscopy
6.5 Impedance Spectroscopy
6.6 Scanning Electron Microscopy
6.7 Surface Plasmon Resonance Spectroscopy
6.8 Optical Waveguide Mode Spectroscopy (OWS)
6.9 Waveguide Mode Spectroscopy (WaMS)
6.10 X-Ray Photoelectron Spectroscopy

Buy Both and Save 25%!
Surface Design: Applications in Bioscience and Nanotechnology (US $171.00)
-and- The Plasma Chemistry of Polymer Surfaces (US $160.00)
Total List Price: US $331.00
Discounted Price: US $248.25 (Save: US $82.75)
Cannot be combined with any other offers. Learn more.