Nobels: Nobel Laureates photographed by Peter Badge
ISBN: 978-3-527-40816-0
634 pages
October 2008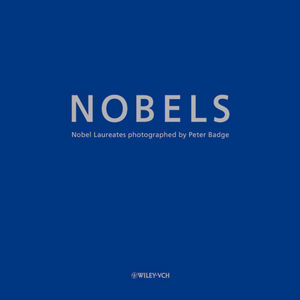 A unique photographic record of all living Nobel laureates

In this handsome coffee-table book, photographer Peter Badge captures the likeness of every living Nobel laureate in a lasting black-and-white image -- more than 300 striking portraits in all. Brief biographical sketches accompanying the large-scale photographs pay homage to each laureate's singular contribution to science, literature or world peace. Bringing readers face-to-face with Nelson Mandela, Jimmy Carter, the Dalai Lama, James Watson, Gabriel García Márquez, Toni Morrison, Rita Levi-Montalcini, Linda Buck, and Paul Samuelson among many others, NOBELS offers an intimate and compelling look at well-known honorees as well as lesser-known recipients. A fascinating word/image tableau.

See More
Coffee Table book of more than 300 large scale, dutone photographs of Nobel Prize Winners such as Nelson Mandela, the Dalai Lama, John M. Coetzee, Roy J. Glauber, James Watson or Jimmy Carter, each accompanied by a short biography written by Chris Richmond. With an epilogue by Wim Wenders. Includes - as opposed to the former edition - the portraits of the 11 Nobel Laureates of 2007.

Accompanying texts:

Alfred Nobel - the Will and the Prize (Anders Bárány, Deputy Director of the Nobel Museum, Stockholm)

The Lindau Meetings of Nobel Laureates -
International Young Scientists Meet Nobel Laureates (Nikolaus Turner, Member of the Board of the "Council for the Lindau Nobel Laureate Meetings")
See More
Peter Badge was born in Hamburg, Germany, in 1974, and started his career in photography as a free-lance artist in 1993. In 1995, he moved to Berlin to study Art History and has been living and working there ever since. He initially acted as an assistant to photographers, but soon started to develop his own ideas and projects. Choosing portraiture as his main area of interest, Badge concentrated on portraits of noted personalities such as rock musicians, actors and famous photographers like Helmut Newton, Richard Avedon and Anton Corbijn, and developed a series on Oskar Sala, the electronic music pioneer.
Badge embarked on a series of photographs of Nobel Laureates in 2000, commissioned by a number of renowned organizations like the Smithsonian Institution, the National Museum of American History and the National Portrait Gallery in Washington, D.C. This project turned out to be a long-term and still ongoing mission which took him all over the world in order to capture an image of every living Nobel Laureate.

Peter Badge has published several books; his work is represented in numerous private and public collections.

See More