Amplitude Modulation Atomic Force Microscopy
ISBN: 978-3-527-40834-4
193 pages
November 2010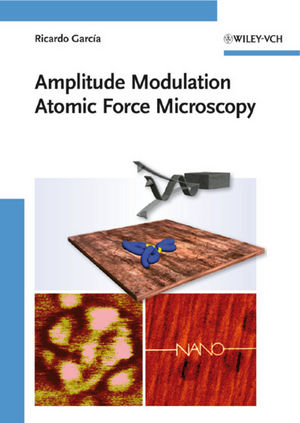 Filling a gap in the literature, this book features in-depth discussions on amplitude modulation AFM, providing an overview of the theory, instrumental considerations and applications of the technique in both academia and industry. As such, it includes examples from material science, soft condensed matter, molecular biology, and biophysics, among others. The text is written in such a way as to enable readers from different backgrounds and levels of expertise to find the information suitable for their needs.
See More
Instrumental and Conceptual Aspects
Tip-surface interaction forces
Theory of amplitude modulation AFM
Advanced theory of amplitude modulation AFM
Amplitude modulation AFM in liquid
Phase imaging atomic force microscopy
Resolution, noise and sensitivity
Multifrequency atomic force microscopy
Beyond topographic imaging

See More
Ricardo García is Professor at the Instituto de Microelectróni-ca de Madrid (CSIC), one of the Institutes of the Spanish Council for Scienti¿ c Research. He received his PhD degree in physics from the Universidad Autónoma de Madrid in 1990. From 1990 to 1993 he was a post-doctoral associate at the Universities of New Mexico and Oregon. Professor García is author and co-author of 104 articles and 14 book chapters, and has contributed some highly regarded papers on the development and optimization of amplitude modulation AFM (tapping mode AFM) as well as on the emergence of scanning probe nanolithographies. In 2007, Professor García was elected a Fellow of the American Physical Society.
See More